Management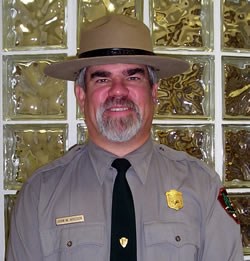 Superintendent's Message
It is my pleasure to welcome you to the Pipe Spring National Monument website. Pipe Spring is a unique cultural park, preserving a diverse slice of history of the American West and the natural springs that have drawn people to the site for hundreds of years.
We hope the information you find here will encourage you to visit Pipe Spring National Monument and help you better plan your trip. A visit to Pipe Spring provides an opportunity to step back in time to the 1870s, tour historic buildings, and learn about the Kaibab Paiute people and Mormon settlement of the southwest. Pipe Spring is centrally located between the well known and spectacular scenic parks of the western Colorado Plateau - Zion, Grand Canyon, and Bryce Canyon - and sits at the base of the precipitous and colorful Vermilion Cliffs.
If it is not possible to travel to the site, we invite you to learn more about the park through a "virtual" visit. In 2003 the National Park Service and the Kaibab Band of Paiute Indians completed a high quality, partnership visitor center and museum. The virtual tour of the visitor center provides a look at the comprehensive museum exhibits on Kaibab Paiute and Mormon pioneer culture and history in the region. You can also experience virtual tours of Winsor Castle - the massive, fortified ranch house built at the direction of Latter-day Saint church president Brigham Young in 1870 - and the grounds with their historic buildings and living history areas.
Our job is to preserve the cultural and natural resources of the park and interpret these resources and history for the education and enjoyment of the public. We will routinely post current information on park projects and events on the website. I invite your comments or questions via e-mail. e-mail us
John W. Hiscock


Last updated: February 24, 2015