Snowshoeing at Pictured Rocks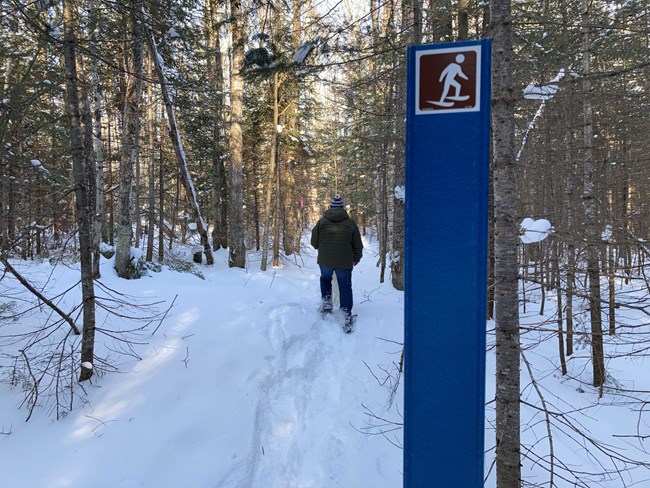 The benefits of snowshoeing are many, including the opportunity for solitude. If you strike out in the park on a layer of fresh snow or follow a deer trail, the only sound you may hear is the beating of your own heart and the wind in the pines. Though wildlife is pretty scarce in winter, tracks of red squirrel, deer, snowshoe hare, grouse, raven, American marten, and fisher are often seen.

The park has one marked snowshoe trail. View and download the snowshoe trail map (1.98 MB pdf). This 2.65 mile forested trail loops back on itself and is located at the end of E. City Limits Road off Alger County Road H-58 on the east side of Munising. Park in the ski trail parking lot near the end of the road and walk a few hundred yards down the road to the end. The snowshoe trail begins just past the wooden fence, and is marked with blue posts. Leashed pets are allowed on the snowshoe trail, winter only. PLEASE do not take pets on the adajacent groomed ski trails.

The snowshoe trail also connects users to the G-Loop ungroomed ski trail. Including the G-Loop in your snowshoe excursion will add 1.6 miles to the trek. The G-Loop isn't tracked, so snowshoers and cross-country skiers share the trail. It also offers snowshoers and skiers great views of Lake Superior. To protect the groomed tracks, all other ski trails are off-limits to snowshoeing and hiking.

You can use snowshoes on the short walking path to Munising Falls and the 1/2 mile Sand Point Marsh Trail. Both trails are easy to access since Sand Point Road is plowed all winter. You can also access the North Country National Scenic Trail from the Sand Point Beach parking lot, the Munising Falls parking lot, or the Grand Sable Visitor Center parking lot.

Within the park boundary the only places you cannot snowshoe are on the park's 20 miles of groomed cross-country ski trails. The remainder of the park is available for you to enjoy via snowshoeing or off-trail skiing. One good thing about snowshoes is once you have gone as far as you wish, turn around and follow your tracks back to the car! Barring a blizzard, your record of tracks will be easy to follow. Watch for snowmobile traffic on trails and roads.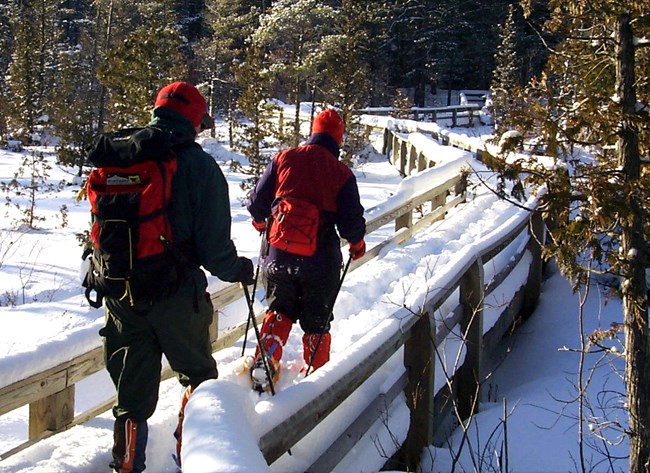 Your Safety Comes First!
Plan ahead and be prepared is the best advice for snowshoeing or any outdoor activity. An unexpected slip into a creek or a broken snowshoe can quickly spell disaster. We encourage you to carefully plan your snowshoe excursion into the park. Here are helpful suggestions:

Before you leave home, let someone know where you are going, how long you plan to be out, a description of your vehicle, where it will be parked, and when you plan to return. Write It Down!

Take plenty of liquids and snacks or food along with you...maybe a little to spare in case something should happen.

Dress in layers and be prepared for changes in weather. Consider bringing along hand and feet warmers.

Watch the weather. Storms pop up quickly. They can lead to white-out conditions and heavy snowfall. Snow and wind may quickly obliterate trails.

Don't expect your cell phone to work in many areas of the park due to a lack of towers, cloudy conditions, hilly topography and heavy forest cover. The marked snowshoe trail in Munising has pretty reliable service.

Take a compass and map and know how to use them. It is easy to get turned around when the days are short and the clouds block the sun.

Realize that the park ranger staff is reduced in winter and response times are extended due to winter conditions. For emergencies, dial 911.

Winter is one of the most incredible seasons here. You will likely see very few people, a lot of animal tracks, and will be able to enjoy a type of solitude unknown at other times of the year. Happy trekking!
Last updated: December 13, 2022