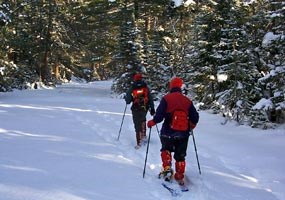 The national lakeshore consists of some 73,000 acres along 42 miles of Lake Superior shoreline. Of that 73,000 acres, 33,000 acres are owned in perpetuity by you, the American public.
Of that 33,000 acres, the only places you cannot snowshoe are probably obvious - on roads open to vehicular traffic and on the park's 20 miles of groomed cross-country ski trails. The entire remainder of the lakeshore is there for you to enjoy via snowshoeing or skiing.
One good thing about snowshoes is once you have gone about half way, turn around and follow your tracks back to the car! Barring a blizzard, your record of tracks is pretty easy to follow home.
The benefits of snowshoeing are many, including the opportunity for solitude in a relatively deserted environment. If you strike out in the park on an old road or logging trail, the only sound you may hear is the beating of your own heart and the wind in the pines.
Though wildlife is pretty scarce in winter, tracks of otter, red squirrel, American marten, fisher, deer, grouse, raven, and snowshoe hare are often seen.
The park does not mark any specific snowshoe trails, with the exception of occasional winters when a trail is marked on Sand Point.