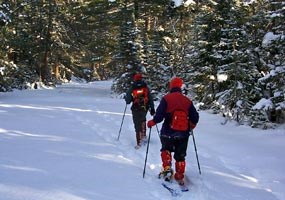 The benefits of snowshoeing are many, including the opportunity for solitude in a relatively deserted environment. If you strike out in the park on an old road or logging trail, the only sound you may hear is the beating of your own heart and the wind in the pines.

Within the national lakeshore boundary the only places you cannot snowshoe are probably obvious - on roads open to vehicular traffic and on the park's 20 miles of groomed cross-country ski trails. The entire remainder of the lakeshore is available for you to enjoy via snowshoeing or off-trail skiing.

The park does not mark any specific snowshoe trails. Snowshoes work well on the short walking trail to Munising Falls and the 1/2 mile Sand Point Marsh Trail. Both trails are easy to access by car as those parking areas are plowed and remain open all winter. Other destinations within the national lakeshore may be a longer trek from where you are able to park your vehicle.

Also, you can pick up the North Country National Scenic Trail near the Munising Falls parking lot or the Grand Sable Visitor Center parking lot and follow the trail for many miles. One good thing about snowshoes is once you have gone as far as you wish, turn around and follow your tracks back to the car! Barring a blizzard, your record of tracks will be easy to follow.

Though wildlife is pretty scarce in winter, tracks of otter, red squirrel, American marten, fisher, deer, grouse, raven, and snowshoe hare are often seen.