BARK Ranger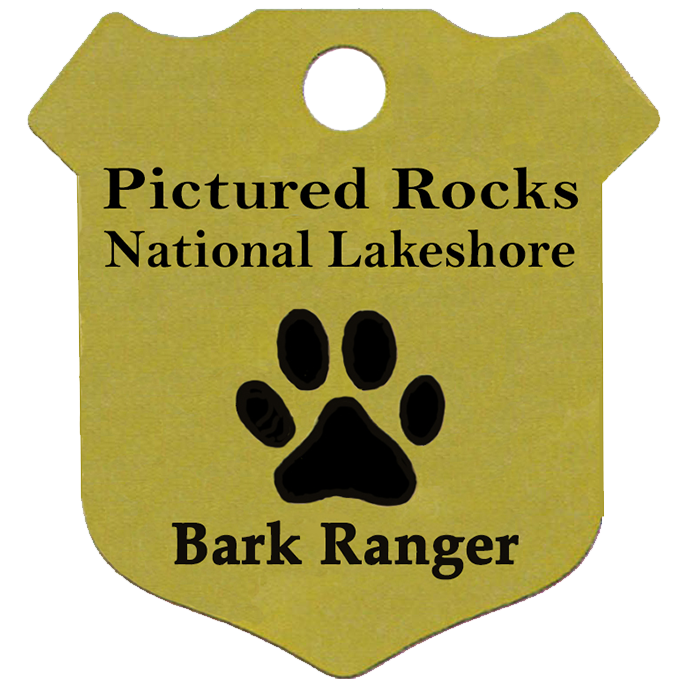 Your Dog Can Become a BARK Ranger!
As BARK Rangers, dogs and their owners safely and responsibly enjoy the park by following these rules:
B ag your poop
Keep Pictured Rocks clean by bagging and properly disposing of all dog waste. Dog poop is not a natural fertilizer. It contains chemicals and can carry dozens of diseases into wildlife populations. Poop can also pollute water sources.
A lways wear a leash
Pets must be on a leash no longer than 6 feet (2 m). Leashes protect your pet from becoming lost, getting too close to others, and dangers such as porcupines. Even a well-trained dog can react unpredictably in a new place. Not everyone is a dog person. Please be respectful of other visitors.
R espect wildlife
Dogs can chase and threaten wildlife. They can scare animals away from nesting, feeding, and resting sites. Please respect wildlife by keeping a safe distance away. The park is their home.

K now where you can go
Pets are allowed in many areas in the park— but not everywhere.
Please review the dog-friendly trails and areas listed below.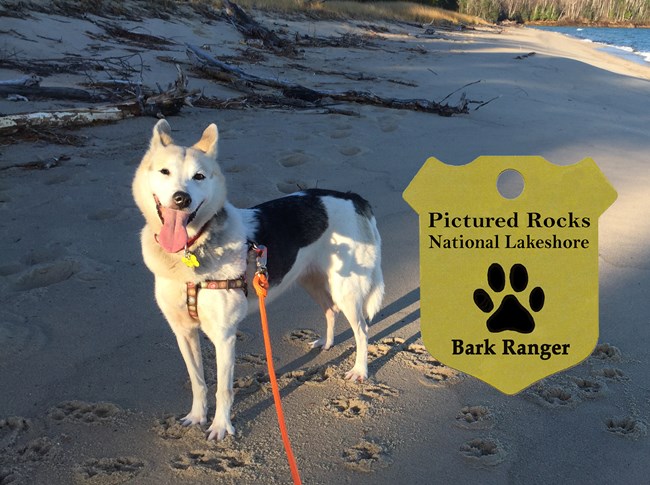 Take the BARK Ranger Pledge
Hi! My name is Shea. You can become a BARK ranger like me. Just have your human review and agree to the rules of B.A.R.K. and sign on the line. With approval from a park ranger, you can buy a bark ranger tag at one of our visitor centers.
I, _____________, and my human companion, agree to follow the rules of B.A.R.K. when on any national park lands. We understand where in the park we may go and we will act as good role models for other pet owners in the park.
______________________________
Park Ranger
After taking the pledge, humans can purchase a Pictured Rocks National Lakeshore BARK Ranger tag for their pet at the park visitor centers.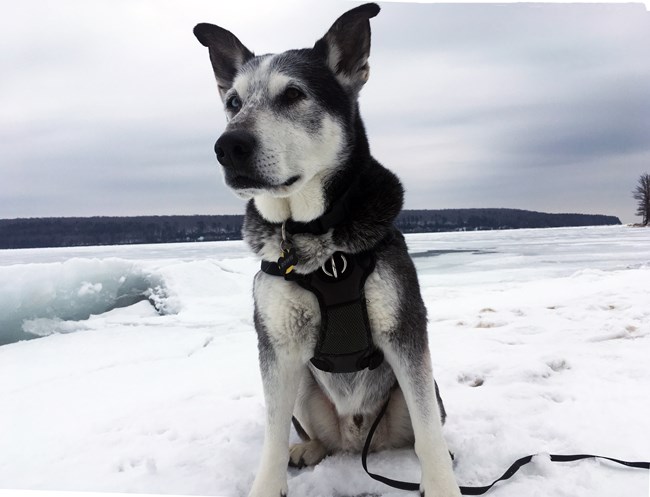 Pets Are Permitted at the Following Locations:
All Roads, Parking Lots, and Picnic Areas
Sand Point Beaches
Munising Falls Trail
Miners Falls Trail
Miners Castle - paved trail to Overlooks
Miners Beach
Au Sable Access Road to the Light Station
Lake Superior Overlook and Beach
Sable Falls Trail and Beach
Twelvemile Beach and Hurricane River Campgrounds
Lake Superior beaches directly in front of the campground and day-use areas
Pets Are Not Permitted in the Following Areas:
All North Country Scenic Trail segments that pass through the length of the park (trail is sometimes referred to as the Lakeshore Trail)
Sand Point Marsh Trail
Chapel and Mosquito trails and loops
Chapel and Mosquito beaches
All trails in the Beaver Basin Wilderness Area
Beaver Basin Wilderness beaches and lakes
All Backcountry Campgrounds/Campsites
Little Beaver Lake Drive-In Campground
Log Slide Trail and nearby dunes
Grand Sable Dunes
All backcountry areas (off trails) including areas east of Miners Beach to the western edge of Twelvemile Beach Campground, including the entire Chapel-Grand Portal-Mosquito Loop Trails and beaches
All Groomed Winter Ski Trails
No carrying in pets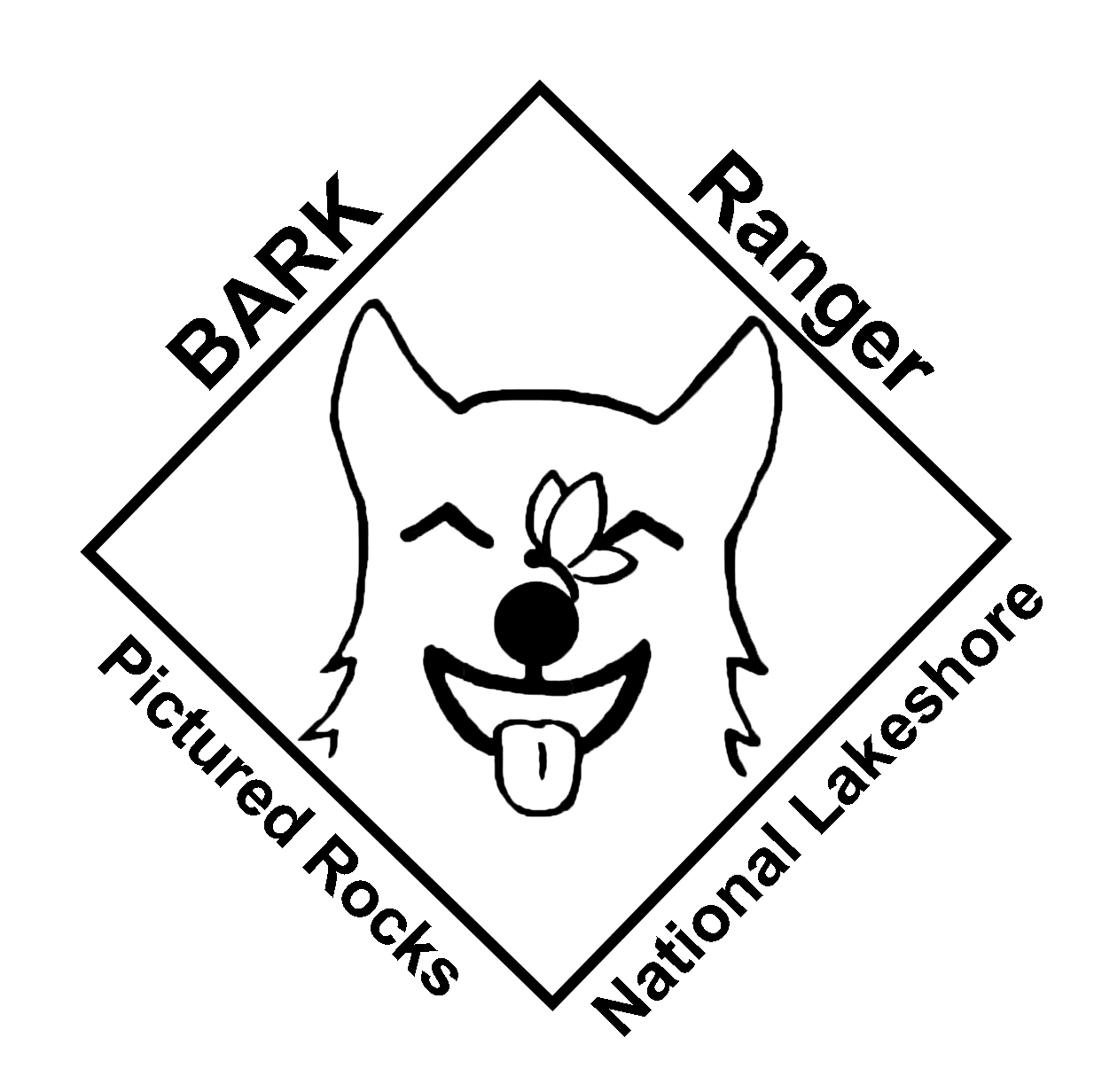 Bark Ranger Ambassadors
Volunteers and their canine companions can become BARK Ranger Ambassadors, informing the public on how to properly enjoy the park with their pets. Volunteers are trained on how to approach visitors and explain the importance of the BARK Ranger rules. Responsibilities vary from setting up a table with pet information to roving areas and approaching visitors about pet behavior. Email the park's volunteer coordinator for more information. For other volunteer opportunities, go to the park's volunteer page.
Last updated: November 29, 2022