Ice "Caves" and Ice Formations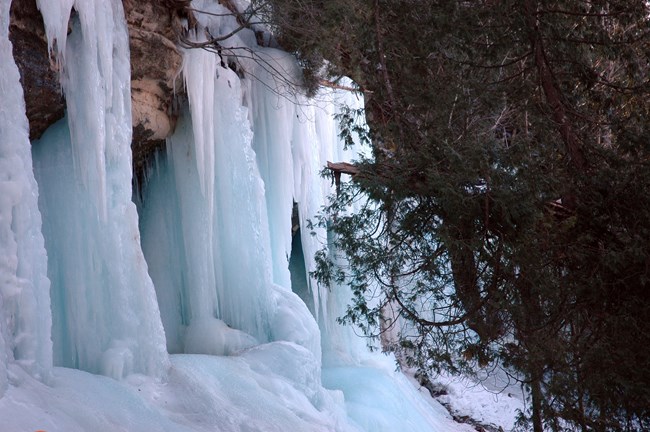 Viewing ice "caves" and ice formations has become a popular winter activity at Pictured Rocks National Lakeshore and the surrounding area. Water seeping out of the porous sandstone cliffs freezes into curtains and columns of blue, white, or yellow ice. The ice generally begins to form by mid-December and remains until early April.
The most accessible ice columns are found along the Pictured Rocks escarpment between Munising Falls and Sand Point along Sand Point Road. The ice curtains are 20-50 feet high. Parking is available at Sand Point Beach or at Munising Falls (Parking is prohibited along Sand Point Road). One must walk along Sand Point Road and then walk/hike up to the base of the escarpment to find and view the ice. There are no designated trails, but as you walk along the road, cliffs and ice can be seen through the forest. People walking up to the formations create visible snow-packed trails over time.
The park's waterfalls also freeze into stunning formations in winter. Munising Falls is the easiest to reach via an 800-foot trail from Munising Falls parking lot.
Climbing on Munising Falls is prohibited.
For ice climbing information, click
here
.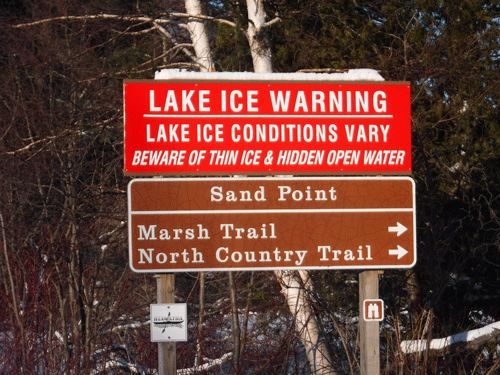 Precautions
Sand Point Road lacks a road shoulder, and is usually snow packed in winter. Watch for cars and expect slippery conditions.
Ice cleats of some sort are critical to avoid slipping or falling while walking/hiking to the formations and exploring among the ice curtains. Ice cleats are slipped onto shoes and boots, and can usually be found for sale at local businesses. Snowshoes may also be necessary after heavy snow until a path gets packed down.
While ice frequently forms along the Pictured Rocks cliffs above the waters of Lake Superior, these areas are difficult to view. Ice on the Grand Island cliffs can be viewed from the Sand Point beaches. Walking on Lake Superior or across Munising Bay is not recommended -
EVER
- due to unknown ice thickness, thin and shifting ice, hidden underwater currents, and open water. No one can tell you if the ice is safe to walk on. Also:
No pets allowed on or off trails to the ice formations. Pets are allowed on the trail to Munising Falls.
No camping in the Sand Point area.
No fires allowed.
Drone use is prohibited in the park.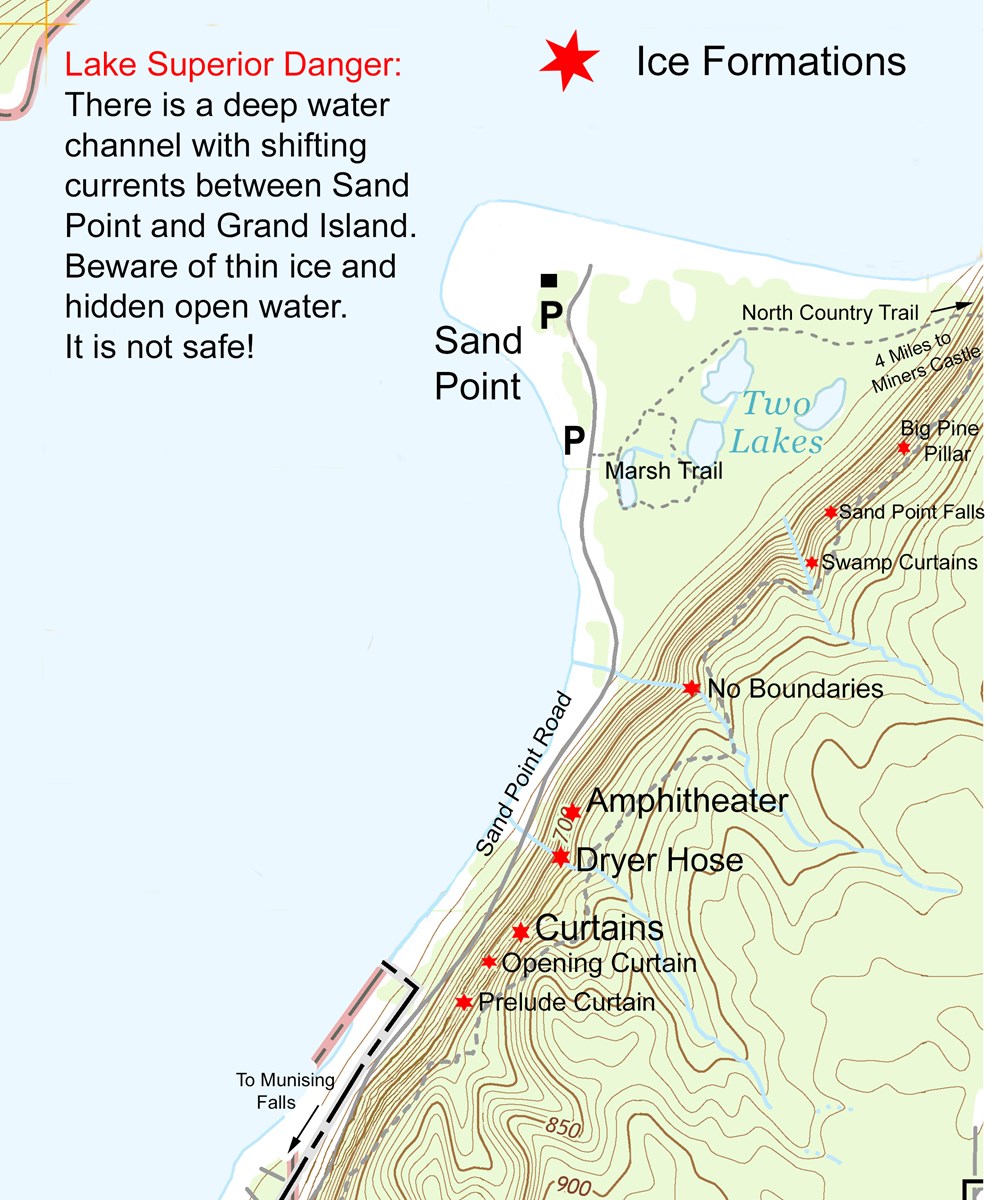 Last updated: December 7, 2021