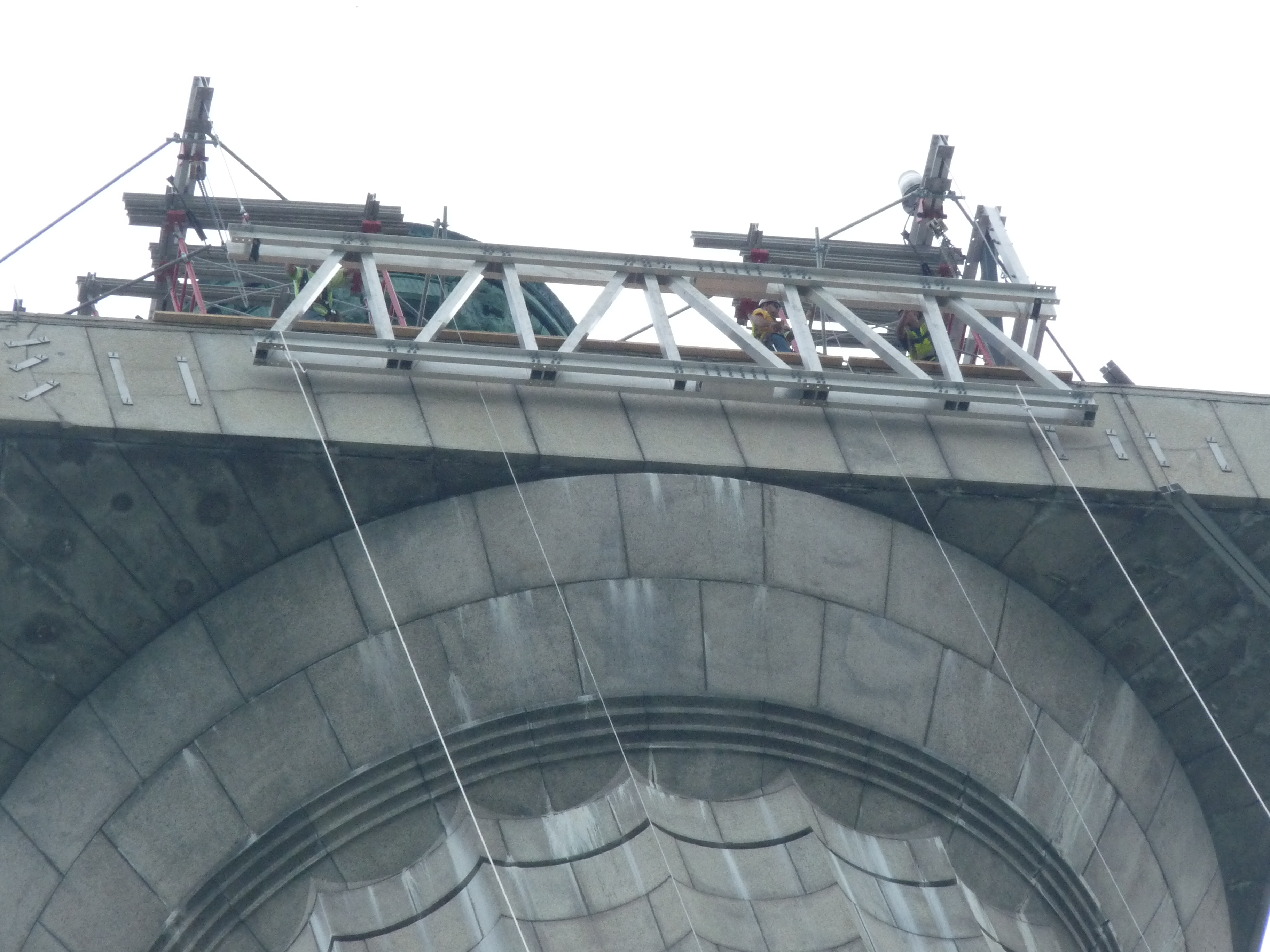 News Release Date:
August 12, 2010
On-going Restoration of Perry's Victory and International Peace Memorial Is
Clearly Visible to Island Residents and Park Visitors
Put-in-Bay, Ohio—Restoration of Perry's Victory and International Peace Memorial has been underway for several months but the actual work was behind the scenes—until now. Clearly visible to park visitors is a 300-foot hoist alongside the shaft of the Memorial. This steel tower will transport construction materials from ground level to the top of the Observation Deck where most of the renovation work is taking place.
    "Since the restoration work was not visible, numerous South Bass Island residents and park visitors kept asking when the actual work would start on the Memorial. In reality, workers have been busy on the inside of the Memorial for the last couple of months. Before the enormous hoist could be constructed, the base of the Memorial needed reinforcement to support the additional weight of the lift and its cargo. Crews had to drill down to the bedrock underneath the Memorial for the additional support," Stransky added.   
     Working 317-feet up in the air and hauling materials up and down from the Observation Deck has proven challenging for the construction crews. For example, laborers removed by hand approximately 200 stone pavers weighing 100 pounds each and transported the pavers via the elevator to the ground floor. Another crew used forty feet of coring bits to enlarge drainage lines from the elevator landing to the basement.
        This phase of the project involves reconstruction of the Observation Deck, and improving the drainage system. Engineers blame water damage for dislodging the 500-pound granite block that fell from the Observation Deck in 2006.  Historic preservation experts believe the key to preserving this historic landmark is providing proper water drainage to prevent freeze/thaw action in the winter. The current repairs are expected to take at least two summers to complete and are funded by the American Recovery and Reinvestment Act.
    Even though the Memorial is closed, the Visitor Center and grounds remain open. In addition to the many regular activities, Park Rangers are providing "Construction Walking Tours" of the grounds. Special events and concerts are held on the back steps of the Visitor Center. For a schedule of events, please call (419)285-2184 or visit www.nps.gov/pevi. The Visitor Center is open daily from 10 a.m. – 7 p.m.
-NPS-