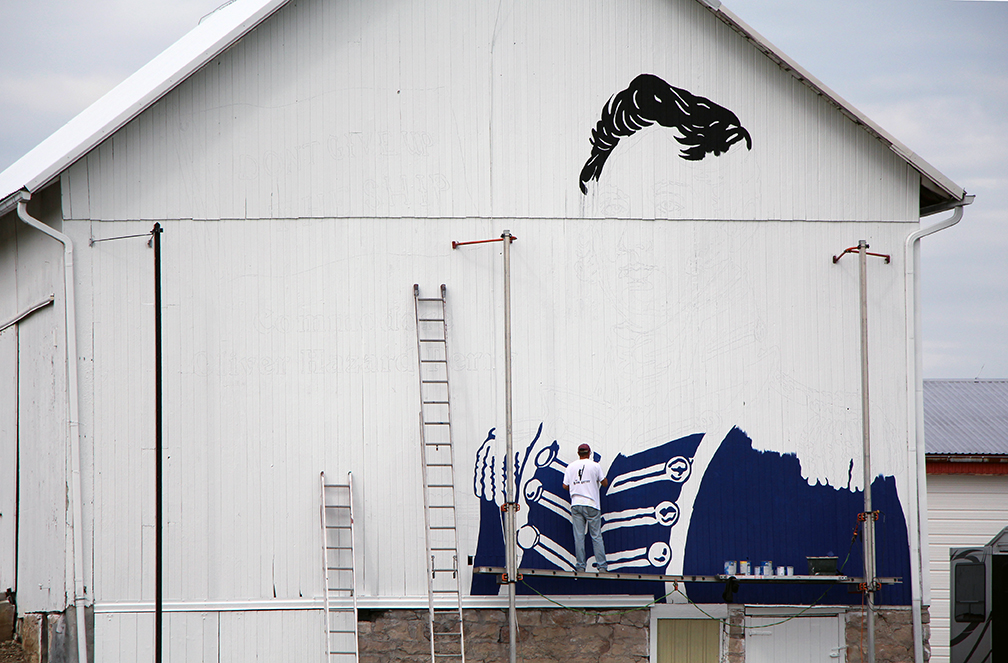 News Release Date:
September 14, 2017
Contact: Mary (Maggie) Beckford, 419-285-2184 extension 1229
PUT-IN-BAY, OHIO – From a distance, the larger than life image of Oliver Hazard Perry came alive last Wednesday under the artful brush strokes of celebrated barn painter Scott Hagan. Located on SR 105 just two miles west of Oak Harbor, the iconic image of Perry is hard to miss.
"It's a great honor for Perry's Victory and International Peace Memorial to be featured on Ottawa County's Ohio History Connections barn project," said Park Superintendent Barbara Fearon. "Perry's story, and the peace that's endured, is an important one to remember."
Fearon said the National Park will send every available Ranger – some in 1812 period clothing -- and its carronade, a short gun similar to the ones on the Brigs Lawrence and Niagara, to the Barn Dedication on Friday, September 22. The Gun Crew will fire a salute to end the program.
Hagan, who painted all 88 barns in 2003 to celebrate Ohio History Connections' Bicentennial Barn project, was in his third day working on the 73-year-old barn that Lester Goetz built in 1944. The white barn, with its image of Perry and his motto flag "Dont Give Up the Ship", is a little taller than most and has an excellent view from the road. 
Goetz's daughter, Bonnie Schimming, and her husband own the property now. "We think this is an important project for Ottawa County," Mrs. Schimming said. "This area doesn't always get the recognition it deserves."
The Schimmings were approached by the Ottawa County Historical Society after Director Linda Huber read about the Ohio History Connections project to paint a barn in each of Ohio's 88 counties to promote and preserve local history.
"We needed to choose one image to portray the history in Ottawa County," Mrs. Huber said. "The Battle of Lake Erie was so important to our local and American history it made our choice for us."
Mrs. Huber said the dedication will begin at 2 pm at the Schimming Farm on Friday. Moore Orchards will provide apple cider and the Ottawa County Historical Society will serve cake made from the recipe used for Perry's wedding cake.
Superintendent Fearon will speak on behalf of Perry's Victory and International Peace Memorial and Park Rangers will also attend in uniform.
Hagan, known as the "barn artist" has painted more than 400 barns in his career which began in 1998 after the Belmont County native was chosen to paint Ohio's logo on a barn in every county. He traveled 65,000 miles from 1998 to 2003 to complete that project.
Superintendent Fearon said the Park is grateful for Scott Hagan's talent, the Schimmings generosity, the Ottawa County Historical Society's selection of Perry for the project, and most importantly what Perry did for Ottawa County and the United States.
"Two centuries of peace with our northern neighbors and Great Britain, and sharing an unarmed border with Canada that's nearly 5,000 miles long deserves to be celebrated and preserved," Fearon said.