Person
John C. Breckinridge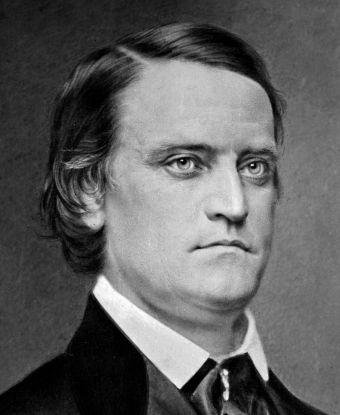 Significance:
Confederate Major General and Secretary of War
Place of Birth:
near Lexington, KY
Date of Birth:
January 16, 1821
Place of Death:
Lexington, KY
Date of Death:
May 17, 1875
Place of Burial:
Lexington, KY
Cemetery Name:
Lexington Cemetery
John Cabell Breckinridge graduated from Centre College in 1839 and, after studying law at Transylvania University, was admitted to the bar in 1840. During the Mexican-American War Breckinridge served as major of the 3rd Kentucky Volunteers. He was elected to Congress twice in the early 1850s and in 1856 was elected vice president under President James Buchanan. In 1860 he ran for president, but lost to Republican candidate Abraham Lincoln. When the South began to secede in response to Lincoln's election, Breckinridge, having been elected to the US Senate, stressed the right of secession.
However, when Kentucky remained in the Union, Breckinridge resigned his Senate seat and joined the Confederate army, receiving a commission as a brigadier general. He was promoted to major general following the Battle of Shiloh, in which he was wounded. Breckinridge developed an intense disdain for fellow Confederate officer, General Braxton Bragg, considering him to be incompetent. Bragg likewise had an immense dislike for Breckinridge, accusing him of being a drunk. The sentiments of both individuals came to a head at the Battle of Stones River during which Bragg ordered Breckinridge's men to make a near suicidal assault against the Union lines. Breckinridge lost one third of his command and was himself emotionally devastated. He did however continue to serve under Bragg at the battles of Chickamauga and Missionary Ridge.
In 1864 Breckinridge was brought east to command troops in the Shenandoah Valley. There he defeated Major General Franz Sigel at the Battle of New Market in May. Breckinridge was briefly attached to General Robert E. Lee's Army of Northern Virginia before being ordered once again to the Shenandoah Valley. Following the successful defense of Lynchburgh Breckinridge joined Lieutenant General Jubal Early's Army of the Valley District and participated in the Battle of Monocacy. He was the second highest ranking officer in Jubal Early's army and moved with it to the outskirts of Washington and then back into the Shenandoah Valley.
John C. Breckinridge's last major battle was fought on September 19, 1864, Third Winchester. Following the Confederate defeat, Breckinridge was ordered by the Confederate War Department to take command of the new Department of Western Virginia and East Tennessee, he was to leave the majority of his forces in the Valley with Early. In February 1865 he was appointed Secretary of War by Confederate President Jefferson Davis. As the Confederate government abandoned Richmond, Virginia, it was Breckinridge who saw to it that the archives of the Confederacy were not destroyed, preserving the records of the Confederate government and war effort for history.
Following the war, Breckinridge fled the country in a self-imposed exile that lasted until 1869. He then returned to his native Lexington, Kentucky and resumed his law practice until his death of cirrhosis in 1875.
Last updated: August 8, 2020