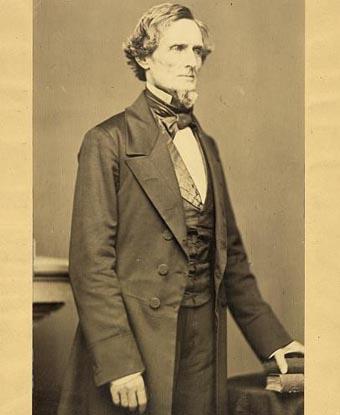 Significance:
President of the Confederate States of America
Place of Birth:
Christian County, KY
Date of Birth:
June 3, 1808
Place of Death:
New Orleans, LA
Date of Death:
December 6, 1889
Place of Burial:
Richmond, VA
Cemetery Name:
Hollywood Cemetery
After graduating from the US Military Academy at West Point, Jefferson Davis served in the Black Hawk and Mexican-American Wars, served as President Franklin Pierce's Secretary of War, and was elected to the US Senate where he led the southern defense of slavery.
He resigned from the Senate on January 21, 1861, upon the secession of Mississippi from the Union. He offered his services to Mississippi and was pleased to receive commission as a Major General in the Army of Mississippi. However, less than a month later he was elected president of the Confederacy. Despite his desire to serve as a general in the Confederate army, Davis accepted his election and was inaugurated on February 18, 1861 in Montgomery, Alabama.
During his presidency, Davis was unable to find a strategy to defeat the better organized and more industrially developed North. Perhaps his most successful military move came in June 1862, with the appointment of Robert E. Lee to lead the Army of Northern Virginia. While many have criticized Davis' leadership during the war, most believe he guided the South as well as could be expected, given the limitations of the Confederacy.
Recognizing these limitations, Davis' general strategy was defensive. However, during the Maryland Campaign Davis decided to attempt to hurt Union confidence and strengthen the Confederate position by launching an offensive campaign. Unfortunately for Davis, this invasion would ultimately meet with defeat and Lee's Army of Northern Virginia would retreat back across the Potomac and into the Confederacy following the Battle of Antietam. At the end of the war, Davis was imprisoned for two years at Fort Monroe and charged with treason, though the case was never brought to trial. Despite his stalwart belief, even until his death in 1889, that the Confederate secession had been constitutional, throughout his later years Davis encouraged Southern loyalty to the Union.
Last updated: November 10, 2018