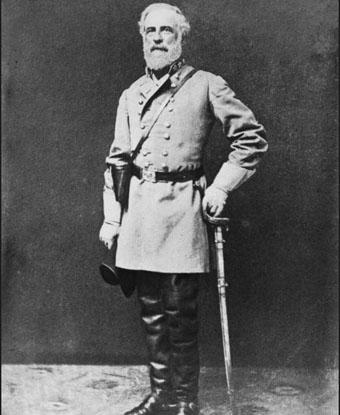 Significance:
Confederate commander of the Army of Northern Virginia
Place Of Birth:
Stratford Hall, VA
Date Of Birth:
January 19, 1807
Place Of Death:
Lexington, VA
Date Of Death:
October 12, 1870
Place Of Burial:
Lexington, VA
Cemetery Name:
Lee Chapel, Washington & Lee University
From the Peninsula to Maryland: Lee's role in the summer of 1862
After stopping McClellan's push toward Richmond and sending the Army of the Potomac retreating toward Washington, Lee turned his attention to John Pope's "total" war on the people of Northern Virginia, which had devastated the region between Culpeper and the railroad junction at Manassas. Lee sent Thomas "Stonewall" Jackson north to disrupt Pope's movement and hold him in one place while the rest of the army moved to engage him. Jackson's success in capturing Union supplies at the railroad junction at Manassas and subsequent holding action at Deep Cut on August 29 allowed the rest of Lee's army to arrive on the field and carry the day at the Second Battle of Manassas (Bull Run).

In September 1862, with both Pope and McClellan back in Washington, Lee launched an invasion into Maryland with the hope of shifting the war's focus away from Virginia and defeating Union forces on their own soil. He also hoped that such a victory on the heels of his victories at Richmond and Manassas would result in European support of the Confederate cause.
Believing that McClellan would be slow to react to the Confederate invasion, Lee decided to split his army in order to accomplish several goals simultaneously. He issued orders outlining this plan to each of his commanders in Special Orders 191. McClellan surprised Lee, and rather than displaying his usual slowness of action, rapidly dispatched the Army of the Potomac to cut off Lee's advance. When a copy of Special Orders 191 was found by a Union soldier near Frederick, MD, and placed McClellan's hands, Lee and the Army of Northern Virginia were in grave danger.
McClellan's delayed reaction to the opportunity to crush Lee's army in separate groups allowed Lee's forces to hold the Army of the Potomac at South Mountain long enough for the full strength of the Army of Northern Virginia to arrive on the field of Antietam on September 17, forcing McClellan into a stalemate. Following this bloodiest day in American history, heavy casualties compelled Lee to withdraw under the cover of darkness and end his campaign into Maryland when his army re-crossed the Potomac River into Virginia.
Last updated: June 17, 2015