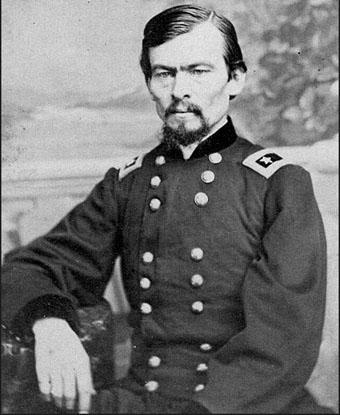 Significance:
Rallied Germans to fight in the Civil War, Major General
Place Of Birth:
Baden (Germany)
Date Of Birth:
November 18, 1824
Place Of Death:
New York City, NY
Date Of Death:
August 21, 1902
Place Of Burial:
New York City, NY
Cemetery Name:
Woodlawn Cemetery
From the Peninsula to Maryland: Sigel's role in the summer of 1862
Franz Sigel, who was born and grew up in Germany, made his mark on the American Civil War as a Corps commander. When the war began Sigel joined the Union army in Missouri, serving under the command of Nathaniel Lyon. When Lyon was killed, Sigel was appointed Brigadier General in the summer of 1861. Over the next year Sigel was involved in numerous campaigns and was promoted to the rank of Major General. Sigel was known for rallying German-Americans to enlist for the Union as they declared: "I goes to fight mit Sigel."
When John C. Fremont resigned his commission after finding out that his heretofore independent command would be reconstituted as the I Corps in the newly formed Army of Virginia John Pope had to find a new commander. He chose Franz Sigel.
Sigel was generally praised for his efforts in the Second Battle of Bull Run. His troops defended against "Stonewall" Jackson's assault on August 29th and attempted to hold back General James Longstreet's massive assault the following day. After suffering ignominious defeat at the Second Battle of Bull Run and retreating back to Washington, Sigel's First Corps were disbanded and reassigned as the Army of Potomac's Eleventh Corps.
Franz Sigel commanded the XI Corps over the winter of 1862-63, but saw no action, remaining in reserve during the Battle of Fredericksburg. Much to the dismay of his men, who were largely German immigrants, Sigel left the corps in February 1863, and was replaced by Maj. Gen. Oliver O. Howard.
Last updated: June 17, 2015