Charles Longfellow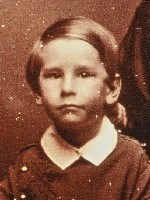 Born in 1844, "Charley" Longfellow was the beloved first child of Henry and Fanny Longfellow. As a young child he was keenly interested in the comings and goings on Brattle Street and his mother observed "[he] promises to be a man of action." From the age of 18 he spent most of his life traveling in distant places. He and his brother Ernest attended Miss Jennison's school at the corner of Garden and Mason Streets and both enjoyed drawing. His journals from his early travels include drawings he made to record his impressions.
Always a risk taker, Charley lost his left thumb after a gun accident at the age of 11. Seven years later in 1863, he ran off to enlist as a private in the Union Army during the Civil War, and eventually received a commission as a lieutenant in a cavalry regiment. Miraculously, he survived a bout with malaria and what could have been a mortal wound in his back, which he received while on campaign in Virginia.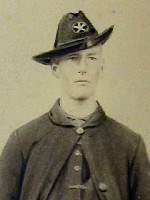 After his wounding, Charley's doctors recommended a change of scenery, so he turned to yachting. His 1866 voyage to England on his uncle's yacht the "Alice" set a new record for a transatlantic crossing. Yachting and boats would remain one of Charley's passions for the rest of his life. From there he traveled on to Paris, and then to Russia and back.
A large family entourage acompanied brother Ernest to Europe on his honeymoon in 1868-1869. Charley soon lost interest in completing the Grand Tour with them, and accepted an invitation to go to India. He stayed there for 15 months, traveling around northern India and the Himalayas. He returned home via the newly opened Suez Canal. His Indian experiences are documented in some of the many photograph albums he assembled.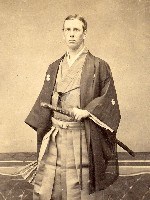 In 1871 Charley set off for Asia on what was to be his longest sojourn abroad. Japan held a particular fascination for Charley, and he lived in the Tokyo area for almost two years, regaling friends in a remodeled samurai dwelling and enjoying local diversions such as kabuki. He was part of an exploratory expedition through the interior of Hokkaido and Honshu that was organized by the American consul. Letters home to Cambridge indicate Charley accomplished this feat with stamina and courage, along with his ever-present sense of humor. The furniture, works of art, porcelain, textiles and books he sent back to 105 Brattle Street were early contributions to what became a "Japan Craze" in the United States.
From Japan, Charley went to China and also managed to visit the Philippines, Singapore, and Thailand before returning home in 1874. Thereafter his trips tended to be shorter and were interspersed with many yachting voyages. Between 1875 and 1891 he went to Cuba, Mexico, Scotland, Ireland, the Canary Islands, Madeira, Italy, North Africa, Turkey, France, the West Indies, Egypt, Scandinavia, Spain, Portugal, Wales, Colombia, Australia, and returned several times to England and Japan.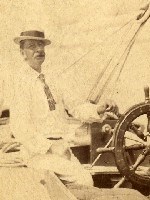 Though his journals reveal a disregard for conventional spelling and punctuation, they do reveal a deep interest in the customs and beliefs of different cultures. Unlike other gentlemen travelers of his era, Charley wanted to experience his surroundings, rather than merely observe them.
Charley led a bachelor existence that perhaps was inspired by his peripatetic uncle, Thomas Gold Appleton. Charley never built a residence on the Brattle Street land he inherited, as did his brother Ernest and sisters Edith and Anne Allegra. He maintained an apartment on Beacon Hill in Boston to which he returned between journeys. The last months of his life, before his death of pneumonia in 1893, were spent in the Brattle Street house with his sister Alice. He is buried in the family plot at Mt. Auburn Cemetery in Cambridge.
Last updated: March 24, 2023