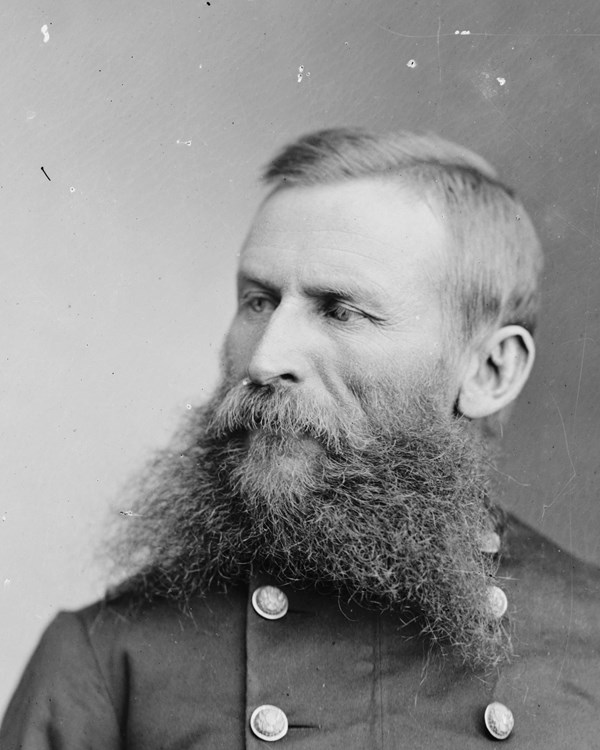 Significance:
U.S. Army General
Place of Birth:
Taylorsville, OH
Date of Birth:
September 8, 1828
Place of Death:
Chicago, IL
Date of Death:
March 21, 1890
Place of Burial:
Arlington, VA
Cemetery Name:
Arlington National Cemetery
George Crook graduated from the United States Military Academy in 1852, 38th out of a class of 43, and was commissioned a 2nd Lieutenant in the 4th U.S. Infantry, stationed in Northern California until the outbreak of the Civil War. On September 12, 1861, Crook was appointed colonel of the 36th Ohio Infantry and sent to western Virginia.
On September 7, 1862, he was promoted to brigadier general, and commanded a brigade of regiments from Ohio during the Battles of South Mountain and Antietam during the Maryland Campaign. Following the campaign, George Crook was assigned to the command of the Kanawha Division which was detailed to the Army of the Cumberland in the Western Theater, where Crook fought in the Battle of Chickamauga and the Chattanooga Campaign.
Returning to the East in the spring of 1864, Crook led a raid on the Virginia and Tennessee Railroad and in the Valley Campaign battles of Third Winchester, Fisher's Hill, and Cedar Creek, shortly after which he was promoted to Major General. In February 1865, Crook was captured by Confederate raiders at Cumberland, Maryland, and held as a prisoner until exchanged on March 20. He was assigned command of a division of cavalry in the Army of the Potomac for the Appomattox Campaign, with notable service at Five Forks, Saylor's Creek and the final battle at Appomattox Court House.
After the war, Crook as assigned to the 23rd U.S. Infantry, on frontier duty in the Pacific Northwest and served with distinction through the Indian Wars. In 1883, he led Apache scouts and U.S. troops into Mexico to search for the Chiricahua Apache, who were raiding from their sanctuaries in the Sierra Madre. After a brief skirmish, Crook negotiated the Chiricahuas' peaceful return to the Arizona reservations. In his later years, Crook struggled repeatedly with the U.S. government to uphold its promises to the conquered tribes and urged civil rights for Native Americans.
Last updated: January 18, 2023