Article
Third Battle of Winchester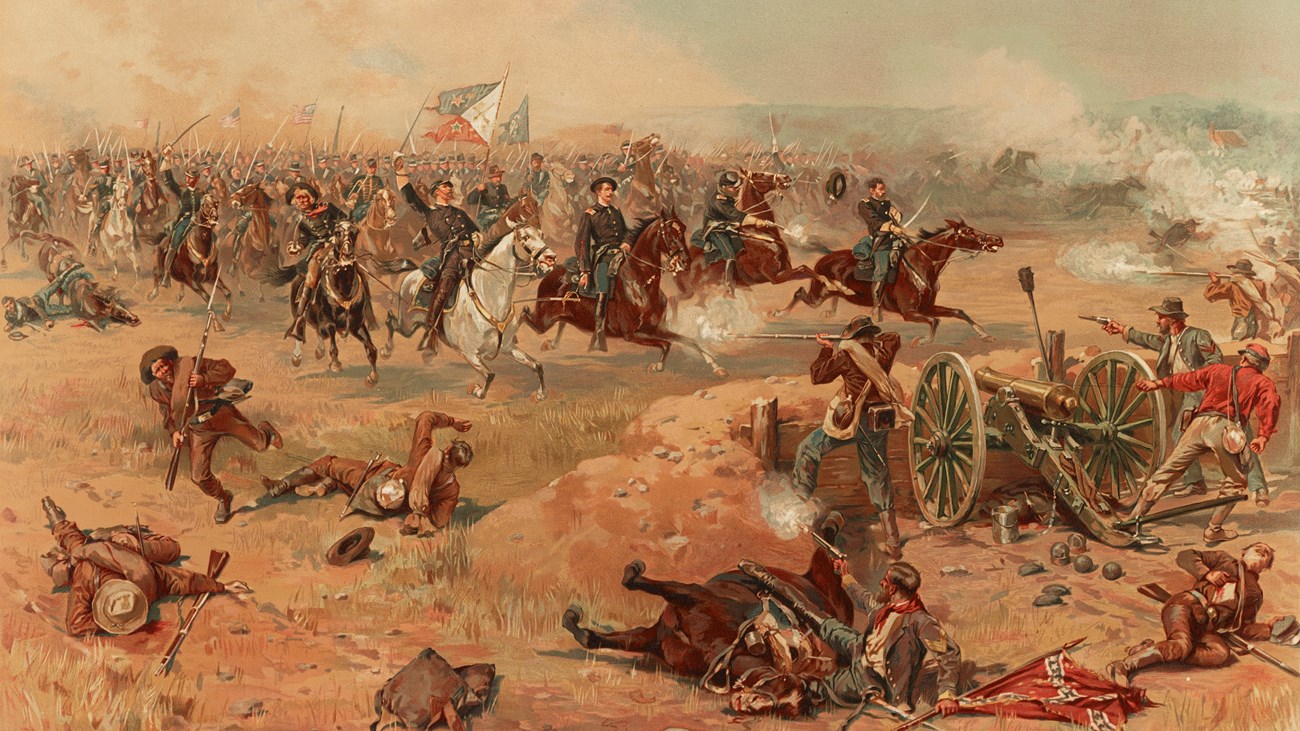 "Sheridan moved at the time he had fixed upon. He met Early at the crossing of Opequon Creek and won a most decisive victory—one which electrified the country. Early had invited this attack himself by his bad generalship and made the victory easy. He had sent Anderson's division east of the Blue Ridge…"

Lt. Gen. Ulysses S. Grant
Confederates suffered a costly defeat at the Third Battle of Winchester, September 19, 1864. The largest battle in the Shenandoah Valley saw 54,400 total troops engaged and 8,630 casualties, including over a quarter of the Confederate Army of the Valley. The Confederates' retreat from Winchester to Fisher's Hill was the beginning of the end of their resistance in the Valley.
Third Winchester Battlefield
Shenandoah Valley Battlefields Foundation (SVBF) preserves the battlefield at Third Winchester Battlefield Park and Fort Collier Civil War Center. Visit Third Winchester Battlefield »
Beginning of the End of Resistance in the Valley
Maj. Gen. Philip H. Sheridan and his Army of the Shenandoah were on a roll, literally. The army's wagon trains, along with horses, cannons, and over 35,000 soldiers were lumbering west toward Winchester, Virginia, on the Berryville Turnpike, the primary Federal avenue of approach. Their intent: destroy the 15,000-man Confederate Army of the Valley under Lt. Gen. Jubal Early, and finally rid the Valley of all secessionist resistance, civilians included. 
Other than several cavalry probes and clashes, the tactical situation remained static for the next two weeks as the armies stayed on their own side of Opequon Creek, Confederates to the west, Federals to the east. While Sheridan sought an opening for an attack, United States Army commanding General Ulysses S. Grant decided that visiting Sheridan might prod him into battle. 
Meanwhile, Sheridan received intelligence on September 16th that an entire Confederate division of over 3,000 soldiers under Generals R. H. Anderson and Joseph Kershaw had left the Valley. The information was provided by a Winchester Unionist named Rebecca Wright and relayed by a slave named Tom Laws. The shrewd Laws carried Wright's handwritten note, wrapped in foil and in his mouth, back to Sheridan. 
Cavalry scouts confirmed the intelligence that evening, and Sheridan built his attack plan. The next day, Sheridan and Grant met at the Rutherford House in Charles Town, West Virginia. Grant liked Sheridan's plan to defeat the now undermanned Early so well he said little other than, "go in."

Despite indicators of an impending Federal attack, Early sent two divisions under Major Generals John B. Gordon and Robert Rodes north to Martinsburg, West Virginia, to wreck the Baltimore & Ohio Railroad. When the opportunistic Sheridan realized on September 18th that these two Confederate infantry divisions were still camped several miles north of Winchester, he adjusted his attack plan to strike Early as soon as possible. After lead cavalry elements left camp around midnight, most of Sheridan's army started marching west toward the bloody Battle of Third Winchester around 2:00 a.m., September 19th, 1864.
Leading the long Federal column was the cavalry division under Brig. Gen. James H. Wilson, followed by the 6th Corps, then the 19th Corps. Wilson's troopers were the first to feel the constricting grip of the Berryville Canyon, or Ravine, a narrow passage with high bluffs along the Berryville Pike about three miles east of Winchester. 

Confederate pickets sniped at the Federals and alerted their commanders, but Wilson's riders cleared the way for the infantry. Approximately four miles further north along Opequon Creek, the brigades of Brig. Gen. Wesley Merritt's First Cavalry Division secured three key fording sites and hotly engaged Confederate infantry under Maj. Gen. John C. Breckinridge and Brig. Gen. Gabriel Wharton. 

Back on the Berryville Pike, the narrow, confining bottleneck of Berryville Canyon became quite an obstacle. Although the 6th Corps under Maj. Gen. Horatio Wright was designated to lead the coming infantry attack, the 19th Corps under Maj. Gen. William Emory reached the canyon first. This caused a tremendous traffic jam as the 6th Corps tried to pass the 19th. Somehow the 6th Corps wagon train got ahead of the 19th Corps infantry which split the assault units and delayed Sheridan's attack by over two hours. 

This Federal confusion gave Early and his Confederates time to establish a hasty defensive perimeter around Winchester. Seemingly confused by various reports, Early managed to order the divisions of Gordon and Rodes south, back to the Winchester area to support Maj. Gen. Stephen D. Ramseur's division. With Ramseur holding the Confederate right flank near the Berryville Pike and Abram's Creek, Gordon's division deployed to Ramseur's left, on the edge of the Second Woods and covering a large, open area called Middle Field. 

Just north on Gordon's left and across Red Bud Run sat Confederate cavalry elements under Maj. Gen. Fitzhugh Lee. Featured here was the horse artillery battery under Maj. James Breathed. This battery of 3-inch Ordnance Rifles would soon pour devastating fire into the Federal right flank. 

As the main battle opened, Robert Rodes's infantry division was marching south to join the action and the Confederates under Breckinridge and Wharton were still holding off Federal cavalry about two miles north of Red Bud Run. 
After conquering the delays in Berryville Canyon, Sheridan finally launched his attack at 11:40 a.m., September 19th, 1864. On the Federal left flank came the 6th Corps, guiding on the Berryville Pike. The 6th Corps slammed into Ramseur's determined Confederates, inflicting losses but gaining little ground against the combined artillery and musketry fire. 

Slowly, grudgingly, the Federal divisions of Brig. Gen. James Ricketts on the 6th Corps' right and Brig. Gen. George Getty on the left made progress against Ramseur's troops, outnumbered nearly four to one in this sector. Not far south on Ramseur's right flank, Confederate cavalry under Maj. Gen. Lunsford Lomax held off Wilson's Federal horsemen through most of the battle.  

About one-half mile north was an equally ferocious fight as the Federal 19th Corps advanced west out of the First Woods and across the Middle Field. To the front was the tough, veteran Confederate division under Gen. Gordon, and to the north, just across Red Bud Run was Maj. Breathed's horse artillery. 

As they marched into the fire from Gordon's musketry, the soldiers of the 19th Corps were hammered on their right flank by case shot and shell from Breathed's guns. Caught in a nightmarish crossfire, many of the Federals took whatever cover was available, even simply low spots on the ground. One Federal troop remarked, "the grass and earth was cut and torn up by a perfect sheet of lead…bullets sought the hiding places of the men with fatal accuracy…blood was on everything, was everywhere, was spattered on bushes, was gathered in ghastly puddles on the ground." Maj. William Knowlton of the 29th Maine was shot and killed when he looked up out of a low spot. 
While the Federal infantry corps tried to advance and the two sides punched and counterpunched, the area's geography provided the Confederates with an opportunity. With the 6th Corps attacking generally southwest, parallel to the Berryville Pike, and the 19th Corps heading generally northwest, paralleling Red Bud Run, an almost one-half mile gap had opened between the 6th and 19th Corps by around 12:30 p.m. 

The Confederate division of Robert Rodes, newly arrived on the field, counterattacked to exploit this seam between the Federal corps near the South, or West, Woods. One Virginian wrote, "I don't think I ever heard such a noise as when Gen. Rodes started in, it sounded as if… a terrific thunderstorm was raging in the woods." While directing the attack, Rodes was hit by a bullet or shrapnel, fell off his horse, and died. Despite the loss, Rodes's brigade commanders continued the attack and temporarily stabilized the situation. 

Ferocious fighting continued all along the approximately 2.5-mile front. By 1:00 p.m., Rodes's brigades had pushed back the 6th Corps right flank and both Ramseur's and Gordon's divisions had reclaimed some lost ground, Gordon's with help from a counterattack by Brig. Gen. Cullen Battle's brigade. But Sheridan still had many more soldiers than did Early. 

Just when the 6th Corps line wavered, the three brigades of Brig. Gen. David Russell's First Division, 6th Corps, entered the fight and stopped the Confederate momentum. Russell was killed, however, by deadly bullet and shrapnel wounds. 
North in the Middle Field, pressure from Gordon's division, assisted by Battle's brigade, was driving elements of the 19th Corps back toward the First Woods. Some of Brig. Gen. Cuvier Grover's units broke and ran. Infuriated 19th Corps commander Gen. William Emory rode up to his other division commander, Brig. Gen. William Dwight, and demanded, "Have this thing stopped at once…the position must be held at all hazards!" Dwight's 1st Brigade, under Brig. Gen. George Beal, blunted Gordon's attack while being hit by flanking fire from the Confederate horse artillery just across Red Bud Run.  

By 1:00 p.m., perhaps a bit later, Sheridan concluded that Confederate resistance was "obstinate," and the battle had turned into little more than a bloody stalemate. He knew he had to win this battle; Gen. Grant had approved his attack plan and expected him to defeat Early.

Sheridan decided to call on his reserve, the 8th Corps, or Army of West Virginia, under his old friend, Maj. Gen. George Crook to break open the deadlock. Riding to the front, Sheridan chose to send Crook in support of the 19th Corps on the army's right flank. He wanted to turn Early's left flank back toward Winchester, then let his cavalry drive in from the north for the crushing blow. 

Seeing 19th Corps commander Emory, Sheridan boasted, "I've got Crook here with 10,000 men, and I am going to throw them in and whip these fellows…" Never mind that Crook probably had no more than 7,500 men in two infantry divisions and an artillery battalion. 
Arriving around 2:00 p.m., Crook sent Col. Isaac Duval's division across Red Bud Run to turn left, advance west about one mile, ford the stream heading south, and crash into Gordon's left flank. This was the sector where Breathed's horse artillery guns had caused so much damage earlier, but now they were gone. 
The brigade under Col. Rutherford B. Hayes found the stream very difficult to cross, "twenty or thirty yards wide, and nearly waist deep, with soft brown mud at the bottom," wrote one Federal veteran. Resistance was fierce as Gordon's troops and Col. George Patton's men from Wharton's division defended the Confederate left flank. 
Seeing Duval's flanking march in trouble, Sheridan sent Col. Joseph Thoburn's 8th Corps division along Red Bud Run's south side to hit Gordon's division near the Hackwood Farm. This strike opened things up for Duval who's soldiers now crossed the stream and attacked Gordon and Patton. 
With the powerful Federal cavalry and their seven-shot repeating Spencer carbines bearing down from the north, Gen. Early had pulled Breckinridge with Wharton's division south to form a defensive perimeter around Winchester. Now Patton, the grandfather of the WWII hero George S. Patton III, was caught in desperate combat against both Duval's infantry and Brig. Gen. Thomas Devin's cavalry brigade. 
As the Confederate left flank started to collapse, Patton was mortally wounded by shrapnel and died several days later. The Federal cavalry divisions under Brig. Generals Wesley Merritt and William Averell thundered south toward Winchester and its protective forts, but Breckinridge and Wharton pulled together a patchwork defensive line that bloodied and temporarily stalled the aggressive Federal horsemen. 
About two miles south, pressure from the Federal 6th Corps was finally driving the remnants of Ramseur's and Rodes's beaten-up divisions west into Winchester. The battle in this sector had become a bloody stalemate, but a counterattack by Brig. Gen. Emory Upton's brigade spurred on the entire 6th Corps. Sheridan rode up in the afternoon and yelled to some of the soldiers, "give them hell, my men, the only way to do it is kill every son of a b____." 
By 4:30 p.m., the 6th Corps, firing their M1861 Springfield rifle muskets and building momentum, drove the Confederates away. Frustrated Confederate brigade commander Brig. Gen. Bryan Grimes yelled at his retreating men, "I will blow the brains out of the first man who leaves the ranks." Despite the threats, the outnumbered Confederates gave ground. 
The entire Confederate line grudgingly broke apart. Combined arms pressure from Thoburn's infantry, the relentless Federal cavalry, and horse artillery batteries punished Breckinridge's and Wharton's rag-tag defense. 
Cavalry brigades under Brig. Generals Thomas Devin and George A. Custer captured hundreds of fleeing Confederates. Col. Charles R. Lowell's cavalry brigade overran Fort Collier, an earthwork redoubt on Winchester's north end. The fort's defenders under the already mortally wounded Captain George Chapman were no match for Lowell's surging riders who scattered the remaining Confederates and captured two cannons. 
Less than a mile west, the cavalry brigades under Colonels James Schoonmaker and William Powell bore down on the earthen structures of Star Fort and Fort Jackson. Schoonmaker's troops chased Confederate defenders out of both forts. 
Despite pockets of enemy resistance, the Federal cavalrymen were enjoying their bloody jobs. Riding, slashing, and killing with their Colt and Remington six-shooters, they got lots of practice as Sheridan's shock troops. They kept charging toward Smithfield Redoubt, an L-shaped earthwork one-half mile south of Fort Collier where Confederate officers like Gordon, Breckinridge, and Cullen Battle tried to rally a last-ditch defense around the remaining guns of their artillery battalion. 
The combat near the redoubt was ferocious as the Federal infantry of the 6th and 8th Corps closed in from the east. But the Federal cavalry was not done. Under Gen. Wesley Merritt's command, the brigades of Custer, Devin, Lowell, and Powell charged in from the north, thundered over the earthworks, and scattered most of the Confederate defenders, "sabering right and left, capturing prisoners more rapidly than they could be disposed of," wrote one Federal rider. 
Beaten, fleeing Confederates streamed through Winchester. One soldier wrote, "it was the most disorderly retreat I ever saw…the road was filled with fugitives from all commands." A North Carolinian noted, "I never ran so fast in all my life…" Gen. Early and his officers simply could not stop the retreat south toward Newtown. 
After the battle Early wrote, "we deserved the victory, and would have had it, but for the enemy's immense superiority in cavalry…" Fortunately for the Confederates, Federal pursuit attempts were cautious and disorganized; Early's bloodied army slipped away to fight again three days later, September 22nd, 1864. 
In terms of troops engaged and casualties, Third Winchester was the largest battle in the Shenandoah Valley. Of his approximately 15,000 soldiers, Early lost nearly 4,000 killed, wounded, and missing or captured (approximately 27%), but somehow managed to lose only five cannons. Sheridan lost slightly over 5,000 troops (approximately 13%). 
While Early's army was severely crippled by the casualties, Sheridan could replace his own losses. The Army of the Shenandoah was building confidence and momentum. It was again on a roll, this time following Early's army south to the "Confederate Gibraltar," Fisher's Hill. 
Last updated: February 1, 2023