The Battles For Chattanooga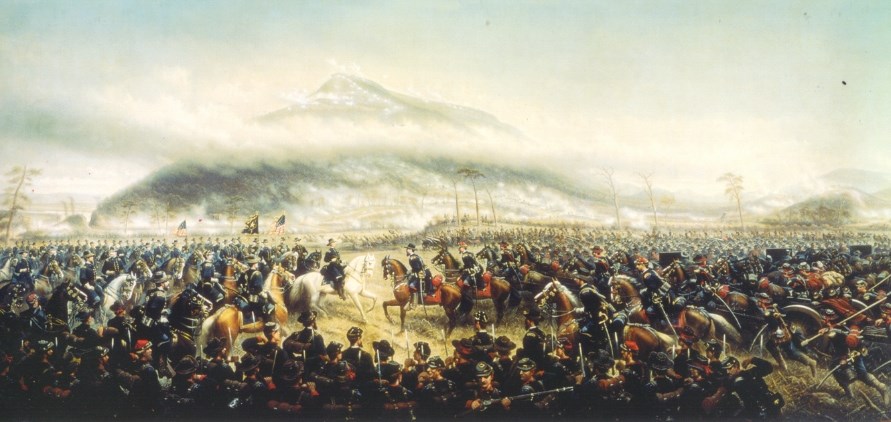 After their defeat at the
Battle of Chickamauga
, Union forces retreat into Chattanooga, while the Confederate Army of Tennessee surrounds and besieges the city. In late October 1863, Union troops use the cover of dark­ness to silently float past Confederates on
Lookout Mountain
. Then, in a rare night battle near Wauhatchie, they win control of Lookout Valley and secure their new supply route across
Moccasin Bend
, known as the "Cracker Line." Chattanooga is still up for grabs.
November 23, 1863
Thousands of Union soldiers march out of Chattanooga. Like a great blue wave, they crash around Confederate-held
Orchard Knob
, a small hill between the city and Missionary Ridge. The South­erners flee, providing General Grant a strategic view of his next goal, the ridge. During the night, Bragg reinforces his line on Missionary Ridge.
November 24, 1863
The Union intends to take Missionary Ridge but mistakenly assaults a hill to the north. They discover their mistake too late to attack the ridge that day. Their diversionary tactic—attacking fog-enshrouded Lookout Mountain— becomes the famous "Battle Above the Clouds" that sweeps the Confederates off the mountain and toward Mission­ary Ridge.
November 25, 1863
Confederates successfully defend both ends of
Missionary Ridge
. Grant orders an attack against entrenchments cen­tered at the base of the ridge. Finding little resistance there, and without or­ders, the recently defeated Army of the Cumberland continues charging up the rocky slopes and forces Bragg's army from the summit. Confederate troops retreat south into Georgia.
The War Continues
The rivers, rails, and roads of Chatta­nooga are firmly in Union hands. The city is transformed into a supply and communications base for Gen. William T. Sherman's 1864 Atlanta Campaign, which will begin in the spring. Disheartened Confederates wonder: Is the fall of Chattanooga truly "the death knell of the Confederacy"?
Last updated: April 23, 2017