The Battle of Chickamauga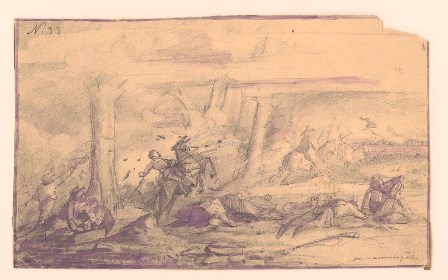 For thousands of Union and Confed­erate soldiers, their hopes hinge on controlling Chattanooga—the "gate­way" to the Confederacy. Yet, in mid- September, they meet in the peaceful farm fields of north Georgia, along a tranquil creek named
Chickamauga
.

September 18, 1863
Surprise, confusion, and hard fighting replace the well-laid plans of
General Bragg
, who hoped to block LaFayette Road and cut the Union's route to Chat­tanooga. As darkness falls, Bragg is still confident he can continue his plans and stop the Union Army in the morning. However,
General Rosecrans
moves his troops north throughout the night, a move that could turn the tide of battle.

September 19, 1863
Early in the morning, Union troops stumble into Confederates, who they presumed to be farther south. Both sides exchange fire all morning, leaving fields and woods littered with dead and wounded soldiers. The fighting spreads southwest, yet neither side has gained a clear advantage. During the night, Con­federate reinforcements arrive, while Union troops fortify their positions.

September 20, 1863
Fighting begins when Confederates attack Union fortifications on the battlefield's northern end. This forces Rosecrans to shift troops, accidentally creating a gap in the center of his line. By chance, Confederates swarm through, sweeping away Rosecrans. Retreating Union soldiers led by
General George Thomas
make a heroic stand on Horseshoe Ridge, but only darkness saves their army.

Siege of the City Begins
Rosecrans's army withdraws into Chat­tanooga while Confederates occupy key ground surrounding the city, including
Lookout Mountain
and
Missionary Ridge
. The stage is set to starve the Union Army into submission. They and the remaining residents endure a hungry month before General Ulysses S. Grant and reinforcements arrive to help open a supply line into the city.
The Battles for Chattanooga
would soon commence.
Last updated: April 23, 2017