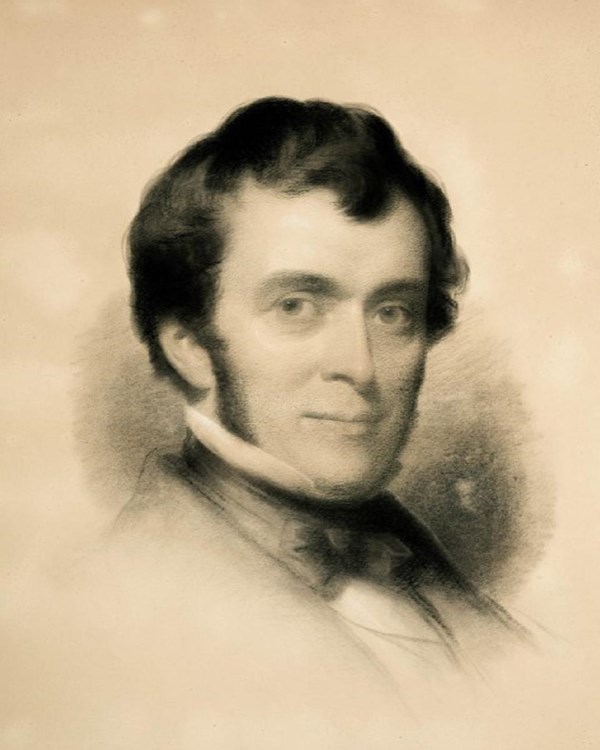 Significance:
Abolitionist and Lawyer
Place of Birth:
Boston, Massachusetts
Date of Birth:
April 14, 1802
Place of Death:
Boston, Massachusetts
Date of Death:
May 24, 1858
Place of Burial:
Boston, Massachusetts
Cemetery Name:
Central Burial Ground
Perhaps due to his association with many other eminent abolitionists, Ellis Gray Loring tends to be overlooked within the anti-slavery movement in Boston during the mid-1800s. He, nevertheless, made remarkable contributions towards furthering the cause of abolition.
Born on April 14, 1803, Loring lived in Boston during childhood, attending the Boston Latin Grammar School. He then gained acceptance to Harvard College but failed to graduate, dismissed along with some of his other classmates for displaying "resistance to college discipline."1 This "resistance" illustrated his emerging liberal and independent spirit. Loring, however, later studied law and gained admission to the Massachusetts bar in 1827.
As an attorney in Boston, Loring soon established himself as a staunch opponent of slavery, frequently serving as legal counsel for cases that promoted abolitionism. For example, in Commonwealth v. Aves (1836), one of the most consequential cases of his career, he and Samuel E. Sewall defended six-year-old enslaved girl Med Slater before the Massachusetts Supreme Court. In this case, the court ruled in Loring's favor, determining that any enslaved individual transported into Massachusetts by his or her enslaver voluntarily could not be removed from the state against his or her will. This decision meant that any enslaved individual brought into Massachusetts was, in effect, free.2 Benjamin R. Curtis, the opposing counsel to Loring and a future US Supreme Court Justice, allegedly shook Loring's hand after the ruling, remarking that "your argument has entirely converted me to your side."3
In addition to undertaking these legal efforts himself, Loring mentored other activists through his practice, most notably African American attorney Robert Morris. Beginning at the age of 13, Morris worked for Loring as a domestic servant in Boston for several years. But Loring eventually decided to employ Morris as a legal clerk, providing him with training in law as an apprentice. Morris later became the second African American to ever practice as an attorney in Massachusetts, arguing noteworthy legal cases that promoted equal rights for African Americans such as Roberts v. City of Boston (1850).4
Aside from his achievements as a lawyer, Loring demonstrated his commitment to furthering abolition by joining organizations devoted to this cause. He assembled with William Lloyd Garrison and ten other activists at the African Meeting House on January 1, 1832 to establish the New England Anti-Slavery Society. Despite at first disagreeing with Garrison's insistence on immediate emancipation of enslaved individuals, Loring ultimately embraced this position and remained a strong supporter of Garrison for many years, serving on the Board of Managers for the Massachusetts Anti-Slavery Society and the financial committee of The Liberator newspaper.5 He also maintained relationships with abolitionists outside of Boston. As part of the Amistad Committee, Loring called for the release of the 43 Africans charged for revolting against slave traders on board the schooner La Amistad in 1839. He and New York abolitionist Lewis Tappan asked former US President John Quincy Adams to represent these accused men in U.S. v. Amistad (1841).6
Loring later joined the 1850 Boston Vigilance Committee, perhaps the most accomplished network of abolitionists that he collaborated with during his life. Founded in response to the passage of the Fugitive Slave Act of 1850, this organization of Black and White abolitionists provided shelter, money, legal counsel, and other forms of assistance to freedom seekers in Boston to prevent against their arrest and return to slavery. Loring assisted this group by sheltering freedom seekers at his home in Brookline, MA during the 1850s. In late October 1850 when authorities arrived in Boston to arrest freedom seekers William and Ellen Craft, Ellen retreated to Loring's house to evade capture.7 Loring also utilized his expertise as an attorney in service of the Boston Vigilance Committee. For example, he represented fellow activists Lewis Hayden, John J. Smith, and Robert Morris in their trial for rescuing Shadrach Minkins from the US Courthouse in Boston on February 15, 1851.8
After continuing his legal practice in Boston, Loring died on May 24, 1858.9 Three days later, the New England Anti-Slavery Convention organized a tribute to his memory. William Lloyd Garrison delivered remarks in which he championed Loring as "morally courageous and independent" for supporting the abolitionist cause in Boston from the earliest stages of the movement. Wendell Phillips reiterated these sentiments at the event, recalling that he had "received the first anti-slavery pamphlet" that he ever read from Loring.10 To many of his like-minded contemporaries, Ellis Gray Loring made monumental contributions and sacrifices to protest slavery and advocate for racial equality in Boston during the 1800s.
Footnotes
Len Gougeon, "1838: Ellis Gray Loring and a Journal for the Times," Studies in the American Renaissance, 1990, http://www.jstor.org/stable/30227587, 33.
Henry Wilson, History of the Rise and Fall of the Slave Power in America (New York: Negro Universities Press, 1969), https://www.google.com/books/edition/History_of_the_Rise_and_Fall_of_the_Slav/bac0AQAAMAAJ?hl=en&gbpv=1&bsq=loring, 371.
Appletons' Cyclopedia of American Biography, 1600-1889, ed. by James Grant Wilson and John Fiske (New York: Appleton and Company, 1883), https://www.ancestry.com/discoveryui-content/view/9458:61360, 44.
Stephen Kantrowitz, More Than Freedom: Fighting for Black Citizenship in a White Republic, 1829-1889 (New York: Penguin Books, 2013), 130, 137-138.
Gougeon, "1838," 33-34.
Ellis Gray Loring, Ellis Gray Loring to Lewis Tappan, Boston, MA, February 27, 1841 (American Missionary Association Archives, Amistad Research Center, New Orleans, LA), https://digitallibrary.tulane.edu/islandora/object/tulane%3A53339; "John Quincy Adams and the Amistad Event," National Park Service, July 31, 2017, https://www.nps.gov/people/john-quincy-adams-and-the-amistad-event.htm.
Harold Parker Williams, "Brookline in the Anti-Slavery Movement," Brookline Historical Publication Society No.18 (1899), http://www.brooklinehistoricalsociety.org/history/publications/seriesTwo/18.html. According to this source, Loring resided in George Searle's house, which was near the corner of Cypress and Washington Streets. NPS maps approximate the location of this house.
Mary Ellen Snodgrass, The Underground Railroad: An Encyclopedia of People, Places, and Operations (United Kingdom: Taylor & Francis, 2015), https://www.google.com/books/edition/The_Underground_Railroad/RmqsBwAAQBAJ?hl=en&gbpv=0, 1099, 1100.
Find a Grave Index, 1600s-Current [database on-line] (Lehi, UT, USA: Ancestry.com Operations, Inc., 2012), https://www.ancestry.com/discoveryui-content/view/168504852:60525?tid=&pid=&queryId=7122641c4c46c8399ece7df5ce4cc7bc&_phsrc=gjy15&_phstart=successSource; Massachusetts Vital and Town Records (Provo, UT, USA: Ancestry.com Operations, Inc., 2011), https://www.ancestry.com/discoveryui-content/view/42426656:2495?tid=&pid=&queryId=7122641c4c46c8399ece7df5ce4cc7bc&_phsrc=gjy17&_phstart=successSource.
"Tribute to the Memory of Ellis Gray Loring, Esq. at the New England Anti-Slavery Convention, May 27, 1858." The Liberator (Boston, MA), June 3, 1858, https://www.newspapers.com/image/34576725/?terms=%22Loring%22&match=1.
Last updated: January 16, 2023