Pets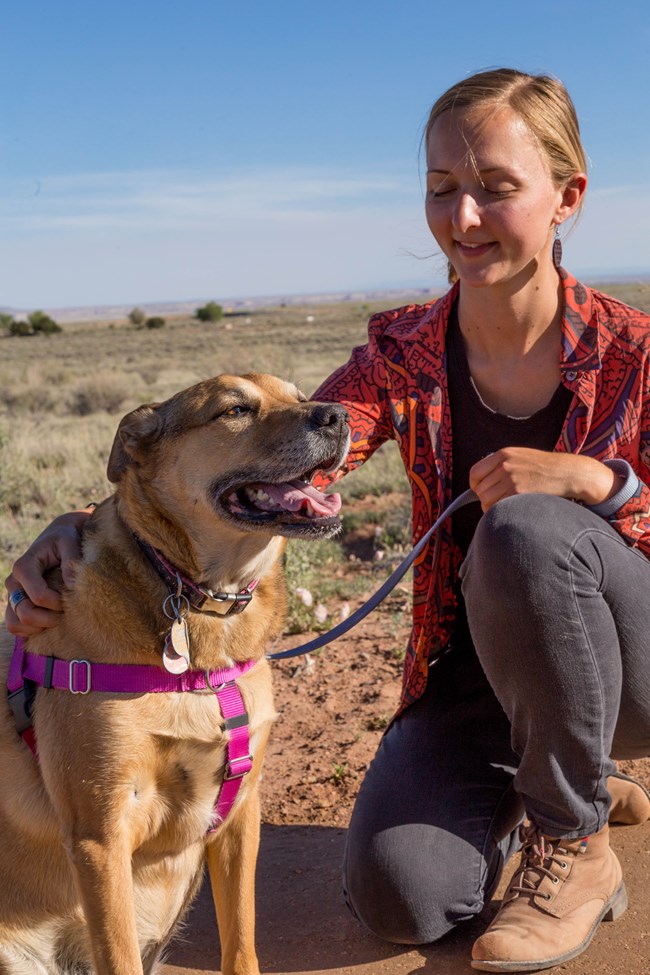 BARK Ranger
We are happy to introduce a special program just for our furry (or scaly, feathery, or...) friends! Sign up for the park's Bark Ranger program to properly enjoy Petrified Forest National Park with your pet. Treats are given to four-footed participants!
Sign up for the Bark Ranger program at any park entrance booth or visitor center. It's as easy as:
1) Ask about the Bark Ranger program at any park entrance booth or visitor center;
2) Read and agree to the rules on the official Bark Ranger card;
3) Get a pet treat as our way of thanking you and your new Bark Ranger;
Bark Ranger pet tags are also for sale at park visitor centers.
When you visit Petrified Forest National Park, remember to
B.A.R.K.
:
Bag your pet's poop.
Help keep your national park clean by collecting and disposing of all pet waste. Garbage containers are located throughout the park.
Always keep your pet on a leash.
For the safety and comfort of all the park's visitors, keep your pet dogs on a leash six feet or less in length. (See information at our
Services Animals page
).
Respect wildlife.
Petrified Forest can be home to migrating birds, rabbits, lizards, snakes, and other wildlife. Please keep your dog at a respectful distance from any animals you may encounter.
Know where you can go.
Pets are allowed on any paved road or trail as well as all designated wilderness area in the park. Please, only service animals are allowed in park buildings.Thank you for not leaving your pets unattended in your vehicle as heat poses a serious threat to pets.
What about service animals? What are service animals? Find out more at our
Service Animal page
!
Last updated: July 9, 2023