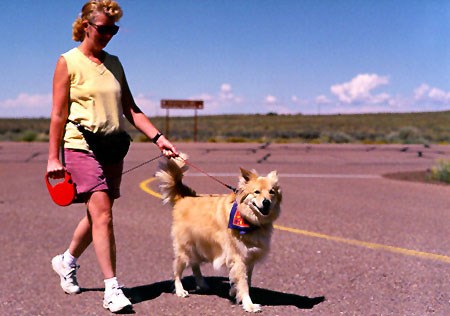 Petrified Forest is a very pet friendly national park! Please take your furry friends on trails, even backpacking in the Wilderness Area. For the safety of you and your pet, follow the regulations.
1. Pets may be left tied to an object under the following conditions:
Short periods of time (less than 5 minutes) in developed areas
During emergency situations in developed and undeveloped areas
2. Pet excrement must be collected and deposited in a trash receptacle.

3. Pets are not allowed in government and public buildings (even if carried). This restriction does not apply to service animals. Pets are allowed in all other areas of the park, including the Wilderness Area, as long as the areas are not indicated as closed by the Superintendent's Compendium.
4. Pets must be restrained by leash (maximum of six feet) at all times they are outside of a vehicle in the park.
5. Don't allow your pet to interact with wild park animals—nor should you! They can carry disease or will attempt to protect themselves. Also don't let your pet investigate dead animals, nests, or burrows. Make your visit a safe and happy experience!