Off the Beaten Path—Blue Forest Trail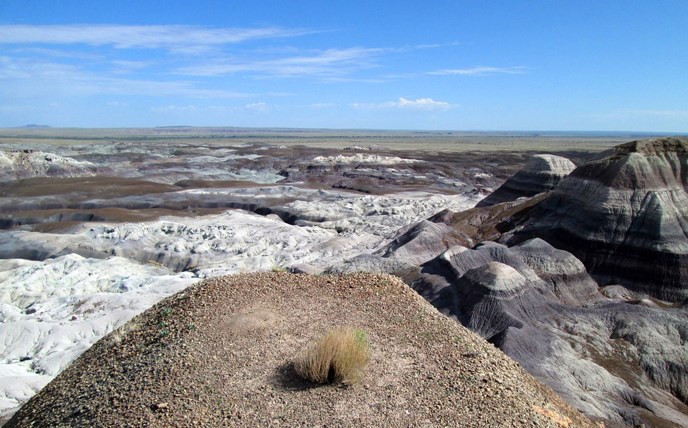 Get off the road-get off the paved trail! See something new and interesting!

Blue Forest Trail

Safety Notice! –
This trail is for sure-footed, safety-conscious, experienced hikers wearing lug-soled boots. Footing can be bad at any time, treacherous in wet or icy conditions – trail tread is in ball-bearing gravel some places and slippery clay in others. Walking sticks are recommended. The trail is not always easy to follow, is steep in spots, and follows a few knife ridges, all of which may cause some hikers to be uneasy and to feel unsafe. If any of these conditions sound like they may place this trail beyond your abilities, enjoy the following photographs but we recommend you not take the hike. As with any trail in the Southwest, we recommend you bring water, snacks, and sun-protection. In this case, we also recommend bringing the following trail description.
Introduction –
The Blue Forest Trail was originally constructed between 1934 and 1937 by the Civilian Conservation Corp, connecting the lower and upper Blue Mesa roads. Much of the trail and the lower road were closed in 1955, replaced by the Blue Mesa Loop Trail, and fell into disrepair. The Blue Forest Trail was initially intended for a general audience, but was re-established in 2013 for adventurous hikers only (see the Safety Notice). The trail connects the main park road at the Tepees to the paved Blue Mesa Trail, accessed from the Blue Mesa Loop Road, and is approximately 1.2 miles long. Elevation gain and loss is about 200'. It's another 0.3 miles on the Blue Mesa Trail to get to a parking spot along the Blue Mesa Loop Road, if you have a shuttle.
The Blue Forest Trail winds through the colorful badlands country. It offers a new view at every turn, and both the foreground and background hold your interest at every step. It gives the hiker a bit of history, a lot of scenery, an intimate look at petrified wood as its being exposed, and, with a little help we'll provide here, a geology lesson. In combining all these elements into a single trail, the Blue Forest Trail reveals the essence of Petrified Forest National Park.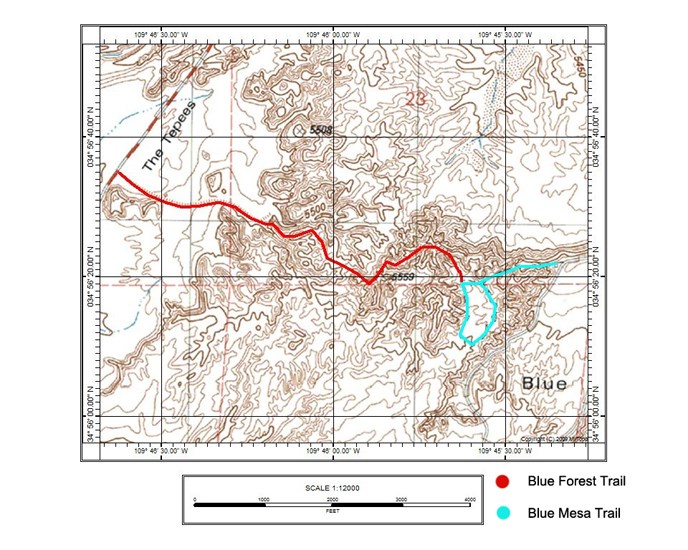 Last updated: November 16, 2013