Miriam Sagan
Miriam Sagan was born in Manhattan, raised in New Jersey, and educated in Boston. She holds a B.A. with honors from Harvard University and an M.A. in Creative Writing from Boston University. She settled in Santa Fe in 1984.
Sagan is the author of over twenty books. Her most recent is a memoir, Searching for a Mustard Seed : A Young Widow's Unconventional Story (Quality Words in Print, 2004. Winner best Memoir from Independent Publishers, 2004). Her poetry includes Rag Trade (La Alameda 2004), The Widow's Coat (Ahsahta Press, 1999), and The Art of Love (La Alameda Press, 1994).
Sagan directs the creative writing program at Santa Fe Community College, and has taught at the College of Santa Fe, University of New Mexico, Taos Institute of the Arts, Aspen Writer's Conference, around the country, and on line for writers.com and UCLA Extension. She has held residency grants at Yaddo and MacDowell, and is the recipient of a grant from The Barbara Deming Foundation/Money for Women and a Lannan Foundation Marfa Residency.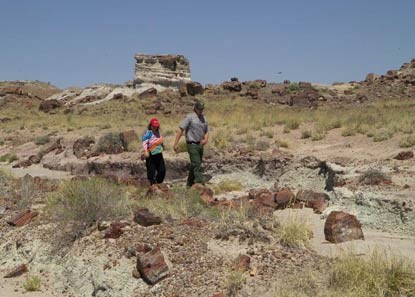 Poems by Miriam Sagan
Artist-in-Residence
Petrified Forest National Park
May 12 – 26, 2008
Four Views of the Painted Desert
1. Jasper Forest
mariposa lily
yellow cup lined in red
just the colors
of the polychrome
petrified logs
rainclouds
seem to rush forward--
petroglyph
of a reverse spiral,
pale arrow
2. Nizoni Point
a white butterfly
three black spots inked on each wing
opens
to an iridescent thorax
floats by me
as a I sit
above the salt and crystal
striations of the Chinle badlands
3. Kachina Point
longview
red buttes and blue mesas
in the courtyard
my own private
tumbleweed
4. Postcards
gibbous moon--
two cottontails leaping
over each other
corrugated potsherd--ripple
of a fossil sea
San Francisco peaks
I saw them, or thought I did
In the clouds
the moon set--
two roadrunners,
first white yucca
the fossil fern--
a feeling of what I've tried
to hold on to
4 o'clocks
bloom pink--just
as the dream fades
painting
the desert rain
with gold ink
the flicker
of the lizard's tail
tells me I'm home
Last updated: March 16, 2018