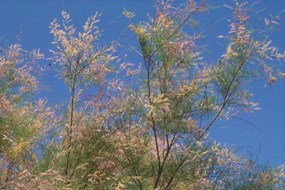 The National Park Service places a high priority on encouraging, restoring, or maintaining plant and animal diversity in all of its sites across the country. One of the fronts in the battle to maintain healthy, balanced ecosystems is waged against invasive species.
Nonnative species (also referred to as invasives, exotics, introduced, or nonindigenous species) have been introduced intentionally or unintentionally into new ecosystems. An
invasive
species is a nonnative whose introduction causes or is likely to cause economic or environmental harm or harm to human health. Invasive species take over habitat, squeezing out the native flora and fauna. This reduces biodiversity, interferes with soil productivity, damages or replaces native populations, and changes land and water quality. Each year invasive plants cause billions of dollars in damage to public and private lands and the ecosystems upon which we all depend. In the National Park Service, 196 national park areas have serious problems posed by invasive plant species. The costs of managing weeds were estimated at $80 million from 1996-2000.