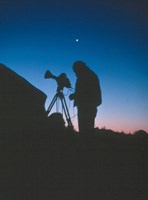 Over half a million people visit Petrified Forest National Park each year, but only a tiny fraction of those visitors get to see the park's fabulous night skies. Due to the park hours, the gates are closed from about dusk until around dawn. Only the few people who backpack into the wilderness area to camp overnight view the amazingly clear, dark skies.
In dry regions, the air has little humidity to affect visibility. The park is also located over 200 miles from any large cities. The stars are huge and the path of the Milky Way particularly clear in our skies. Several times a year, the park offers evening programs that offer opportunities to see the night skies.
Even in this relatively remote area, light pollution is a factor. Nearby towns do allow light to seep above the horizon. Communities to the south create a faint glow over the White Mountains. Many national parks are becoming affected by light pollution. The National Park Service has been working with the International Dark-Sky Association and other institutions to protect this incredible but often-overlooked resource.