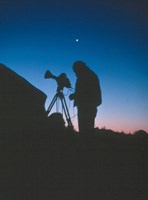 Over half a million people visit Petrified Forest National Park each year, but only a tiny fraction of those visitors get to see the park's fabulous night skies. Due to the park hours, the gates are closed from about dusk until around dawn. Only the few people who backpack into the wilderness area to camp overnight view the amazingly clear, dark skies.
In dry regions, the air has little humidity to affect visibility. The park is also located over 200 miles from any large cities. The stars are huge and the path of the Milky Way particularly clear in our skies. Several times a year, the park offers evening programs that offer opportunities to see the night skies.
Even in this relatively remote area, light pollution is a factor. Nearby towns do allow light to seep above the horizon. Communities to the south create a faint glow over the White Mountains. Many national parks are becoming affected by light pollution. The National Park Service has been working with the International Dark-Sky Association and other institutions to protect this incredible but often-overlooked resource. Several years ago, Natural Bridges National Monument as the world's first International Dark Sky Park.
Natural Bridges is one of the darkest national parks in the country according to a comprehensive study of night sky quality conducted by the National Park Service. Just how dark is it? "It's the only Bortle class 2 sky they've documented," said Chris Luginbuhl of the U.S. Naval Observatory in Flagstaff, Arizona., and a board member of the International Dark-Sky Association. "In plain English that means it's the darkest or starriest sky they've seen while doing these reviews. The Bortle system is a 10-level scale with one and two being the darkest skies and 10 having the most light pollution."
Starry skies are recognized by the National Park Service as part of the scenery of the park, and management guidelines encourage parks to minimize light pollution whenever possible.
The benefits go beyond stargazing—reduction of operational costs and energy use by upgrading its outdoor lighting, creating a better habitat for nocturnal wildlife, and improving visibility and safety at night—and the preservation of "a clear view of the heavens that so many of us have lost from our backyards."