Hopi Heritage at the Inn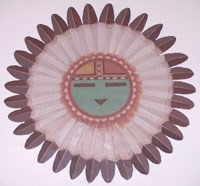 In 1948, Painted Desert Inn housed a shop and restaurant operated by the Fred Harvey Company. Mary Colter, the company's architect and interior designer, was tasked with remodeling the Inn. She hired Fred Kabotie, a Hopi Indian artist with whom she had previously worked at the Grand Canyon, to paint murals in the lunch room and dining room. His work reflects the Hopi ties to this region.
I had been thinking over what subject I should do, when it occurred to me that the Hopi people...used to travel right through this country to go after their salt...
Fred Kabotie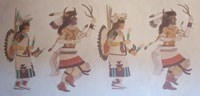 The lunch room features a Buffalo Dance mural. This ceremony is performed by the Hopi in winter to pray for good hunting and snow.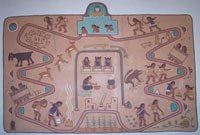 The Salt Lake mural tells the story of two young Hopi men as they walk 230 miles round trip from their home to Zuni Salt Lake, passing through what is now Petrified Forest National Park, on a salt collecting journey. It was not only a physical journey; it was also a sacred one.
The murals tie the ancestral Puebloan people of the region to the Hopi people of the 1940s and today. While Painted Desert Inn gained status as a National Historic Landmark primarily due to its architecture, the murals of Fred Kabotie made a significant impact on the nomination.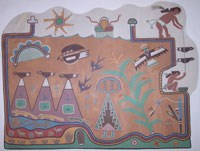 Last updated: March 16, 2018