Park Store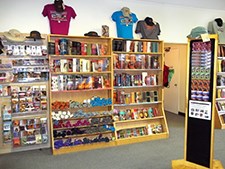 Petrified Forest bookstores are operated by Petrified Forest Museum Association, a non-profit organization providing funding, staff, and supplies through bookstore sales. Your purchases directly benefit the park!
Shop Online or visit a bookstore at the following locations:
Painted Desert Visitor Center
Rainbow Forest Museum & Visitor Center
Petrified Forest Museum Association members receive a discount at all park bookstores. To find out more, become a member, or browse the online bookstore, visit www.petrifiedforestbookstore.com or call (928) 524-6228 ext. 239.
Last updated: February 5, 2020