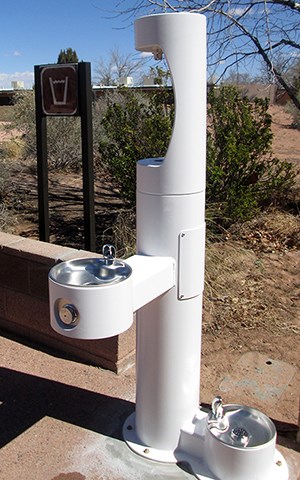 More than 800,000 people visit Petrified Forest National Park every year to explore the Painted Desert or discover ancient fossil trees. Nationwide, the National Park System hosts over 285 million visitors per year. The 1916 NPS Organic Act mandates that parks be managed not only for the enjoyment of today's visitors, but "preserved for future generations" as well. To achieve both, parks must be managed in a way that minimizes our collective footprint on the land. In a word, parks must be sustainable.

Could you imagine what life would be like without modern energy? The natural resources and energy we use are essential to our lives. However, the source of these resources and how they are used can significantly impact the environment, also known as an environmental footprint.

Sustainable practices lead to a reduction of the park's environmental footprint and contribution to climate change.

For years, Petrified Forest National Park has worked to reduce its environmental footprint. The park's Green Team works to make the park more sustainable and implements environmental goals.

Renewable energy provides clean, carbon-neutral electricity for our park operations. We utilize photovoltaic panels in multiple locations such as the park gates. Ultra-efficient LED bulbs now light some park facilities, as well.

Energy conservation and efficiency are the most cost-effective ways to reduce Petrified Forest's carbon footprint. The park has audited many of its buildings and begun implementing many energy conservation measures.

The use of fossil fuels in vehicles releases greenhouse gases that contribute to climate change. The park is working to reduce the use of fossil fuels in our fleet of vehicles and heavy duty equipment.

Water is a precious resource, and Petrified Forest is making efforts to conserve water whenever possible. Low flow faucets are only one example of the park's water conservation techniques. Watering non-native plants can gulp up a lot of water used in the park. Landscaping at the Painted Desert Community Complex and around the Painted Desert Inn NHL has including native and other xeric plants, adding to the beauty while conserving water.