Exhibits
There are a variety of exhibits throughout the park, taking whatever shape and form they need to best share resources and stories. Even if you cannot visit the park in person, you can check out some of the newly installed exhibitry...

Rainbow Forest Museum: Blue Mesa Room
This exhibit represents a slice of time in Petrified Forest's long history. A mural of a Triassic river ecosystem sets the stage. The surrounding panels and displays explain how scientists and artists know what the land was like over 200 million years ago. Information on fossils, river ecology, plate tectonics, climatology, and stratigraphy all contribute to the painting of that mural. There is even a simulated fossil dig pit, popular among young and old alike.

Painted Desert Inn Tap Room Gallery
First it was the Painted Desert Inn's lobby. Later it became a bar and tap room. Today, it is a gallery space with revolving exhibits. To explore images of the inn itself, check out this gallery.
Check out a past artist-in-residence exhibition: Postcards from the Iron Camera
Faces of the Petrified Forest
Artists-in-Residence Mary Collins and Susan McElhinney teamed up on an exhibition of words and prose highlighting the people that make Petrified Forest special.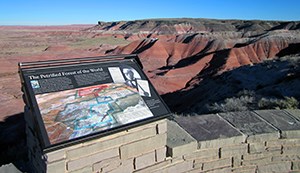 Interpretive Waysides
Petrified Forest staff completed a large project to update all the roadside informational panels, called waysides. The signs needed some maintenance, as well as an update of information. In a park with so much active research, we want to share the latest discoveries with visitors. Over 50 waysides are located along the roads and trails throughout the park explaining the landscape and covering a variety of topics specific to their locations.

Last updated: May 27, 2022