Weddings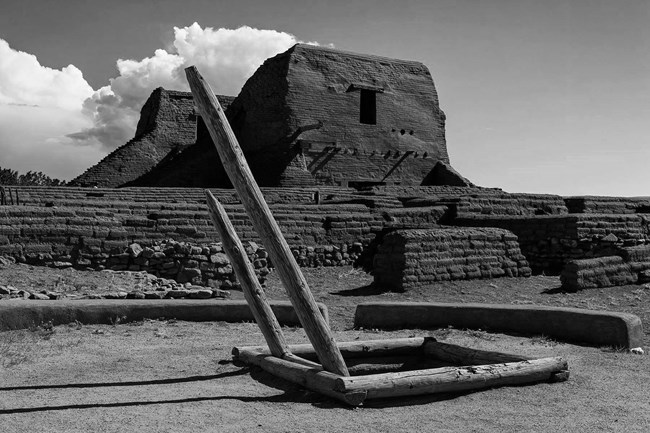 Each year Pecos National Historical park receives a number of requests to use the mission church for wedding ceremonies. It is National Park Service policy to allow these Special Park Uses provided they:
"are not in conflict with law or policy;
will not result in derogation of the values and purposes for which the park was established;
do not present a threat to public safety or property; and
do not unduly interfere with normal park operations, resource protection, or visitor use."
Not all wedding requests we receive are for appropriate uses of park managed resources thus some are denied. Others, by virtue of size and scope, would have significant impact on the quality of visitor experience and safety, or result in a derogation of the values and purposes for which the park was established.
In general, the following conditions apply for wedding ceremonies:
The ruins church is perfect for small wedding ceremonies. Limits on the number of people are based on visitation and other factors. Please contact the park for current limits.

The number of vehicles should be kept to a minimum to reduce parking problems.

No areas shall be closed to the general public during the ceremony. Exclusive use of the area is not permitted. However, after hours or evening weddings are allowed when Daylight Savings Time is in effect.

Areas normally closed to the public cannot be used and certain sensitive resource zones cannot be used.

Music accompanying the event is limited to unamplified musical instruments.
Flowers cut, potted, and/or artificial are allowed. However, throwing flower petals, rice, or other non-native material is prohibited.

Travel to and from the site must be via established trails and roads.

Post-event activities, such as receptions, are not permitted on park grounds. Wedding photos are considered part of the ceremony.
Pecos NHP does not supply any equipment (for example, chairs) for weddings.
Fires or open flames of any kind are not permitted. This prohibition includes candles.

Participants are not permitted to take or consume food, drink, or tobacco in the church complex.

An approved, signed copy of the permit must be in your possession before the ceremony.
Other stipulations may be added, depending on the specific nature of your request.
WHO MAY APPLY
Any individual, group, society or organization may apply for a Special Use Permit. The applicant for the permit must assume full responsibility and liability for the Special Park Use.
Permit Dates
Potential applicants should check with the park on availability of dates prior to submitting the application and non-refundable application fee. No Special Use Permit will be considered more than one year in advance.
Permitting Process
Application: To apply for a permit, all special use permit requests must go through the Special park Use Coordinator. It is recommended you contact them well in advance by email or phone at (505)757-7235. They will then be able to provide the forms and discuss how the park can assist you.
Pecos National Historical Park allowing a minimum of four weeks for evaluation by the park staff before the start date for your activity in the park. All efforts will be made to expedite the permitting process, however permits completion may take longer than 4 weeks.
A $100.00 non-refundable application fee must be recieved by check or money order before the permit can be issued.
In compliance with the requirements of the Debt Collection Improvement Act of 1996, the applicant must submit his or her Social Security number or federal tax ID number when completing the permit application.
Submission of the application form and fee payment DOES NOT imply permission for any Special Park Use or event.
Following receipt of an application for a Special Use Permit, an evaluation will be made of the requested activity. Denials will be communicated in writing.
If the requested activity is approved, a Special Park Use Permit outlining terms and conditions governing the special use, NPS cost information, bond and insurance requirements (if any), and payment instructions will be sent to the applicant.
For additional information, contact the Chief Ranger at (505) 757-7235
Last updated: June 14, 2021