Las Posadas and Farolito Walk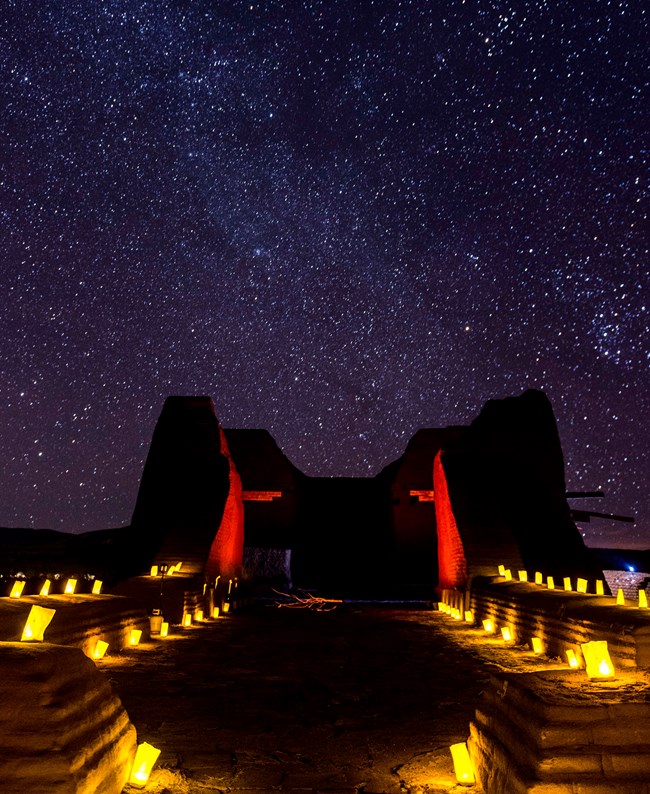 The holiday season is always a cheerful time of the year! Pecos National Historical Park is no exception as we traditionally host two special holiday events each year: Las Posadas and Farolito Walk. Park staff and volunteers help with the assembling and the lining of farolitos along the Ancestral Sites Trail and inside the 1717 Spanish Mission Church.

Both of these events are free to attend. Both of the events take place during the nighttime hours and are almost entirely outdoors. If you wish to attend either one of these events, we ask that you wear appropriate winter clothing and flashlights are highly recommended.
Farolito Walk
If you are new to New Mexico, you may be wondering what are farolitos. Farolitos are small, sand-filled lanterns that line a roadway, trail, or rooftop of a building. The word farolito comes from the Spanish word farol, meaning "lantern."
The Farolito Walk is a laid-back evening that offers visitors the opportunity to leisurely take in the magic and ambiance of more than 3500 farolitos. Enjoy the peace and quiet of a winter's evening as you follow the illuminated 1-mile trail to the Spanish Mission Church and pueblo. Start your visit at the E.E. Fogelson Visitor Center area where an event tent may be set up with free hot beverages and biscochitos for you to enjoy.
Las Posadas
In Spanish, las posadas means "inns" or "shelters," and represents the journey of Joseph and Mary to Bethlehem and their search for shelter. St. Anthony's Parish in Pecos carries on this northern New Mexico tradition every December. Pecos National Historical Park will be just one stop during this novena, or nine-day event.
This evening offers a more traditional Las Posadas experience. In the past, horse-drawn wagon rides to and from the church have been offered for this particular event. The procession begins at the remnants of the 18th century church and convento and wind down the trail to the visitor center with the group singing traditional hymns and holiday songs in both English and Spanish. More than 3,500 farolitos will illuminate the trail. Free hot beverages and biscochitos may be served at an event tent near the visitor center.

The Western National Parks Association bookstore, which is located inside the Visitor Center is usually open both evenings.
Interested in other park special events? Visit the
Special Event
page for more infromation about other park events.
Visit the
Things to Do
page for information about visiting the park any other time.
Last updated: February 3, 2023