Steamtown

---

Special History Study

AMERICAN STEAM LOCOMOTIVES
---
In October 1942, a young Ohio railroad enthusiast named Robert Richardson, who had been drafted into the United States Army, returned from furlough at his home in Akron by way of the Southern Railway to the army's Camp Forest near Tullahoma, Tennessee. Seated next to Richardson in the coach, as it turned out, was a professor of history from the University of Kentucky at Lexington. In casual conversation, the professor learned that young Richardson had an abiding interest in railroads and railroad history.
The professor had been researching the life of a man who had died of alcoholism in a log cabin in Kentucky in 1799, he told Richardson. This man had invented a steam locomotive. Had Richardson ever heard of a John Fitch or of the locomotive he had built, a small working model, the professor inquired?
"Oh yes," said Richardson, "I've seen it."
"YOU KNOW WHERE IT IS?!?!" the professor leaped to his feet and shouted in a voice that turned heads the length of the car.
Yes, Richardson assured him, in the Ohio State Archeological and Historical Society Museum in Columbus, a stairway led down to the basement, and on a landing halfway down this stairway rested the little Fitch steam locomotive gathering dust. It had passed down through the family to the hands of a son-in-law of Fitch's who had settled in Worthington, Ohio. Somehow interested parties had learned in the 1850s that he had this historic little working model steam locomotive in his Worthington home and acquired it for the museum.
The professor became so excited he nearly left the train and reversed direction to go to Columbus to see the little engine, but eventually calmed down and continued his trip. Then he became angry because he recalled that he had written that Ohio museum, among many others, inquiring about the Fitch locomotive, and they professed to know nothing about it.
John Fitch invented the steam railroad locomotive during the 1780s and demonstrated his little working model of it before President George Washington and his cabinet in Philadelphia. His idea was to use a full-scale version of his little engine to haul wagons--freight cars, actually--across the Allegheny Mountains where the United States faced an almost insuperable problem of supplying, through a nearly roadless wilderness, Major General Arthur St. Clair's campaign against hostile British-supplied Indians of the Old Northwest.
Fitch's little locomotive operated on track made of wooden beams held in place by wheels with flanges on the outside of the wood rails, rather than inside as later became standard railroad practice. It featured a copper boiler mounted sideways on the frame and employed a sort of grasshopper lever motion to transmit power to the wheels. Fitch also invented a steam pump, a steam dredge for use in and around Philadelphia, and a steamboat that he demonstrated on the Schuykill River. He and a man named Rumsey who had invented a steamboat about the same time argued about who had been first, but both preceded Robert Fulton by many years. Fulton married into a wealthy and powerful family and managed to seize fame as the inventor of the steamboat while the much earlier Fitch and Rumsey had been forgotten.
Only a couple of feet wide and long, John Fitch's steam locomotive is the oldest such machine in the world. The steam railroad locomotive was an American, not a British, invention. But the United States of the 1790s remained primarily an agricultural society unappreciative of machinery and invention. Fitch was a man who lived ahead of his time, and his pioneering locomotive, as well as his pioneering steamboat, led to no further development of the invention. Soon both had been forgotten.
Early in the 19th century, an Englishman named Richard Trevithick also invented a steam locomotive, and within a short time the British invention led to the development of well-engineered railways. Americans, then ignorant of Fitch's pioneering inventions a quarter of a century earlier, began importing English locomotives until American foundries could meet the demand. The Delaware and Hudson Canal Company brought the first four steam locomotives into the United States from England, and it and other companies sent civil engineers abroad to study British railroad lines.
The first railroad locomotive built in the United States that actually served on a railroad was built in 1830 by the West Point Foundry Association of New York City for the South Carolina Railroad at Charleston, South Carolina. It bore the name "Best Friend." In those early years of the industry, almost any small foundry and machine shop had the capability of building a steam locomotive, and many did.
Meanwhile, English precedents did not work well in the United States. Built in well-developed and comparatively densely populated England, the English railways proved not to be well suited for American geography. Americans soon found the track over-engineered and too expensive to construct in the sparsely settled and little-developed American environs. Americans soon would devise their own cheaper systems of track construction. Starting with English prototypes, Americans also modified the locomotives with the addition of pilot trucks to help the locomotives around curves, "cowcatchers"--now known as "pilots"--cabs of different designs, headlights, and other features, so that by the 1850s American locomotives generally appeared distinctly different from English and other European locomotives. That divergence in design would continue.
From the late 1820s through the 1860s, American locomotive design progressed through a sequence of wheel arrangements, expressed by the Whyte system of classification. This system assigns a first number to a nonpowered pair of pilot wheels on a single axle, or four wheels on two axles, followed by a dash, then a figure denoting by the pair the wheels connected to a drive mechanism, followed by a dash, then a figure denoting the wheels supporting the rear end of the locomotive, again paired by the axle and generally two or four. Many locomotives lacked a trailing truck so that figure would be zero, while switch engines characteristically lacked a pilot truck, so that figure likewise would be zero in such instances.
Among the earliest locomotives, the 4-2-0 wheel arrangement proved popular, only one wheel on each side of the locomotive being powered by drive rods. Soon, however, American practice developed the 4-4-0, which became so characteristically an American locomotive type during the mid-19th century that it became known as the "American" type or the "American Standard." However, as the need for more powerful locomotives developed, it was not long before locomotive designers added another axle with a pair of powered drive wheels to create the 4-6-0 and also the 2-6-0. The next step would lead to the 2-8-0. Prior to 1900, as John White pointed out, it was generally possible to increase locomotive capacity satisfactorily simply by increasing boiler and cylinder size or by raising the steam pressure the locomotive used. Thereafter, more complex developments such as superheaters, boosters, mechanical stokers, feedwater heaters, and other appliances became necessary to increase capacity while maintaining weight and other limitations. The 20th century began with the development of myriad additional wheel arrangements of locomotives. From the 4-4-0. the Atlantic type 4-4-2 developed. The "consolidation" or "consolidated" type 2-8-0 freight locomotive in time led to the Mikado type 2-8-2. The old "ten-wheeler" 4-6-0, so readily usable for freight, passenger, or mixed trains, would evolve into a larger 4-6-2. Ultimately locomotive design would embrace huge articulated locomotives as large as a 4-8-8-4 and duplex drive locomotives such as the 4-4-4-4.For the 19th century (at least to 1880), John White's seminal American Locomotives: An Engineering History, 1830-1880 provides the best overview, although Gustavus Weissenborn's American Locomotive Engineering published in 1871 also provides some excellent information. Alfred Bruce's The Steam Locomotive in America provides an excellent history of American locomotives after 1900.
The bibliography accompanying this narrative, coupled with the bibliography in White's work, guides the interested reader to the extensive literature on the subject.
The Steamtown NHS collection includes 16 different wheel arrangements of locomotives and one geared locomotive, a Shay. The collection includes two saddle tank engines of the 0-4-OT type, one 0-6-OT, one 0-6-OF or "fireless" locomotive, one 0-6-0 with sloped tender, and one 2-4-2T. These mostly had served as industrial switchers. Of the road locomotives, the collection includes one 4-4-0, the only 19th-century engine in the collection, dating from 1887. Two 2-6-0 locomotives are in the collection, one with an all-weather cab for use along the Canadian border in upstate New York, the other one of only two Delaware, Lackawanna & Western steam locomotives to survive, and thus the only locomotive in Scranton on tracks of what had been its own railroad. The collection has one Prairie type 2-6-2, similar to the two-truck geared Shay from a logging company. Four classic 2-8-0 freight locomotives, each of a different design and different history, are in the Scranton yards. The Steamtown NHS collection of heavier duty, main line 20th-century steam motive power includes one American (and three Canadian) 4-6-2 Pacific types, one 4-8-2 Mountain type, one 2-8-4 fast Berkshire type, a 4-8-4 Northern type, and one massive 4-8-8-4 Union Pacific Big Boy. Four of the wheel types in the park's collection are represented only by Canadian locomotives; two 2-8-2 Mikado types, one 4-4-4 Jubilee type, one 4-6-4 Hudson type, and one 4-6-4T Baltic Tank.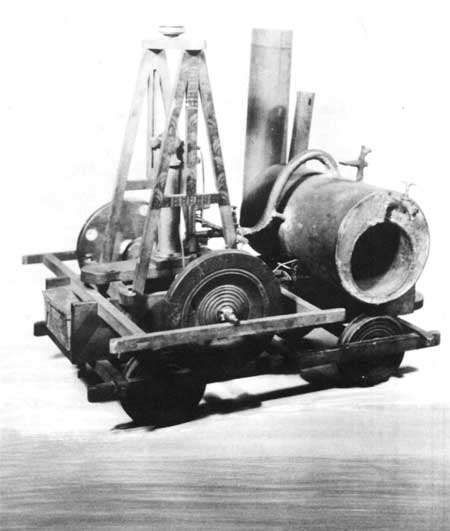 The American inventor John Fitch of Philadelphia made this model of a steam locomotive probably during the 1780s or 1790s. It now rests in the Ohio Historical Society Museum.
Collection of Robert W. Ricardson

BIBLIOGRAPHY
---
Alexander, Edwin P. Iron Horses: American Locomotives, 1829-1900. New York: W.W. Norton & Company, Inc., 1941.
__________. American Locomotives: A Pictorial Review o Steam Power, 1900-1950. New York: W.W. Norton & Company, Inc., 1950.
Bruce, Alfred W. The Steam Locomotive in America: Its Development in the Twentieth Century. New York: W.W. Norton & Co., Inc., 1952.
Bryant, H. Stafford, Jr. The Georgian Locomotive; Some Elegant Steam Locomotive Power in the South and Southwest, 1918-1945: An Episode in American Taste. New York: Weathervane Books, 1962.
Collias, Joe G. The Last of Steam. Berkeley: Howell-North Books, 1960. Includes material on Union Pacific Big Boys, pp. 177-187.
Comstock, Henry B. The Iron Horse; America's Steam Locomotives: A Pictorial History. New York: Thomas Y. Crowell, 1971.
Conrad, J. David. The Steam Locomotive Directory of North America. 2 vols. Polo: Transportation Trails, 1988.
Farrell, Jack W. North American Steam Locomotives: The Berkshire and Texas Types. Edmonds: Pacific Fast Mail, 1968.
Farrell, Jack W., and Mike Pearsall. North American Steam Locomotives: The Northerns. Edmonds: Pacific Fast Mail, 1975.
Hauff, Steve, and Jim Gertz. The Williamette Locomotive. Portland: Binford & Mort, 1977. The Heisler Locomotive. Lancaster: Benjamin F.O. Kline, Jr., 1982.Hirsimaki, Eric. Lima, The History. Edmonds: Hundman Publishing, Inc., 1986. 351 pp. [Contains rosters of all Lima Shay & Rod engines]
Howard, F.H. "Pilots . . . The Symbolism of the Art." Trains, Vol. 16, No. 3 (Jan. 1956): 38.
Johnson, Ralph. The Steam Locomotive: Its Theory, Operation, and Economics Including Comparisons with Diesel-Electric Locomotives. New York: Simmons-Boardman Publishing Corp., 1942.
King, E.W. "Concerning Stephenson, Walschaert, Baker, Southern, and Young." Trains, Vol 44, No. 7 (May 1984): 34-41.
Koch, Michael. The Shay Locomotive: Titan of the Timber. Denver: World Press, 1971.
LeMassena, Robert A. Articulated Steam Locomotives in North America, Vol. 1. Silverton: Sundance Books, 1979. [No Vol. 2 has yet been published.]
__________. American Steam, Vol. l. Denver: Sundance Publications, Ltd., 1987, 256 pp.
List of Steam Locomotives in the United States. Denver: Centennial Rail, Ltd., 1986.
Locomotive Dictionary. 1909 edition. New York: The Railroad Age Gazette, 1909.
_________. 3rd ed. New York: Simmons-Boardman Publishing Co., 1912.
Locomotive Dictionary and Cyclopedia. 5th ed. New York: Simmons-Boardman Publishing Co., 1919.
Locomotive Cyclopedia of American Practice. 7th ed. New York: Simmons-Boardman Publishing Co., 1925.
_________. 9th ed. New York: Simmons-Boardman Publishing Co., 1930.
________. 10th ed. New York: Simmons-Boardman Publishing Co., 1938.
_________. 11th ed. New York: Simmons-Boardman Publishing Corn., 1941.
_________. 13th ed. New York: Simmons-Boardman Publishing Corn., 1947.
_________. 14th ed. New York: Simmons-Boardman Publishing Corp., 1952.
Lucas, Walter A. 100 Years of Steam Locomotives. New York: Simmons-Boardman Publishing Corp., 1957.
_________. Locomotives and Cars Since 1900. New York: Simmons-Boardman Publishing Corp., 1959.
Olmsted, Robert P. A Long Look at Steam. n.p.: Published by the author, 1965.
__________. Locomotives, Limited and Locals. n.p.: Published by the author, 1977, 136 pp.
Pennoyer, A. Sheldon. Locomotives in Our Lives. New York: Hastings House, 1954. [Chapter XII, pp. 99-102, deals with preserving D.L. & W. Camel No. 952.]
Plowden, David. Farewell to Steam. Brattleboro, Vt.: The Stephen Green Press, 1966. [See pp. 114-151. The rest of the book deals with steamships.]
Ranger, Dan, Jr. Pacific Coast Shay: Strong Man of the Woods. San Marino: Golden West Books, 1964.
Ranger, Ralph D., Jr. "Shay: The Folly That Was Worth a Fortune." Trains, Vol. 27, No. 10 (Aug. 1967): 32-49.
Reisdoff, North American Hudsons: The 4-6-4 Steam Locomotive. Henderson: Service Press, 1987.
Sinclair, Angus. Development of the Locomotive Engine. New York: Angus Sinclair, 1907.
Swengel, F.M. The American Steam Locomotive, Vol. 1. The Evolution of the Steam Locomotive. Davenport: Midwest Rail Publications, 1967.
Taber, Thomas, III, and Walter Casler. Climax: An Unusual Steam Locomotive. Rahway: Railroadians of America, 1960.
White, John H. American Locomotives: An Engineering History, 1830-1850. Baltimore: Johns Hopkins Press, 1968.
__________. A Short History of American Locomotive Builders in the Steam Era. Washington: Bass, Inc., 1982.
Wiener, Lionel. Articulated Locomotives. New York: Richard R. Smith, 1930.

LOCOMOTIVES AT STEAMTOWN
---
(It should be noted that since the publication of this document, some of these locomotives may no longer be located at Steamtown NHS.)
a. Baldwin Locomotive Works No. 26
b. Berlin Mills Railway No. 7
c. Boston and Maine Railroad No. 3713
d. Brooks-Scanlon Corporation No. 146
e. Bullard Company No. 2
f. Delaware, Lackawanna & Western Railroad No. 565
g. E.J. Lavino and Company No. 3
h. Grand Trunk Western Railroad No. 6039
i. Illinois Central Railroad No. 790
j. Lowville and Beaver River Railroad No. 1923
k. Maine Central Railroad No. 519

l. Meadow River Lumber Company No. 1
m. New Haven Trap Rock Company No. 43
n. Nickel Plate Road (New York, Chicago and St. Louis) No.44
o. Nickel Plate Road (New York, Chicago and St. Louis) No. 759
p. Norwood and St. Lawrence Railroad No. 210
q. Public Service Electric and Gas Company No. 6816
r. Rahway Valley Railroad No. 15
s. Reading Company No. 2124
t. Union Pacific Railway No. 737
u. Union Pacific Railroad No. 4012

---
---
stea/shs/shs2.htm
Last Updated: 14-Feb-2002