Steamtown

---

Special History Study
AMERICAN STEAM LOCOMOTIVES

NORWOOD AND ST. LAWRENCE RAILROAD NO. 210
---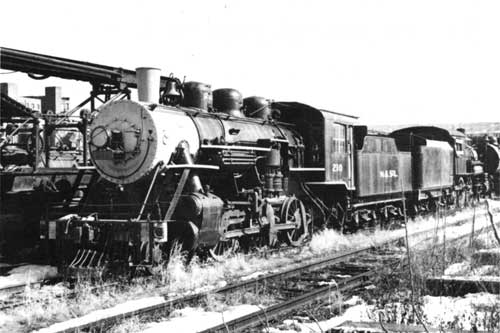 Owner(s):

Norwood & St. Lawrence Railroad 210
Whyte System Type: 2-6-0 Mogul
Class:
Builder: American Locomotive Company (Cooke Works, Paterson, New Jersey)
Date Built: December 1923
Builder's Number: 65265 (or 65365)
Cylinders (diameter x stroke in inches): 20 x 26
Boiler Pressure (in lbs. per square inch): 180
Diameter of Drive Wheels (in inches): 56
Tractive Effort (in lbs.): 28,400
Tender Capacity:
Coal (in tons): 8
Oil (in gallons): Not applicable
Water (in gallons): 5,000
Weight on Drivers (in lbs.): 129,000
Remarks: Locomotive has an all-weather cab and is a manually fired coal burner. This is a tired, worn-out locomotive.
---
Norwood and St. Lawrence Railroad 2-6-0 Locomotive No. 210
History: The origins of the Norwood and St. Lawrence Railroad paralleled those of other New York State short lines built in the 20th century. Omin E. Martin, a prominent Norwood, New York, businessman, interested Watertown industrialist Charles H. Remington in the development of water power in nearby Norfolk, New York, and the two organized the Remington and Martin Paper Company, which secured water rights on the Racquette River where it passed through Norfolk, as well as a right-of-way for a railroad.
At their instigation, citizens of Norfolk, Raymondville, and Chase Mills, New York, gathered in the Norfolk Town Hall in February 1900 to promote the organization and construction of a railroad to serve their region. An unusual aspect of this railroad promotional meeting was the active participation of four women, who received special notice in local newspaper accounts of the gathering. Ambitious plans came out of the meeting for construction of a railroad along the Racquette River from its confluence with the St. Lawrence to Piercefield and beyond. Those at the meeting organized a committee including men from Norfolk, Raymondville, Chase Mills, and Waddington.
At 8 a.m. on September 6,1900, a hundred people gathered to watch O.E. Martin turn the first sod for the new railroad at Norfolk. Curiously, no railroad company had yet been organized, but the committee envisioned the line commencing on the north side of the river near the Furnace Street Bridge and running to the mill and a half-mile beyond. A newspaper account of the day said that it would then be decided whether to continue to Norwood or run to connect with the Raymondville, Waddington and Ogdensburg Railroad at the Marble Hill School House.
Not until March 30, 1901, did its promoters get around to incorporating the Norwood and St. Lawrence Railroad, which then proceeded to construct 7.5 miles of track from Norwood, New York, to Raymondville, New York, which it opened for traffic on July 2, 1901. The railroad's progress then stalled for several years until, under an agreement approved on January 6, 1909, the Norwood and St. Lawrence absorbed and consolidated with the Raymondville and Waddington Railroad Company, completing its 12-mile line between those two towns on July 1, 1909, to create a railroad 18.02 miles long, with 1.5 miles of siding. At Waddington, the railroad had reached its intended destination as stated in its corporate title:
the St. Lawrence River. There a ferry provided a connection for traffic across the river, which was also the international boundary, to Morrisburg, Ontario, in Canada. The Norwood and St. Lawrence was thus one of those select few railroads that actually reached the typically over-ambitious objectives stated in their corporate titles.
By 1912 the company owned an ancient, secondhand 4-4-0, another 4-4-0, a 2-6-0, and a 2-6-2, seven box cars of 30-ton capacity, four 20-ton capacity flat cars, and three work-outfit cars, as well as an elegant wooden combination car.
The Remington and Martin Paper Company built mills at Norwood, Norfolk, and Raymondville. The Norfolk mill boasted two paper machines, one of which supposedly was the largest machine of its kind in the world at the time. The hauling of paper pulp became one of the most important functions of the line.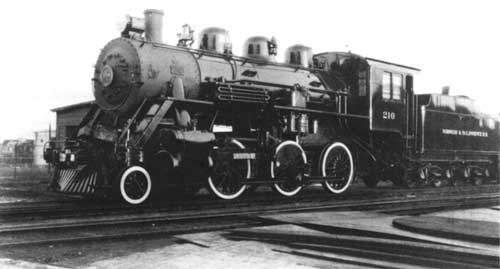 Photographed by its builder, the American Locomotive Company, at its Cooke Works at Paterson, New Jersey, the brand new Norwood and St. Lawrence Railroad Engine No. 210 exhibited, top, its engineer's side on December 28, 1923. Bottom, in a view of the fireman's side of the engine, Norwood and St. Lawrence No. 210 fairly glistened in a fresh coat of paint, this time apparently after being overhauled for its home railroad.
Collection of the Railway and Locomotive Historical Society, Courtesy California State Railroad Museum Library
In 1920, the St. Regis Paper Company purchased all three Remington and Martin paper mills and obtained control of the Norwood & St. Lawrence through purchase of stock. Incorporated in New York on February 4, 1899, the St. Regis Paper Company had begun the manufacture of paper in July 1901 in upstate New York near the St. Lawrence River, and during the next seven decades would expand not only from New York to Florida to California and to the state of Washington, but would own numerous subsidiary plants in Canada, Belgium, Brazil, Argentina, the Republic of South Africa, Rhodesia, Australia, Nicaragua, Colombia, Zambia, Angola, Panama, and Ecuador. It was a company destined, in other words, to grow into a multinational corporation. Meanwhile, it also would own the Norwood and St. Lawrence Railroad.
Robert Wagner, whom the Norwood and St. Lawrence hired in 1945, recalled the line as a "robust Class 2 road" whose traffic outbound consisted of
roe, ([eggs from] river sturgeon,) milk, paper, passengers, mail, Railway Express, and after 1956, pulpwood. Pulpwood was a summer operation with 25-35 car trains of 55 ft. gondola cars (rented from P[enn] C[entral]), twice daily. Each car carried 10 baled cords which was shipped on to the Deferiets paper mill.
The railroad interchanged traffic to the south and west with the New York Central (later the Penn Central) at Norwood, and to points east with the Rutland Railroad. Traffic inbound consisted of
feed grain, mail, Rwy. Express, lumber, mixed freight, tarvia, coal, service to Norfolk mill ([which] employed at least 200 people), passengers, mill employees, Norfolk rural school children and students from the towns of Chase Mills, [and] Raymondville. In 1952 a centralized school was built and bussing was begun.
In December 1923, the Norwood and St. Lawrence Railroad purchased what was at least its fifth locomotive from the American Locomotive Company, whose Cooke Works in Paterson, New Jersey, outshopped No. 210, a high-boilered, modem 20th century version of a 2-6-0 Mogul-type engine. Why the railroad chose to number it 210 is unknown, but its purchase apparently resulted from acquisition of the railroad by the massive St. Regis Paper Company. A hand-fired coal burner, Engine No. 210 featured a second sand dome mounted behind the steam dome, and an enclosed, all-weather cab, the latter believed to be fairly rare on 2-6-0 locomotives. Down through the years of mixed train service (freight cars with a combination baggage-express-passenger car on the rear) as well as freight service, the railroad replaced the locomotive's original wooden pilot, or cowcatcher, with a "boiler tube" pilot made of steel pipe, and eventually removed the road number plate from the center of the smokebox front and moved the headlight from atop the smokebox to the center of the smokebox front in place of the number plate. Originally the tender carried the lettering NORWOOD & St. LAWRENCE R.R. but the railroad later changed this to simply N.& St L. While the railroad operated its own blacksmith shop for running repairs to motive power and rolling stock, for major overauls the Norwood and St. Lawrence sent Locomotive No. 210 and her sisters down to the Rutland Railroad shops in Rutland, Vermont.
When Bob Wagner hired out on the railroad in 1945, the company paid him 40 cents an hour as a mechanic. "The work was sometimes dangerous, there's no doubt about that," he recalled. "You had to keep your eyes open."
There was one job that some men refused, and that was going in to repair the fire box of the old steam engines. First, you'd drop the fire and then have to climb in there with your hammer and tools and repair the flues.

You'd hold your breath when you were in there, and then stick your head out to gulp some air, then go back in and hold your breath again. You didn't linger; you did your work and got out. But some men would say, "You want me to go in there? No sir, I'm not doing it," and off they'd go.
Coming out of military service in Europe during World War II, Wagner found the cacophony of the railroad's roundhouse took some getting used to:
It was a little frightening, really, when you first walked in there because there was nothing but noise and smoke, because it was where they stored the engines and did the repairs. We'd been trained to keep our eyes open in the army. So it was something to see and hear.
Locomotive No. 210 was among those Wagner had to repair. He recalled its paint scheme:
The tires of driver and lead truck were painted white, as were the wheel rims of the tender and the locomotive number. The inside of the cab was painted dark green, and black leather covered the fireman's seat box, the engineer's seat, both arm rests, and the window sills. Wooden entry doors were at both sides.
Wagner recalled that the rest of the roster of equipment included two more locomotives, No. 211, a Baldwin 2-6-0 outshopped in 1926, whose firebox grates eventually were burned and damaged due to lack of proper cleaning, and No. 14, a 40-ton 2-8-0 borrowed from and eventually returned to the St. Regis Paper Company at Deferiet, New York. The company also owned a wooden snowplow with built-in flanger, a small two-way flanger, two section crew motor cars, and around 40 to 60 secondhand 33-foot Rutland Railroad converted wooden boxcars, whose roofs the railroad had removed and whose sides had been shored up with rail across the top. These the Norwood and St. Lawrence used to haul pulp wood from Canada to Norfolk. The cars did not meet standards requisite for interchange with other railroads. The railroad operated the same old combination baggage-express-passenger car until 1949, when the railroad discontinued passenger service.
With its two little Moguls, the Norwood and St. Lawrence Railroad continued to haul freight through the years, serving the Norfolk Mill. (St. Regis had closed the Norwood and Raymondville mills during the Depression.) In 1956, two great changes affected the railroad: First, the St. Regis Paper Company closed the Norfolk Mill; second, the Norwood and St. Lawrence purchased a small diesel locomotive, shipping No. 210 late that year to Abe Cooper's scrapyard in Watertown, New York, and No. 211, under its own power, to a paper mill at Carthage, New York. Without the traffic of the Norfolk mill, the railroad had a difficult time surviving. The railroad continued to haul pulpwood from the St. Lawrence at Waddington to Norfolk, from which the New York Central then hauled it to the St. Regis mill at Deferiet. In 1973 the Simplicity Pattern Company operated in the old Remington and Martin mill at Norfolk, providing some traffic, as did other businesses, but it diminished until it could no longer sustain the railroad.
Bob Wagner had by this time worked his way up from mechanic to machinist, foreman, master mechanic, and assistant superintendent to the position of manager of transportation. He had witnessed a drop in the shipment of carloads of freight from 2,513 per year in 1971 to 161 in 1972, after the elimination of pulpwood imports from Quebec. On June 2, 1973, the Norwood and St. Lawrence Railroad applied to the Interstate Commerce Commission for permission to discontinue service and abandon its line, and the history of New York State's last steam-powered short line railroad seemingly came to an end.
That was not quite the case. The St. Regis Paper Company did not subsequently have the line dismantled, and on January 2, 1975, donated the railroad to the Ogdensburg Bridge and Port Authority. The Ogdensburg Bridge and Port Authority in turn leased the line to the National Railway Utilization Company, a railroad car leasing and managing corporation which in turn owned the St. Lawrence Railroad Company, to which it turned over the trackage formerly that of the Norwood and St. Lawrence Railroad. In 1977, Robert Wagner became president of the St. Lawrence Railroad, which now included the trackage of his former employer. Thus the railroad company for which Locomotive No. 210 operated had vanished, but the actual trackage of that company over which it once operated still remained in service in 1988, owned by a government agency.
Condition: Although Norwood and St. Lawrence Locomotive No. 210 will make a fine static exhibit engine, mechanically it is reported to be a tired, worn-out machine, not suitable for operation.
Recommendation: The NPS should commission a report to document the operational and physical history of this locomotive. The report should include a roster of all Norwood and St. Lawrence locomotives to place this locomotive in context, as such a roster has not been located for this railroad. The report should discuss in detail all paint and lettering schemes and recommend the period to which the locomotive should be restored. Upon completion of this report, the NPS should undertake restoration of this locomotive for static exhibit in the roundhouse at Scranton or in some other indoor exhibit facility.
It would probably be feasible to restore this locomotive to its as-built condition by building and installing a wooden "pilot," remounting the headlight atop the smokebox, and casting a replica brass or bronze road number plate to be installed on the smokebox front (unless, of course, the original number plate can be located and obtained). This is not to say that such restoration work should be done. While the final decision should be recommended by the historic railroad locomotive report, this study leans toward preserving the locomotive in basically its present form, but with an earlier style of initials on the tender.
Available historic sources differ on cylinder specifications (which may be 20 by 26 inches or 22 by 28 inches) and driver diameter (53 inches or 56 inches). The report on this locomotive should ascertain which measurements are correct, and document any significant changes to cylinders and drivers that account for the differing accounts (such as reboring of cylinders, replacement of driver tires, etc.).
As part of the report, unless the locomotive was entirely stripped to bare metal before Steamtown volunteers repainted it in the fall of 1980, physical analysis of past paint and lettering schemes on the locomotive, locomotive cab, and tender needs to be performed by means of careful sanding followed by measurement and tracing of letters and numbers and their location on tender and engine, as well as color analysis of the paint layers on the smokebox, pilot, boiler jacket, domes, frame, cab interior and exterior, cab roof, drivers, tires, tender, tender frame, and tender trucks. Robert Wagner reported the colors he remembered, but he did not work for the company until 1945, whereas it acquired this locomotive in 1923. In any case, it would be desirable to ascertain the exact shade of dark green Wagner recalled inside the cab.

BIBLIOGRAPHY
---
Beebe, Lucius, and Charles Clegg. Mixed Train Daily: A Book of Short-Line Railroads. Berkeley: Howell-North Books, 1961: 272, 302.
Blabey, E.H., II. "Rutland Revival, Part 3; Ogdensburg Bridge & Port Authority." Railfan, Vol. 1, No. 4 (Fall 1975): 30-32.
Cleaves-Hirsch, Melanie. "His Memory Long on Short-Line Rails." Watertown Daily Times, June 18, 1986: 17.
Guide to the Steamtown Collection. Bellows Falls, Vt.: Steamtown Foundation, n.d. (ca. 1973). [See Item 11 and roster entry.]
Kean, Randolph. The Railfan's Guide to Museum & Park Displays. Forty Fort: Harold E. Cox, Publisher, 1973: 174.
Lewis, Edward A. American Short Line Railway Guide. Strasburg: The Baggage Car, 1975: 65, 122.
Lyman, Susan C. Rails Into Racquetteville. Norwood, N.Y.: Norwood Historical Association and Museum, 1976. [See chapter on Norwood and St. Lawrence Railroad.]
Moody's Industrial Manual, June 1966. New York: Moody's Investors Service, 1966. [See pp. 2939-2943.]
"Norwood & St. Lawrence Railroad." The Short Line, Vol. 5, No. 1 (Jan.-Feb. 1977): 10.
Official Steamtown Locomotive Guide, Vol. l. Bellows Falls, Vt.: Steamtown Foundation, 1970. [See page on Norwood and St. Lawrence 2-6-0 No. 210.]
Palmer, Richard F. "Abandoned Railroads in New York State." Bulletin of the National Railway Historical Society, Vol. 45, No. 4 (1980): 17.
"Photo Line." Railfan, Vol. 2, No. 7 (Nov. 1978): [Photo of No. 210 in service on July 22, 1952, by John F.W. Minke, III.]
Poor's Manual of Railroads, 1920. New York: Poor's Publishing, 1920: 944, 945.
"Railroads Once Big." Watertown Daily Times (June 18, 1986): 17.
"St. Lawrence Railroad." The Short Line, 5 (Jan.-Feb. 1977): 10.
"St. Lawrence Railroad." The Short Line, 7 (Mar.-Apr. 1979): 9-10.
"St. Lawrence Railroad." The Short Line, 8 (Mar.-Apr. 1980): 11.
"St. Lawrence Railroad." The Short Line, 10 (Nov.-Dec. 1982): 5.
Wagner, Robert H. Letter to author, July 8, 1988. [Supplied five-page manuscript, a resume, and photocopies of a 1909 schedule, photographs, and miscellaneous newspaper clippings.]
Wallin, R.R. "The Shortline Scene." Extra 2200 South: The Locomotive Newsmagazine. Vol. 9, No. 6 (July-Aug. 1972): 18. [See both "Norwood and St. Lawrence" and "Ogdensburg Bridge & Port Authority."]
Young, William S. "Short Lines." Trains, Vol. 24, No. 8 (June 1964): 14.
---
---
stea/shs/shs2p.htm
Last Updated: 14-Feb-2002