Steamtown

---

Special History Study
AMERICAN STEAM LOCOMOTIVES

UNION PACIFIC RAILROAD NO. 4012
---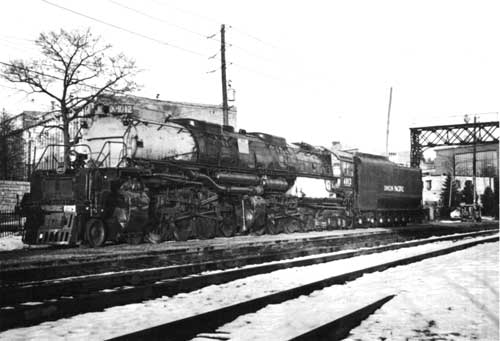 Owner(s):

Union Pacific Railroad 4012
Whyte System Type: 4-8-8-4 "Big Boy"
Class:
Builder: American Locomotive Company
Date Built: November 1941
Builder's Number: 69583
Cylinders (diameter x stroke in inches): 23-3/4 x 32 (four)
Boiler Pressure (in lbs. per square inch): 300
Diameter of Drive Wheels (in inches): 68
Tractive Effort (in lbs.): 135,375
Tender Capacity:
Coal (in tons): 28
Oil (in gallons): Not applicable
Water (in gallons): 24,000
Weight on Drivers (in lbs.): 540,000; Total Weight: 1,200,000
Remarks: Overall length: 132 feet, 9-1/4 inches; retired by the Union Pacific in February 1962 after logging 1,029,507 miles. In good mechanical condition, but with small parts missing.
---
Union Pacific Railroad 4-8-8-4 Locomotive No. 4012
History: Brief background on the 19th century history of the Union Pacific Railroad appeared in the discussion of Union Pacific Locomotive No. 737. By the 20th century, the Union Pacific had gone through the processes of bankruptcy and reorganization, and early in the 20th century experienced rejuvenation in the hands of one of America's foremost railroad managers, the legendary Edward Henry Harriman. The company had lost its lines south of Denver extending southeastward across Colorado, New Mexico, and Texas, as well as its narrow gauge lines into the Colorado Rockies, during the bankruptcy of the 1890s, but under Harriman, it experienced not only a complete overhaul of its physical plant but also new construction across southwestern Utah, southern Nevada, and southern California to reach the growing metropolis of Los Angeles as well as a tidewater port at San Pedro. Thus the Union Pacific of the 20th century extended from Omaha to Cheyenne to Ogden to Portland, as well as to Denver, Salt Lake City, Las Vegas, Los Angeles, and San Pedro. It also owned a line between Denver and Kansas City. It was, furthermore, a thoroughly modern and up-to-date railroad.
Union Pacific Railroad Engine No 4012 is one of eight 4-8-8-4 "Big Boy" locomotives that have survived out of 25 that were built and operated. Its class remained among the largest steam locomotives in the United States, and locomotives of this type operated on no other railroad. Built in 1941, Engine No. 4012 is the epitome of modern, main line heavy-duty steam motive power. This class of engine was created to haul heavy freight trains over the mountain divide known as Sherman Hill between Cheyenne and Laramie in southeastern Wyoming and further west, across the deserts and then the Continental Divide in south-central Wyoming and the Wasatch Range in northeastern Utah, on the run between Cheyenne, Wyoming, and Ogden, Utah. The engine is one of 52 historic Union Pacific steam locomotives that escaped the scrappers' cutting torches. Engine No. 4012 is the only articulated locomotive (with more than a single set of drive wheels pivoting on more than one center) currently in the Steamtown collection. No. 4012 worked on the run between Cheyenne and Ogden for more than 20 years, rolling 1,029,507 miles before the Union Pacific retired the locomotive in February 1962.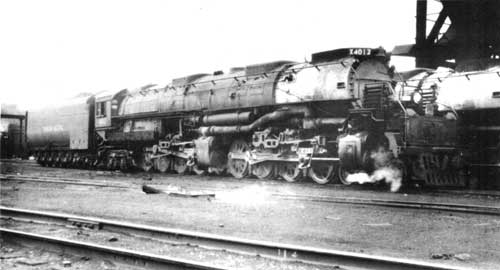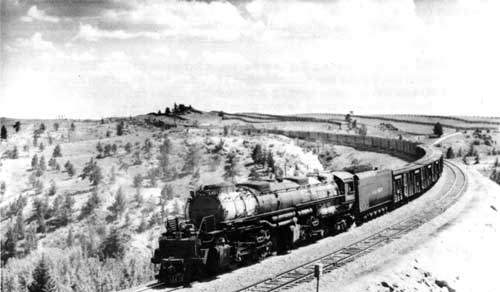 Denver railroad photographer Richard H. Kindig found Union Pacific Railroad "Big Boy" Locomotive No. 4012 under steam in Cheyenne, Wyoming, awaiting its next call to service, on May 5, 1946, and recorded the engineer's side of the locomotive (top). Three years later, on June 25, 1949, Kindig made this dramatic photograph (bottom) of Engine 4012 on Sherman Hill near Sherman, Wyoming, with an eastbound extra freight train of 101 cars moving at 25 miles per hour.
Collection of Richard Kindig
Steamtown has claimed that the "Big Boy" was the "largest locomotive on earth," and while there is a grain of truth in that, it is also somewhat misleading. The Duluth, Missabe and Iron Range Railway, in 1941 a 541-mile iron ore carrier operating in Minnesota, purchased early that year eight 2-8-8-4 Baldwin locomotives that were among the most powerful in the world.
The Union Pacific 4-8-8-4 Big Boy, so named because an anonymous mechanic at the American Locomotive Company plant had scrawled those words in chalk on one of the new locomotives, had the larger wheel arrangement, carried a boiler pressure of 300 pounds per square inch to the 240 pounds of the DM&IR engines, had 68-inch diameter drive wheels compared with the 63-inch drives of the Missabe locomotives, had a longer engine wheelbase (75 feet 5-1/2 inches, compared with 67 feet 2 inches on the DM&IR engines), a longer engine and tender wheelbase combined (117 feet 7 inches compared with 113 feet 5-7/8 inches on the Missabe engines), and was the heavier of the two types, with a total engine weight of 762,000 pounds compared with the 695,040 pounds of the Missabe engines.
But in some vital respects, the Duluth, Missabe and Iron Range 2-8-8-4 locomotives exceeded the statistics of the Union Pacific 4-8-8-4 engines. The Missabe engines had cylinders 26 by 32 inches compared with the 23-3/4-by 32-inch cylinders of the Union Pacific locomotives. The Missabe engine and tender weight of 1,131,675 pounds exceeded the Big Boys' 1,104,200 pounds, and the Missabe weight on drivers of 560,257 pounds exceeded the Big Boys' 540,000 pounds. Most important, the tractive force, or pulling power, of the Missabe engines reached 140,000 pounds, compared with the 133,375 pounds of the Big Boy of the Union Pacific. What it comes down to is, the Union Pacific Big Boy was the longer locomotive, the Missabe engine and tender combined were heavier, the Union Pacific engine had the higher boiler pressure, the Missabe engines were the more powerful and capable of pulling heavier tonnage, and the Union Pacific 4-8-8-4 locomotives were faster, capable of 80 or more miles per hour. It would therefore be wise to describe the Big Boy as among the largest and most powerful in the world, rather than to focus on simple but misleading superlatives.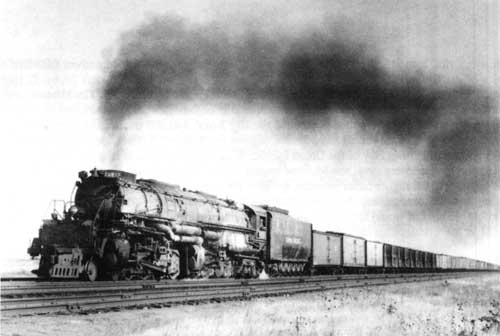 On May 10, 1951, photographer Richard Kindig recorded Union Pacific Railroad Locomotive No. 4012 westbound with an extra freight train of 26 cars near Buford, Wyoming.
Collection of Richard Kindig
Condition: Engine No. 4012 is believed to be in reasonably good condition, and with some overhaul, to be operable. However, her operability rests not alone with her own condition and state of repair, but equally with the capacity of track, switches, culverts, trestles, bridges, wyes, turntables, and other facilities that would have to carry her to bear her great weight.
Recommendations: The National Park Service should preserve this locomotive as the only articulated locomotive in the Steamtown collection, for immediate use as a static exhibit engine, with the question of restoration to operation deferred until a study of the line over which she might operate has been completed with respect to its ability to carry her weight and her ability to negotiate its curvature (the latter not believed to be a problem). If the line can carry her weight, this locomotive should be restored to operable condition. Prior to such restoration, the NPS should commission a report to document any physical changes to the locomotive since construction as well as her operational history on the Union Pacific. Because of her fairly recent date of construction, a report on this locomotive should be comparatively easy to research. Due to her great length, the locomotive will not fit on a reconstructed Scranton turntable or in a restored Scranton roundhouse, and may, therefore, have to be exhibited and preserved outdoors.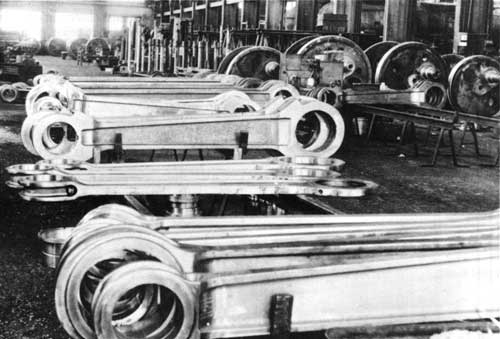 Marked upside-down in crayon on the side rods lying flat just left of center in this view is the number "4012." Some of the wheels and other parts in this shop bay similarly may belong to Union Pacific No. 4012, undergoing a major overhaul in the Cheyenne, Wyoming, shops during the 1940s.
Photograph by Neal Miller, collection of Tim Klinger

BIBLIOGRAPHY
---
Collins, Joe G. The Last of Steam. Berkeley: Howell-North Books, 1960: 177-187.

Frey, Robert L. "The Yellowstone Story--1: Once Upon A Time the World's Largest Locomotive." Trains, Vol. 42, No. 5 (Mar. 1982): 22-30.

"The Yellowstone Story--2; From 'Largest' to 'Some of the largest.'" Trains, Vol. 42, No. 6 (Apr. 1982): 42-49.

Hale, Robert. "Big Look at Big Boy." Trains, Vol. 16, No. 7 (May 1956): 31-39. [No. 4012 is illustrated on pp. 34-35].

Klein, Maury. Union Pacific: The Rebirth, 1894-1969. New York: Doubleday, 1989.

Kratville, William W. Big Boy. Omaha: Kratville Publications, 1972. [Whole 96-page book on this class of locomotive. See especially pp. 63, 73 for photos of No. 4012; 64 for folio diagram.]

_________ and Harold E. Ranks. Motive Power of the Union Pacific. Omaha: Barnhart Books, 1958: 198-204, 246, 263, 310.

LeMassena, Robert A. Articulated Steam Locomotives of North America, Vol. l. Silverton: Sundance Publications, 1979, see especially 113-128. [Vol. I is the only one published.]

Little Look at Big Boy. Omaha: William W. Kratville, 198 l.

Locomotive Cyclopedia of American Practice, 1941. New York: Simmons-Boardman Publishing Corp., 1941: 169-170.

Locomotive Cyclopedia of American Practice, 1947. New York: Simmons-Boardman Publishing Corp., 1947: 154, 155, 221.

Morgan, David P. "Big Boy." Trains, Vol. 19, No. 1 (Nov. 1958): 40-51.

National Railway Historical Society Bulletin, Vol. 32, No. 2. 1967: 35.

Olmstead, Robert P. Locomotives, Limiteds & Locals. (n.p.: published by the author, 1977): 7-21.

"Steam News Photos." Trains, Vol. 25, No. 4 (Feb. 1965): 15.

"Union Pacific at War." Bulletin of the National Railway Historical Society, Vol. 8, No. 2 (June-July 1943): 16-18.

"Union Pacific 4000 Series." Trains, Vol. 3, No. 9 (July 1943): 24-27.

Union Pacific Railroad Company, List of Agencies, Stations, Equipment, Etc., No. 65, Jan. 1, 1951.

Omaha: Union Pacific Railroad Accounting Department, 1951: 254, 255, 322.

"Upon Display: Union Pacific Steam in Existence." Locomotive & Railway Preservation, No. 8 (May-June 1987): 27-28.

Westing, Fred. The Locomotives that Baldwin Built. Seattle: Superior Publishing Company, 1966:
---
---
stea/shs/shs2u.htm
Last Updated: 14-Feb-2002