Steamtown

---

Special History Study
AMERICAN STEAM LOCOMOTIVES

BROOKS-SCANLON CORPORATION NO. 1
---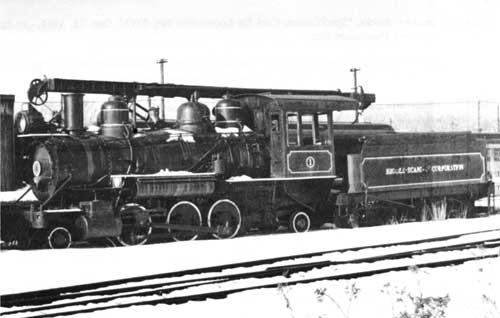 Owner(s):

Carpenter-O'Brien Lumber Company 1
Brooks-Scanlon Corporation 1
Lee Tidewater Cypress Company 1
J.C. Turner Lumber Company 1
Whyte System Type: 2-6-2 Prairie
Class: (unknown)
Builder: Baldwin Locomotive Works
Date Built: August 1914
Builder's Number: 41649
Cylinders (diameter x stroke in inches): 16 x 24
Boiler Pressure (in lbs. per square inch): 175
Diameter of Drive Wheels (in inches): 42
Tractive Effort (in lbs.): 20,800
Tender Capacity:
Coal (in tons):
Water (in gallons):
Weight on Drivers (in lbs.):
Remarks: Engine could burn either coal or wood; engine has a second sand dome behind the steam dome, ahead of the cab. This locomotive may have had a Rushton or cabbage stack, especially under its second owner. This is a tired, worn-out locomotive.
---
Brooks-Scanlon Corporation 2-6-2 Locomotive No. 1
History: The 2-6-2 Prairie-type locomotive took its name and initial popularity from its use in relatively fiat prairie country such as the Great Plains in Kansas and surrounding states. About 50 locomotives of this type have survived nationwide, 15 of them veterans of the Atchison, Topeka & Santa Fe Railway, a company that made particularly extensive use of the type. But as time passed, Prairie locomotives also developed popularity among lumber companies operating in relatively fiat forest country. The only example in the Steamtown collection of an engine with this wheel arrangement underwent the latter use; it was built for a lumber company's logging railroad and eventually passed through the hands of several Florida lumber firms during its active career. So it was essentially an industrial locomotive, though many engines of this type served on common carrier railroads.
Controlled by the William J. O'Brien family of St. Paul, Minnesota, the Carpenter-O'Brien Lumber Company was incorporated under the laws of Delaware in May 1913 but with operations in Florida, and apparently ordered this locomotive as its No. 1, which Baldwin Locomotive Works outshopped in 1914.
Carpenter-O'Brien built a fine sawmill plant Eastport, Florida, to mill pine logs, and even had a ship built to haul 2 million board feet of lumber per trip to its yard on Staten Island, New York. American entry into World War I in 1917 resulted in the sale of the S.S. William J. O'Brien, which in turn may have triggered sale of the Florida mill plant and timber holdings to the Brooks-Scanlon Corporation.
In 1896 the Brooks and Scanlon families, also of Minnesota, consisting of Dwight F. Brooks, M.D., Lester R. Brooks, Anson S. Brooks, and M.J. Scanlon, went into business together in Minneapolis, operating sawmills first at Nickerson, then at Cass Lake, Minnesota, and incorporating the Brooks-Scanlon Lumber Company in 1901 to operate a large plant the firm erected in Scanlon, Minnesota, served by the subsidiary Minnesota and North Wisconsin Railroad.
In 1905, the founders of the firm scouted timber in the Pacific Northwest, purchasing two large blocks of Ponderosa pine timberlands in Deschutes County, Oregon. In 1910 the plant at Scanlon, Minnesota, ran out of timber to mill, so the company moved to Oregon, with the headquarters remaining in Minneapolis.
In 1905, the firm also purchased tracts of Southern pine near Kentwood, Louisiana, where it erected another sawmill plant, served by the subsidiary Kentwood and Eastern Railroad.
By 1917 it was apparent to Brooks-Scanlon management that its Louisiana plant eventually would run out of timber (which it did in 1923). The company bought out Carpenter-O'Brien's holdings and its Eastport, Florida, mill, in the process acquiring Locomotive No. 1. Brooks-Scanlon took over at Eastport on December 31, 1917. By 1928 the company owned or controlled approximately 400,000 acres of timberlands located in Lafayette, Taylor, Madison, and Jefferson counties, Florida. At that time the firm had sawmills with a capacity of turning out 100 million board feet of lumber per year, as well as a planing mill, dry kilns, storage sheds, warehouses, and headquarters for a logging railroad at Eastport, 13 miles from Jacksonville on Florida's St. Johns River, with deep-water decking facilities to accommodate ocean going vessels. Officers included M.J. Scanlon, president, with offices in Minneapolis, Minnesota; J.S. Foley, vice president, located at Eastport; A.S. Brooks, treasurer, and P.A. Brooks, secretary, the latter two officers also headquartered in Minneapolis.
Whether Carpenter-O'Brien and Brooks-Scanlon used Locomotive No. 1 to haul logs in to the mill from the woods or used it to switch the yard around the Eastport plant, or both, is unclear. It should be noted that Brooks-Scanlon locomotives characteristically sported Rushton or cabbage cinder-catching stacks, a type of stack used on wood-burning locomotives such as No. 1. It is likely that Brooks-Scanlon No. 1 had that type of stack applied whether or not it had been built with the Rushton stack for Carpenter-O'Brien. If so, a later owner apparently replaced the Rushton stack with the "shotgun" stack now on the locomotive.
Unprecedented increases in freight rates forced Brooks-Scanlon to move to a location more central to their timber supply, causing the closure of the Eastport plant in 1929 and construction of a new plant at Foley, Florida, named for the company's general manager, J.S. Foley. It is possible locomotive No. 1 moved to the new plant. In subsequent years, the little Prairie locomotive passed into the ownership of several other firms, which leads into some rather complex corporate history, although all four or five of her owners were interconnected in one way or another.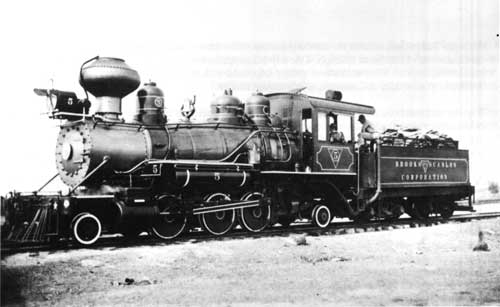 The Rushton (cabbage-style) spark-arrester, lettering, and striping patterns exhibited by Brooks-Scanlon Corporation Locomotive No. 5 (above) may reflect the appearance of Locomotive No. 1 when Brooks-Scanlon owned it.
Collection of Dr. Howard t. Letcher
In Louisiana about 1875, Captain William Lafayette Burton operated a floating sawmill on barges on the Mississippi River, a plant that milled logs for plantation owners. Burton eventually bought a plantation of his own in St. James Parish, 50 miles north of New Orleans on the west bank of the Mississippi, whose lands included some ten or twelve thousand acres in the swamp adjoining the river. Burton built a sawmill on land to produce cypress lumber there, hiring Edward G. Swartz, who claimed to be the first white child born in Montana, to manage it. Swartz's father, a Union Army veteran, had migrated to Montana after the Civil War, but the family subsequently moved to Kansas City. Swartz, while still a teenager, had struck out on his own, cutting short-leaf pine timber profitably near Monroe, Louisiana, which led to his acquiring 10 percent interest in Burton's cypress mill, which in turn led to the establishment of the Burton & Swartz Cypress Company.
When they began to run out of Louisiana cypress, Burton & Swartz learned that Carpenter-O'Brien had never cut any of the cypress the firm owned in Taylor and Lafayette counties, Florida, and that the pine lumber manufacturer doubted its own qualifications to handle cypress, its sawmill plant being designed for milling pine. So Burton & Swartz bought the cypress on Carpenter-O'Brien land with a large cash payment, but Carpenter-O'Brien in turn held about 48 percent of the stock in the Burton & Swartz company thereafter, an interest that presumably passed to Brooks-Scanlon in 1917.
Initially, Burton & Swartz milled the cypress from these lands at Perry, Florida, while Carpenter-O'Brien milled the yellow pine at Eastport. Increases in rail freight rates made this arrangement uneconomical, so the firms established a joint logging camp, the largest in Florida, housing a thousand men, 18 miles south of Perry on the Atlantic Coast Line Railroad. The firms named this town Carbur from the first three letters each of Carpenter and Burton. From Carbur, train loads of pine logs went east to Eastport and cypress logs went north to Perry.
Some years earlier, about 1907 or 1908, a Michigan corporation had bought from men named Butterworth and Kenney about 150,000 acres of virgin cypress timber in a totally inaccessible region known as the Big Cypress Swamp amid the Everglades in Lee County, Florida. The timber was so remote that the company had done nothing with it. J.C. Turner learned of this timber and in 1913 met with Captain Burton in New Orleans, from whom he had in the past purchased much cypress. Both men knew that marketable old-growth stands of cypress were fast vanishing into the hungry sawmills. Turner believed that the Big Cypress Swamp held a resource of great potential profit. Burton agreed, and within 30 days, arranged to buy the Big Cypress Swamp timber from the Michigan firm, Burton & Swartz putting up 60 percent of the purchase price, and J.C. Turner contributing 40 percent.
J.C. Turner was no newcomer to the lumber industry. Born in Albany, New York, shortly after the Civil War, he had moved with his family to Michigan while still a child, eventually graduating from Hillsdale College. Turner then entered the sales department of the firm of Joseph Rathbone, a wholesale white pine distributor with facilities in Chicago. One day while selling in East St. Louis, Turner encountered a barge loaded with cypress shingles, became greatly impressed with the quality of cypress wood, and persuaded Rathbone to send him to Louisiana to investigate further.
Soon he and Rathbone had built a cypress mill at Harvey, across the Mississippi from New Orleans, which eventually became the Louisiana Cypress Lumber Company. Turner pioneered in successfully marketing cypress in northern states. Around 1895, he organized the J.C. Turner Cypress Lumber Company and built a wholesale distributing cypress lumber yard at Irvington on the Hudson River in New York.
At first he shipped cypress up from Louisiana. Then, discovering cheaper schooner rates from Florida ports, Turner began to search out Florida sources of tidewater cypress, and by 1910 bought cypress from about a half dozen or more Florida sawmills. In 1910 he built a double band-saw mill at Centralia, Florida. Thus Turner had considerable lumber, and specifically cypress lumber, business experience before joining Burton & Swartz in buying Big Cypress Swamp timber.
Having bought Big Cypress Swamp timber, the J.C. Turner Lumber Company and the Burton & Swartz Cypress Company formed the Lee Cypress Company, named after Lee County, Florida, to hold the newly acquired timber. Turner died in 1923, Burton in 1926. Meanwhile, the Burton & Swartz Company continued milling out timber in Taylor and Lafayette counties until about 1937 or 1938, thereafter selling off the firm's inventory of milled cypress until it was exhausted about 1941. Their Perry mill continued to operate until 1943 under the Burton & Swartz name, at which time the J.C. Turner Lumber Company bought 54 percent interest from the Burton estate and 6 percent from Swartz, who died a year later. It should be recalled that Turner had always owned 40 percent of the Perry plant, and thus now had complete ownership. That same year, 1943, the J.C. Turner firm started milling cypress from the Big Cypress Swamp. In 1944 the Lee Cypress Company took over operation of the Perry plant, and the firm changed its name in 1947 to Lee Tidewater Cypress Company.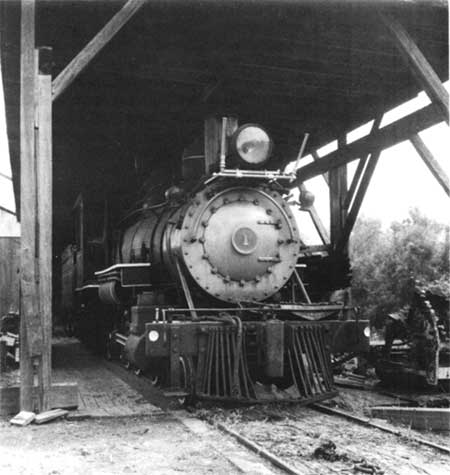 No. 1 resting in the engine shed of the Lee Tidewater Cypress Lumber Company at Live Oak, Florida, on September 4, 1956, featured fancy brass flag stanchions on the headlight platform.
Photo by Malhory Hope Ferrell
Somewhere in this shifting of interconnected lumber interests, ownership of Brooks-Scanlon Corporation Locomotive No. 1 passed to either the Lee Cypress Company or still later to the Lee Tidewater Cypress Company. While the company built a new logging railroad out of Copeland, Florida, and used similar 2-6-2 locomotives there, it apparently retained No. 1 at Perry, Florida, for use in switching at the mill plant.
The logging railroad that had once served the Perry plant may have been torn up for use out of Copeland by the time Lee Cypress or Lee Tidewater Cypress acquired Locomotive No. 1.
Actually, the Big Cypress Swamp, north of Copeland in South Collier County, Florida, was far from Perry, but the company struck a deal with the Atlantic Coast Line Railroad to haul 40 gondola-car trainloads of logs from its logging railroad at Copeland, which extend some 45 miles into the swamp, to the big mill at Perry, so Locomotives Nos. 1 and 2 at Perry had plenty of switching to do, what with 40-car train loads of logs coming in and cypress lumber being loaded to be shipped out. Between 1943 and 1957 the Atlantic Coast Line Railroad hauled 915 40-car trains loaded with cypress logs those 400 miles from Copeland to Perry, 25 million board feet or more per year for 14 years, or roughly 350 million board feet of red cypress, until the Big Cypress Swamp had been logged out. Locomotive No. 1 was last fired up in the fall of 1959, after which she was "stored--serviceable" by the company at Perry. In 1962, probably because the company had run out of timber to mill, the controlling J.C. Turner company dissolved its subsidiary Lee Tidewater Cypress Company and assumed direct ownership of its remaining properties, including Locomotive No. 1. The J.C. Turner company then sold the five surviving locomotives (first No. 2 at Perry having been scrapped in 1955) to F. Nelson Blount's Edaville Railroad, but because the railroad into Copeland had been scrapped, only Locomotive No. 1 at Perry was moved, first to North Walpole, New Hampshire, later to Bellows Falls, Vermont, and finally to Scranton, Pennsylvania. The locomotive thus never operated under the J.C. Turner Lumber Company name.
Thus Brooks-Scanlon Locomotive No. 1 was essentially an industrial locomotive, although many engines of this type served on common carrier railroads. Despite its history of industrial use, it represents a type of locomotive once common on main lines of major railroad systems, and later on their branch lines, as well as on short line railroads.
Condition: Brooks-Scanlon Corporation 2-8-2 Locomotive No. 1 is mechanically a tired, worn-out locomotive, probably suitable only for static exhibit and not for restoration to operable condition.
Recommendations: While a Prairie-type 2-6-2 of a common-carrier railroad might be preferable to represent that type in the Steamtown collection, as this is the only locomotive of the type in the collection, the NPS should restore it "cosmetically" but not mechanically to operable condition, and should exhibit it in a roundhouse. As with each locomotive acquired, a report should be prepared prior to restoration, and that document should include the decision regarding which of three ownerships to restore the locomotive to represent: Carpenter-O'Brien, Brooks-Scanlon, or Lee Tidewater Cypress. That document should include intensive research in Florida and elsewhere as needed to obtain documents and photographs relating to the history of the locomotive and illustrating its appearance while working for its three owning firms. That report, furthermore, should specifically investigate whether the locomotive ever had a Rushton stack and determine whether it is desirable or possible to either obtain and install a genuine Rushton stack or replicate one if the locomotive did once have one. It should also locate for replication brass flag stanchions, visible in various photographs, now missing from the headlight platform of the locomotive.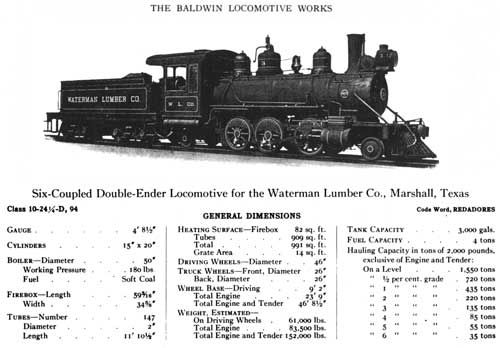 Baldwin Locomotive Works catalogs featured many locomotives similar to Brooks-Scanlon No. 1, including Waterman Lumber Company No. 3, which operated in Texas.
Colorado Railroad Museum Library

BIBLIOGRAPHY
---
Baldwin Locomotive Works. Logging Locomotives. Record No. 76, 1913. n.p. [Philadelphia]: Baldwin Locomotive Works, 1913. [See pp. 35-41 for builder's photographs and specifications for seven 2-6-2 locomotives similar to Brooks-Scanlon No. 1 built for various lumber companies.]
__________. Catalog of Locomotives. n.p. [Philadelphia]: Baldwin Locomotive Works, n.d. (ca. 1914). [See p. 82, devoted to photograph and specifications of Locomotive No. 101 lettered for the Industrial Lumber Company, and similar to Brooks-Scanlon No. 1.]
Beebe, Lucius. "The Last of the Wood Burners." Trains, Vol. 7, No. 1 (Nov. 1946): 52-55.
_________, and Charles Clegg. Mixed Train Daily: A Book of Short-Line Railroads. Berkeley: Howell-North Books, 1961: 8-13, 20, 300.
Ferrell, Mallory. Letters to author. Apr. 16, June 23, Oct. 10, 1988.Guide to the Steamtown Collection. Bellows Falls, Vt.: Steamtown Foundation, n.d. (ca. 1973), Item No. 9 and locomotive roster.
Kean, Randolph. The Railfan's Guide to Museum & Park Displays. Forty Fort: Harold E. Cox, Publisher, 1973: 173.
Kendrick, Baynard. "Florida's Perpetual Forests." Typescript, Florida Agricultural Museum, Tallahassee, Florida: 57-58, 72-75, 112, 125-161. [This is the principal source of information on the lumber companies that owned the locomotive.]
Koch, Michael. Steam and Thunder in the Timber: Saga of the Forest Railroads. Denver: World Press, 1979: 225, 335, 338, 342, 349, 350, 357.
Lawson, Thomas, Jr. Letter to author, Nov. 9, 1988.
Moody, John. Moody's Manual of Investments, Industrial Securities, 1928. New York: Moody's Investors' Service, Inc., 1928: 701, 702.
Odegard, Gordon. "Baldwin 2-6-2 Logging Locomotive: An Early 20th Century Prairie-type for the Industrial Lumber Co." Model Railroader, Vol. 54, No. 10 (Oct. 1987): 114-115. [Article accompanied by measured drawings of a 2-6-2 similar to Brooks-Scanlon No. 1, drawn by Ed Gebhardt.]
Pettengill, George W., Jr. "Florida Woodburners." Trains, Vol. 11, No. 5 (Mar. 1951): 12-15.
Steamtown Engine Roster, September 1967." Bulletin of the National Railway Historical Society, Vol. 33, No. 1 (1968): 8.
Steamtown News, Fall 1970: 1, 2.
---
---
stea/shs/shs2d.htm
Last Updated: 14-Feb-2002