Steamtown

---

Special History Study
AMERICAN STEAM LOCOMOTIVES

READING COMPANY NO. 2124
---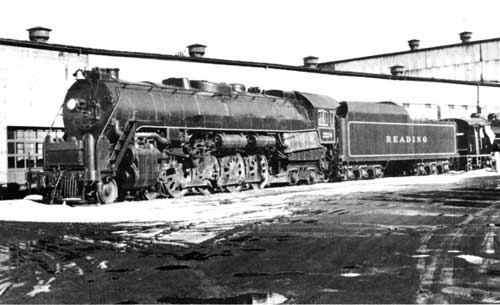 Owner(s):

The Reading Company 2124
Whyte System Type: 4-8-4 Northern
Class: T-1
Builder: Baldwin Locomotive Works; Reading Company Shops
Date Built: January 1947
Builder's Number: (old) 2044
Cylinders (diameter x stroke in inches): 27 x 32
Boiler Pressure (in lbs. per square inch): 240
Diameter of Drive Wheels (in inches): 70
Tractive Effort (in lbs.): 68,000
Tender Capacity:
Coal (in tons): 26
Oil (in gallons): Not applicable
Water (in gallons): 19,000
Weight on Drivers (in lbs.): 278,200
Remarks: Has high mileage since last overhaul; needs extensive repairs to be made operable. This locomotive was designed to burn hard coal.
---
Reading Company 4-8-4 Locomotive No. 2124
History: By the middle of the 20th century, the Reading Company (not the Reading Railroad) operated a network of rail lines in southeastern Pennsylvania that were originally spawned by the Philadelphia & Reading Railroad Company, chartered in 1833. A major coal carrier, its associated Philadelphia and Reading Coal and Iron Company at one time owned 30 percent of all of the coal lands in coal-rich Pennsylvania. The company leased, and through the lease controlled (twice) the Central Railroad Company of New Jersey and the Lehigh Valley Railroad. A holding company, the Excelsior Enterprise Company, was incorporated on May 24, 1871, changed its name to the National Company in 1873, and changed its name again to Reading Company on December 7, 1896. It acquired control of the Philadelphia and Reading Railway Company of November 17, 1896, which was a reorganization of the original Philadelphia and Reading Railroad Company. On December 31, 1923, the Reading Company merged a number of subsidiaries such as the Philadelphia and Reading Railroad into itself, and thus became an actual operating railroad company, not merely a holding company, a practice that was somewhat unusual. This summary is a great oversimplification of a corporate history as complex as the tangled strands on a large plate of spaghetti--a complexity quite typical of large railroad systems.
Reading Company Locomotive No. 2124 became a nationally famous engine, because of its use on railroad-enthusiast excursions, the famous "Reading Rambles" of the 1960s, when she and sister engines hauled trainloads of people at a time when steam engines had nearly disappeared from the nation's railroads. She also appeared in the film From the Terrace with Joanne Woodward and Myrna Loy, which was shot at Jersey City, New Jersey in December 1959.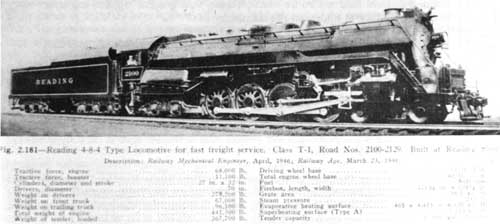 The 1947 edition of the Locomotive Cyclopedia of American Practice illustrated the new Reading Company class of T-1 4-8-4 locomotives, which the company itself built from old Baldwin 2-8-0 locomotives in its own shops.
Colorado Railroad Museum Library
Originally a Baldwin-built 2-8-0 of Reading Class I-10a of the mid-1920s, probably No. 2044, the engine was completely rebuilt into a virtually new T-1 Class 4-8-4, No. 2124, in January 1947. While most locomotives used in the United States were built by locomotive manufacturing companies, some railroads such as the Southern Pacific built locomotives new in their own shops, and some companies took older locomotives of one type and rebuilt them into a new type. Reading Company No. 2124 represents a product of the latter practice--it is essentially a remodeled locomotive, the remodeling done by the railroad's own shops to a total of 30 engines thereafter renumbered 2100 through 2129.
According to Reading historian Bert Pennypacker, the rebuilding of these locomotives originated with a former Baltimore & Ohio road foreman of engines named Revelle W. Brown, who became a vice president of the Reading and then president of the Lehigh Valley, where the latter railroad's modern 4-8-4 Northern-type locomotives had greatly impressed him. Subsequently he moved back to the Reading Company as its president, where he decided to speed up its handling of traffic by replacing some of its existing motive power, principally 2-8-0s, 2-8-2s, and 2-10-2s, with 4-8-4s similar to those of his Lehigh Valley experience.
Acting under Brown's instructions, E. Paul Gangewere, Reading Company superintendent of motive power and rolling equipment, got together with the design engineers of the Baldwin Locomotive Works on plans to convert 20 I-10a 2-8-0 Consolidations to new 4-8-4 Northerns. The Reading Company purchased new underframes, wheels, boiler courses, and many other new parts supplied either by the Baldwin Locomotive Works or its neighbor at Eddystone, Pennsylvania, the General Steel Casting Corporation, and then did the work of conversion in its own shops at Reading, Pennsylvania. To bring the comparatively short boiler of the old 2-8-0s out to the length required for the new 4-8-4s, Gangewere and the Baldwin engineers designed a radically long 111-inch smokebox. The first two boiler curses or segments were replaced with new 187-inch extensions, complete with new tubes and flues. They were also able to salvage some parts of the old 2-8-0s not used in the new 4-8-4s and use them elsewhere, such as the 61-1/2-inch drive wheels that Reading used on its I9sb-class locomotives.
Some components of the new 4-8-4s other than the boiler remained unchanged, such as the 94.5-square-foot Wootten firebox and the cylinders. Others, as Pennypacker noted, such as the feedwater heater and the booster, were new, as was its tender.
Assigned to Class T-1, the new 4-8-4 locomotives entered freight service, a large part of which was coal traffic, in 1947, on Reading main lines and some branch lines in New Jersey and Pennsylvania. They eventually operated in pool service with connecting railroads into Maryland on the Western Maryland and into West Virginia on the Pennsylvania Railroad.
The Reading Company also tested the locomotives' capacity to handle coal trains with a test train of 200 cars, after which the superintendent of motive power and rolling equipment determined that the optimum limit should be set at 150 cars.
Northerns were an attractive, modern, heavy-duty steam locomotive. Replaced in freight service by diesel-electric locomotives, the T-1s found a new career hauling loads of railroad enthusiasts in the famous Reading Rambles, and the first T-1 to be used for this service in May 1959 was No. 2124, now at Steamtown. Later, the 2100 and the 2102 pitched in to help haul railroad enthusiasts throughout the first half of the 1960s. Widely featured in the railfan literature of the era, the Reading Rambles made No. 2124 an individually famous locomotive; it's last "ramble" was on October 22, 1961.
It was also ironic that although the Reading T-1 class engines represented a major post-World War II motive power acquisition drive in 1945, 1946, and 1947, the decline of Reading Company steam motive power began as early as 1950 with accelerating acquisition of main line diesel-electric locomotives. Thus the Reading T-1 engines such as No. 2124 represent steam locomotives in their "last hour" on America's railroads.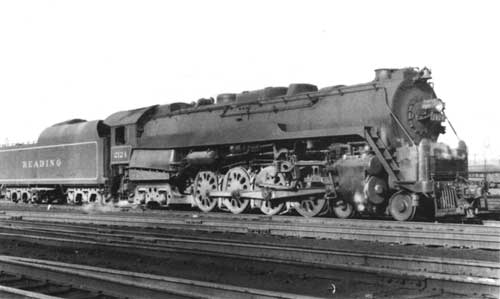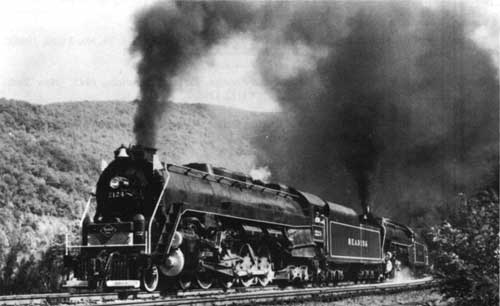 The Reading Company operated its heavy 4-8-4 locomotives principally in freight traffic until the twilight of the steam locomotive, when it pressed a number of them into service in passenger or railfan excursions, the famous Reading Rambles, such as the one shown at bottom at Port Clinton, Pennsylvania, on September 23, 1961.
Top, collection of Gerald M. Best.
Bottom, collection of the Railway and Locomotive Historical Society. Both, California State Railroad Museum Library
In an article published in 1968, Bert Pennypacker cited one engineer's experience with the T-1s:
All Reading enginemen with whom we talked agreed that the T1 4-8-4s were the best engines they ever ran. Tommy Foss remembers them well. A Port Reading coal trip with one almost got him into serious trouble with the officials. It seems that a brakeman running out of Bridgeport had learned a lot about firing and running these engines, and he often took over either position in the cab for short periods of time. On this occasion a crew shortage had failed to produce a fireman for the run, and the experienced brakie said he'd fire her, which he did with ease. But on the return trip, a trainmaster climbed into the cab and asked who was firing the T1.

"I am," said the brakeman.

"Whattaya mean, you are?" retorted the official. "You are a brakeman and you're not firing anything." He turned to the engineer. "Who fired this engine over from Bridgeport?"

Jerking a gloved hand toward the brakie, Tommy Foss grunted, "He did, and if he can't fire her back to Bridgeport I'm not running her."

Well, the t.m. apparently decided it would be better to get the train over the road than tie her up with a rules technicality, especially in view of the crew shortage.

"OK," he said to the shack [brakeman], "you can fire her again on the return trip, but I don't want any more runs made with brakemen firing, even in a pinch."
Indeed, for all their ungainly front end appearance, the T-1s were fine motive power, and would be one of a few select classes of locomotive that had a whole book devoted to them in the body of railroad history literature.
Even before the Reading Company ceased operating its "Iron Horse Rambles," popularly called "Reading Rambles," it had retired Locomotive No. 2124 to Steamtown. The company shipped her out of Reading, Pennsylvania, at 11 p.m. on July 31, 1963, via its own line, the Central of New Jersey, the Delaware & Hudson, and the Boston & Maine.
Locomotive No. 2124 is one of about 37 4-8-4 Northern-type engines preserved in the United States, and one of four Reading T-1 Class 4-8-4 locomotives to survive out of the 30 built (or rebuilt), the others being No. 2100 at Hagerstown, Maryland; No. 2101 at Baltimore, Maryland; and No. 2102 at Temple, Pennsylvania. These are four of a total of nine locomotives of the Reading Company of various types that have survived.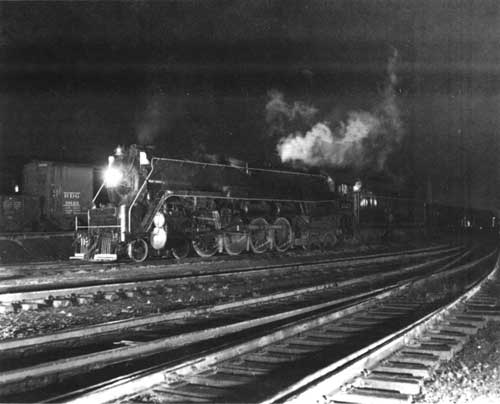 Reading Company Locomotive No. 2124 rested in its home yard in Reading, Pennsylvania, on November 14, 1959, ready for service.
Collection of Malcom D. McCarter
Condition: This engine has accrued high mileage since its last overaul, which means that it is due for a major, expensive overhaul before it can run again. Otherwise, it is in reasonably good condition.
Recommendation: The NPS should prepare a report documenting the history of this particular engine and any changes in its fabric or appearance since its historic use as a freight locomotive. Then the locomotive should be given a complete cosmetic and mechanical overaul to put it in operable condition. It is just the kind of modem, heavy-duty main line 20th century steam motive power that the Steamtown collection should emphasize. When in operable condition, it should be placed in a schedule of operation for excursion and/or interpretive purposes.
In researching a report on this locomotive, special attention should be directed toward obtaining photographs of it while in freight service, which in the published literature are rare.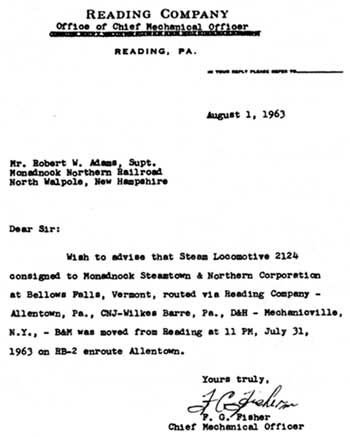 BIBLIOGRAPHY
---
Dirkes, Rod. The Reading T-1; An Unusual Northern. Andover: Andover Junction Publications, 1987: 2-5, 43, 45, 48, 49, 51, 54, 57, 60, 62. [The introduction by Bert Pennypacker on pp. 2-3 followed by construction photos on pp. 4-5 provides the best data available on the history of the development of these engines; remaining pages cited contain photographs of No. 2124 in excursion service.]
Farrell, Jack W., and Mike Pearsall. North American Steam Locomotives: The Northerns. Edmonds: Pacific Fast Mail, 1975: 4-7, 222-227.
Fisher, F.G., Chief Mechanical Officer, Reading Company. Letter, Aug. 1, 1963, to Robert Ames, Monadnock Northern Railroad, N. Walpole, New Hampshire. In Steamtown Foundation files.
Guide to the Steamtown Collection. Bellows Falls, Vt.: Steamtown Foundation, n.d. (ca. 1973), Item 36.
Hart, George M. "History of the Locomotives of the Reading Company." Railway and Locomotive Historical Society, Bulletin No. 67 (May 1946): 5-19. [Lists 2-8-0s from which the T-1s were built.]
Holten, James L. The Reading Railroad: History of a Coal Age Empire, Vol. 1. Laury's Station: Garrigues House, Publishers, 1989. [No second volume has yet been published.]
Locomotive Cyclopedia of American Practice, Thirteenth Edition--1947. New York: Simmons-Boardman Publishing Corp., 1947: 207. [Reading Company photograph of No. 2100 with specifications.]
"Locomotive of the Month; Reading Lines 4-8-4." Railroad Magazine, Vol. 39, No. 2 (Jan. 1946): 64-65.
Moody's Manual of Investments, American and Foreign; Railroad Securities, 1945. New York: Moody's Investors' Service, Inc., 1945: 1182-1198.
Pennypacker, Bert. "The Last Ten Years of Reading Steam." Railroad Magazine , Vol. 84, No. 7 (Nov. 1968): 22-29. [The quotation is from p. 29.]
__________. Reading Power Pictorial; From the Steam Era to Today's Diesels. River Vale: D. Carleton Rail Books, 1973: 168, 204, 206, 207, 214, 215. 320 pp.
"Reading 4-8-4, Class T-1 Locomotives." Railway Age, Vol. 120, No. 12 (Mar. 23, 1946): 629-630.
"What the Reading Saved." Steam Locomotive, No. 2 (Dec. 1959): front cover, 4-14.
Wiswesser, H. Steam Locomotives of the Reading and P. & R. Railroads. Sykesville: Greenburg Publishing Company, 1988. [See especially pp. 168-169 (locomotive folio sheet on T-1 Class locomotives), 170-172, 176-177, 184, 286-287.]
---
---
stea/shs/shs2s.htm
Last Updated: 14-Feb-2002