Steamtown

---

Special History Study
AMERICAN STEAM LOCOMOTIVES

MEADOW RIVER LUMBER COMPANY NO. 1
---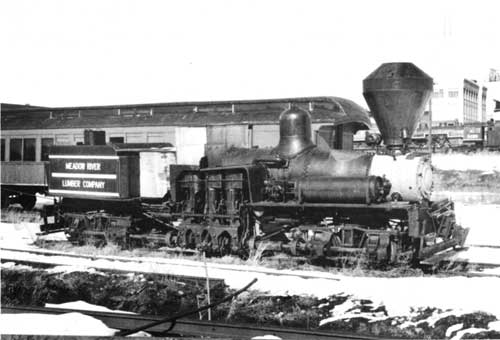 Owner(s):

Sewell Valley Railroad (2nd) 1
Meadow River Lumber Company 1

Whyte System Type: 2-truck Shay-geared
Class: 42-2
Builder: Lima Locomotive Works, Lima, Ohio
Date Built: May 1910
Builder's Number: 2317
Cylinders (diameter x stroke in inches): 10 x 12
Boiler Pressure (in lbs. per square inch): 180
Diameter of Drive Wheels (in inches): 29.5
Tractive Effort (in lbs.): 16,900
Tender Capacity:
Coal (in tons):
Water (in gallons):
Oil (in gallons): Not applicable
Weight on Drivers (in lbs.): 86,000; also reported as 84,000
Remarks: Collapse of a building on this engine at Bellows Falls, Vermont, destroyed its cab and did other damage. This is a tired, worn-out engine.
---
Meadow River Lumber Company Two-Truck Shay Geared Locomotive No. 1
History: Meadow River Lumber Company Locomotive No. 1 is a two-truck Shay-patent geared locomotive typical of engines used by many lumber, mining, and quarry company railroads, other industrial railroads, and a few common carrier short lines and major railroad systems. About 77 Shays survive in the United States, 12 in Canada, and 17 overseas.
An Ohioan named John Raine was ultimately responsible for founding the Meadow River Lumber Company. Born in Ironton, Ohio, in 1863, he went to work at the age of 13 as a choreboy in a lumber camp. Later he entered the grocery business in Ironton, but at the age of 30, impelled by his experience in the lumber industry while a teenager, he joined his brother T.W. Raine to form the lumber firm of Raine and Raine in Empire, Pennsylvania. Around the turn of the century, when this firm exhausted its holdings of timber, the brothers began searching for new stands to cut in West Virginia, and in 1903 John became vice president of the Raine-Andrews Lumber Company at Evenwood in Randolph County. Subsequently the Raine-Andrews firm purchased in 1906 three tracts of timber on the Meadow River in Greenbrier County. Further purchases expanded their holdings to more than 75,000 acres.
As there was no access for transportation of this timber, on November 22, 1907, management of the firm incorporated the Sewell Valley Railroad, which was to build 20 miles of standard gauge track from the Chesapeake and Ohio Railroad at Meadow Creek to the site of a new lumber mill at the mouth of Sewell Creek. The Raine brothers then organized the Meadow River Lumber Company to construct the mill. By the time construction crews completed the railroad, the mill was ready to go to work, and sawed the first board in September 1910.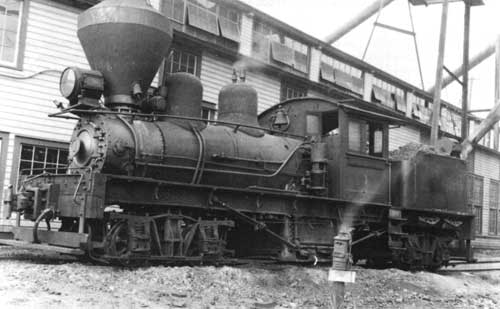 Meadow River Lumber Company Shay-geared Locomotive No. 1, under steam, rested at the mill plant at East Rainelle, West Virginia, near the end of its career as a coat-burning logging and lumber company locomotive. This view of the less-often photographed left side of the Shay emphasizes its huge Radley and Hunter patent balloon stack, designed to catch sparks and cinders, and shows some parts that have since been removed as well as the cab, which was later destroyed by the collapse of a building on it at Bellows Falls, Vermont. Collection of Gerald Best, California State Railroad Museum Library.
Meanwhile, to operate the railroad, the company had purchased its first new locomotive from the Lima Locomotive Works, in Lima, Ohio, a two-truck Class B Shay locomotive that became Sewell Valley Railroad No. 1, replacing an earlier No. 1 which was probably a secondhand engine. By June 30, 1912, the Sewell Valley Railroad had three locomotives, a combination baggage/coach, a box car, and four flat cars.
The mill served by the Sewell Valley Railroad developed into the largest strictly hardwood manufacturing plant in the world. A triple band mill, it was capable of cutting an average of 110,000 board feet of lumber in a 10-hour day, with a recorded maximum of 205,666 board feet in a single day. During its first year of operation, the Meadow River Lumber Company mill turned out about 3 million feet of lumber, and the company later increased annual production to over 30 million feet, requiring the cutting of almost 3,000 acres of virgin timber a year.
On April 25, 1913, the town of Rainelle, named for the Raine brothers, was established near the mill, housing the employees of the company. It gained the reputation of being one of the best hardwood sawmill towns in the country. The firm erected frame houses, plastered and papered inside and painted white outside, designed for comfort and sanitation. They featured running water, modern bathroom facilities, and electricity, and each was surrounded by its own lawn and garden.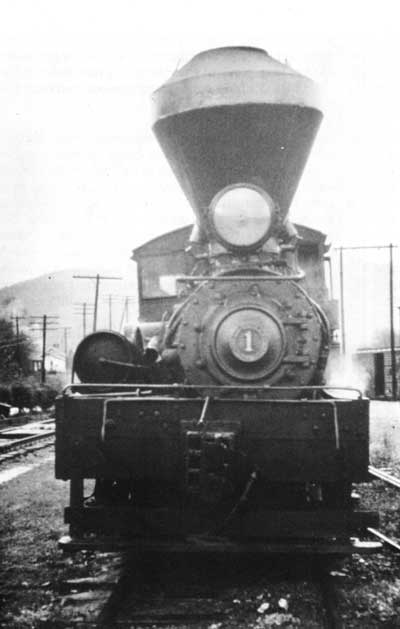 A head-on view of Meadow River Lumber Company Locomotive No. 1 under steam at Rainelle, West Virginia, illustrated the offset boiler characteristic of Shay locomotives, which gave them an ungainly, unbalanced appearance from this perspective.
Steamtown Foundation Collection
The mill plant included a planing mill with a capacity of turning out over a million feet of flooring, ceiling, siding, and trim lumber, and six large dry kilns to dry lumber for processing in the planers. Ten lumber docks, each 1,300 feet long, provided space for nearly three miles of lumber piles, some of which grew to nearly 40 feet high. Railroad spurs passed between each dock for ease in loading cars.
It was common at that time for lumber companies to incorporate their wholly owned railroad subsidiaries separately from the lumber firm. As a common carrier railroad, a lumber line offered its owners the prestige of serving as railroad officers, as well as the very practical benefit of exchanging annual passes with major systems. As the 20th century progressed, however, common carrier equipment was sometimes taxed at higher rates than industrial railroad equipment, the practice became less common and abuse of free passes came increasingly under restrictive regulations. So it was common for many lumber companies eventually to take over their once-common carrier railroads and operate them wholly as industrial or lumber/logging railroads. Eventually the Sewell Valley Railroad locomotives became Meadow River Lumber Company railroad locomotives. Meadow River Lumber Company No. 1, therefore, spent her entire career as the property of this single lumber enterprise at East Rainelle, West Virginia, even though she operated there under two different names.
Outshopped by the Lima Locomotive Works on May 13, 1910, Meadow River Lumber Company Shay No. 1 subsequently was sold to Steamtown and moved to Bellows Falls, Vermont, where on February 4, 1982, at 7:45 a.m., the building in which it was stored collapsed on it due to excessive snow load on the roof, causing considerable damage to the locomotive.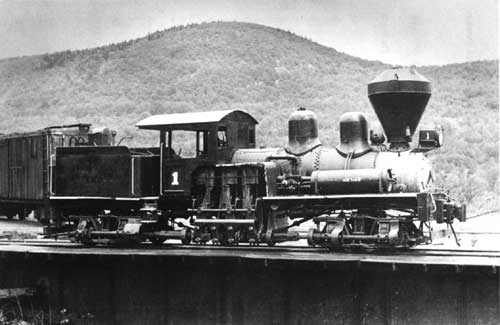 Meadow River Lumber Company's Shaw Locomotive No. 1 posed on the Steamtown turntable at Bellows Falls, Vermont, exhibiting its original wooden cab, heavily patched and reinforced with steel plates, prior to the disastrous collapse of the building in which it was stored. The collapse destroyed the Shay's wooden cab, though most of its components were saved. In this photo, the engine lacks its boiler jacket, bell, whistle, and other features, missing before the building collapse damaged the locomotive.
Steamtown Foundation Collection
Condition: Mechanically, Meadow River Lumber Company Shay No. 1 is a tired, worn-out engine. The building collapse destroyed the locomotive's wooden cab and did some other damage. The engine is missing its sand dome, its headlight, its front number plate, its bell and bell hanger, whistle, and other components, though some of them may be stored at Steamtown. The pilot beam is entirely rotten, and the front draft gear has torn loose. The engine is in terrible condition.
Recommendation: As the only Shay-geared locomotive, or geared locomotive of any kind, in the Steamtown collection, this locomotive is recommended for static exhibit indoors. The NPS should commission a report on the subject of this engine, which should, in addition to researching its history thoroughly, recommend whether to restore this locomotive as Sewell Valley Railroad No. 1 or the later Meadow River Lumber Company No. 1. In view of the main thrust of Steamtown's recommended Scope of Collection for locomotives, it makes sense to incline toward restoring it as the locomotive of a common carrier, the Sewell Valley Railroad. Restoration should include replacing all missing parts and rebuilding from scratch the wooden cab of the locomotive. The pilot beam, and perhaps also the tender beam, should be replaced in kind. The engine is important for what it represents in railroad technology, and because it features an apparently original cinder-catching Radley and Hunter balloon stack, the only one of that type in the collection. The balloon stack indicates, furthermore, that this locomotive was a wood burner, an additional useful facet of its contribution to the Steamtown collection.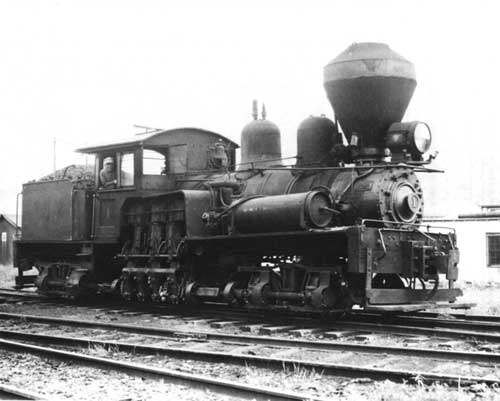 Operating at Rainelle, West Virginia, on May 26, 1956, Meadow River Lumber Company Shay Locomotive No. 1 no longer even had lettering visible on her tender.
Collection of Malcolm D. McCarter

BIBLIOGRAPHY
---
Clarkson, Roy. Tumult on the Mountains: Lumbering in West Virginia--1770-1920. Parsons: McClain Printing, 1964: 30, 33, 92, 93, Figs. 139, 140.
Hirsimaki, Eric. Lima, The History. Edmonds: Hundman Publishing, 1986: 336.
Koch, Michael. The Shay Locomotive: Titan of the Timber. Denver: The World Press, 1971: pp. 306, 434.
__________. Steam and Thunder in the Timber: Saga of the Forest Railroads. Denver: The World Press, 1979: 56, 258-296.
Krause, John, with H. Reid. Rails Through Dixie. San Marino: Golden West Books, 1965: 78, 79.
Poor's Manual of Railroads, 1913. New York: Poor's Railroad Manual Co., 1913: 466-467.
Railroad Magazine, Vol. 59, No. 4 (Jan. 1953): 58. Photograph.
"Steamtown Engine Roster, September 1967." Bulletin of the National Railway Historical Society, Vol. 33, No. 1 (1968): 8.
White, John. A History of the American Locomotive, Its Development: 1830-1880. New York: Dover, 1979: 120-123 (with reference to Radley & Hunter stacks).
---
---
stea/shs/shs2l.htm
Last Updated: 14-Feb-2002