A DIFFERENT WAR: Marines in Europe and North Africa
by Lieutenant Colonel Harry W. Edwards, U.S. Marine Corps (Ret)
---
Sources
Research sources for this monograph were principally books and records on file at the Marine Corps Historical Center, Washington Navy Yard. Primary sources included: Muster rolls of Marine Corps units serving in the Atlantic Theater, 1941-1946, and the Marine Corps Personal Papers Collection, especially the papers of Gens Thomas Holcomb, Holland M. Smith, and Wallace Mr Greene, Jr.; LtGens James P. Berkeley, Julian C. Smith, and George F. Good, Jr.; BGens Frank H. Schwable and James Roosevelt; and Col John H. Magruder. Also the Marine Corps Oral History Collection, especially the interviews with Gen Gerald C. Thomas; LtGens Robert O. Bare, James P. Berkeley, George F. Good, Jr., John C. McQueen, Francis P. Mulcahy, and Julian C. Smith; MajGens August Larson, Omar T. Pfeiffer and Wood B. Kyle; and BGens Harold O. Deakin, Edward C. Dyer, and Frank C. Schwable. Also bibliography files on various Marine officers and enlisted personnel; a draft manuscript (1989) entitled, "Herringbone Cloak-G.I. Dagger, Marines of the OSS," by Maj Robert E. Mattingly, USMC; A Chronology of the U.S. Marine Corps 1935-1946; and Benis M. Frank and Henry I. Shaw, Jr., History of U.S. Marine Corps Operations in World War II, vol V, Victory and Occupation (Washington: Historical Branch, G-3 Division, HQMC, 1969).
Another important source was valuable commentary to the author from: LtGen James P. Berkeley; MajGen Jack P. Juhan; BGens Homer G. Hutchinson, Jr., and Harold O. Deakin; Cols Roy T. Batterton, Jr., John B. Hudson, and Bruce T. Hemphill; Capt Herbert C. Merillat; and Chief Warrant Officer George V. Clark. Acknowledgments are also due for the valuable contributions of a former Marine officer, George O. Ludcke; and those of Mrs. Sheila Ackerland-Lobasco, the daughter of former Marine Col Francis M. Rogers.
The author is especially indebted to members of the staff of the Marine Corps and Navy Historical Centers for assistance with the project.

About the Author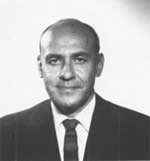 Lieutenant Colonel Harry W. Edwards, USMC (Ret), was in charge of the Historical Branch, G-3 Division, Headquarters, U.S. Marine Corps, from 1952-1955. He also served on the board of the Marine Corps Gazette and as an editor of the Old Breed News for the 1st Marine Division Association. In 1940 he graduated from the University of Minnesota and in May 1941 received his
commission in the Marine Corps as a member of the 5th Reserve Officers Course. His 21 years of service included duty with the 1st, 2d, and 3d Marine Divisions. As a regimental staff officer with the 3d Marines, he participated in the amphibious landing on Bougainville in the Solomons, l November 1943. From 1944 to 1946, he commanded the Marine Detachment, American Embassy, in London. In the Korean War, 1951-1952, he commanded the 3d Battalion, 7th Marines. He was awarded a Bronze Star with Combat V. He taught in the Senior School at Quantico, and was a member of the Advance Base Problem Team 1955-1958. He served on the Joint Staff in Tokyo, Japan, 1958-1960, and was awarded the Air Force Commendation Medal. He retired on 1 April 1962.
---

THIS PAMPHLET HISTORY, one in a series devoted to U.S. Marines in the World War II era, is published for the education and training of Marines by the History and Museums Division, Headquarters, U.S. Marine Corps, Washington, D.C., as a part of the U.S. Department of Defense observance of the 50th anniversary of victory in that war.
Editorial costs of preparing this pamphlet have been defrayed in part by a bequest from the estate of Emilie H. Watts, in memory of her late husband, Thomas M. Watts, who served as a Marine and was the recipient of a Purple Heart.

WORLD WAR II COMMEMORATIVE SERIES
DIRECTOR OF MARINE CORPS HISTORY AND MUSEUMS
Brigadier General Edwin H. Simmons, USMC (Ret)
GENERAL EDITOR,
WORLD WAR II COMMEMORATIVE SERIES
Benis M. Frank
CARTOGRAPHIC CONSULTANT
George C. MacGillivray
EDITING AND DESIGN SECTION, HISTORY AND MUSEUMS DIVISION
Robert E. Struder, Senior Editor; W. Stephen Hill, Visual Information Specialist;
Catherine A. Kerns, Composition Services Technician, R.D. Payne, Volunteer—Web Edition
Marine Corps Historical Center
Building 58, Washington Navy Yard
Washington, D.C. 20374-5040
1994
PCN 190 003125 00
---