A DIFFERENT WAR: Marines in Europe and North Africa
by Lieutenant Colonel Harry W. Edwards, U.S. Marine Corps (Ret)
---
Shortly after the United States entered World War II, the Allies agreed that the European Theater would have priority in the war over the Pacific Theater. The Marine Corps' war was in the Pacific and all war plans regarding the employment of Marines reflected that. Nevertheless, because the Marine Corps was part of the naval establishment, it had responsibility also for furnishing men to parts of the Navy assigned to the European and Mediterranean theaters and to the operations conducted there.
These were not large Marine formations, but were, for the most part, individual Marines and small detachments assigned to guard duty at the barracks and naval operating bases established in the United Kingdom, or men assigned as "sea-going" Marines in the detachments of the large fighting ships. Another category was filled by those intrepid Marines who volunteered for duty with the Office of Strategic Services (OSS), to undertake covert operations with the underground against the Nazis in the occupied countries of Europe and North Africa.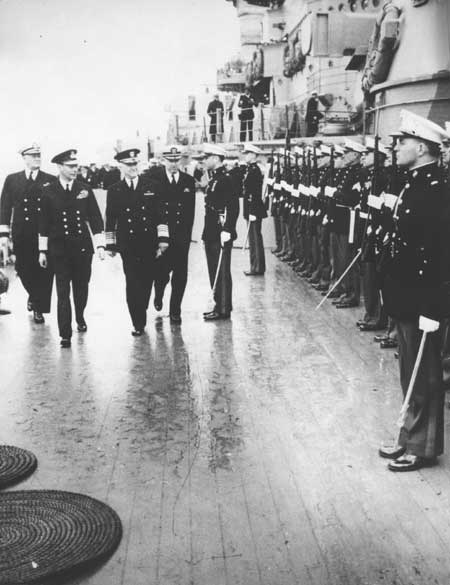 Britain's King George VI inspects the Marine detachment of Washington (BB 56) on 7 June 1942. From left are: RAdm Robert C. Giffen, commanding Task Force 39; King George; Adm Harold R. Stark, special naval observer; and Capt Howard H. Benson, commander of the Washington. Commanding the Marine Detachment is Capt James D. Hittle, who retired as a brigadier general; commanding the 1st Platoon is 1stLt Jonas M. Platt, who retired as a major general; commanding the 2d Platoon is 2dLt Robert Knox. Photo courtesy of The Admiralty, London
In April 1941, Congress stipulated that Marine Corps strength should be 20 percent of that of the Navy. Only a relatively few Marines were detailed to the Atlantic, and they were primarily assigned to the Navy to perform their traditional functions, that of security of naval installations and service afloat. Though few in number, they made a significant contribution, though largely overshadowed by the exploits of their fellow Marines in the Pacific.
The U.S. Atlantic Fleet in 1941 comprised four old battleships, New York (BB 34), Texas (BB 35), Arkansas (BB 33), and Wyoming (BB 32); one division of heavy cruisers, San Francisco (CA 38), Tuscaloosa (CA 37), Quincy (CA 39), and Vincennes (CA 44); the aircraft carrier Ranger (CV 4); and a destroyer squadron. The carrier Wasp (CV 7) would join the fleet shortly upon its commissioning. Marine detachments were assigned to these ships.
Marines have traditionally served as part of the complement of naval warships. In World War II, this service was confined mostly to the larger-sized ships — battleships (BB); cruisers, both heavy (CA) and light (CL); and carriers and light carriers (CV or CVL). Smaller ships normally carried a Marine detachment only when they served as flagships.
Marine training for sea duty before the war was provided at sea schools established in Portsmouth, Virginia, and San Diego, California. Marines selected for this program had to meet three principal criteria: age (over 18); height (at least 5'8"); and a willingness to serve. Those selected attended a course of eight weeks' duration whose curriculum included the operation of ships' guns to which they would be assigned as crewmen, naval terminology, boat drills, damage control, emergency drills, fire-fighting, gunnery practice, shipboard ceremonies, sentry duties, naval etiquette, and duties of a landing party.
The duties of the detachment consisted primarily of maintaining the internal security of the ship, manning secondary gun batteries in action, and forming landing parties as needed. Seagoing Marines were called upon to demonstrate a high degree of proficiency in their assigned duties.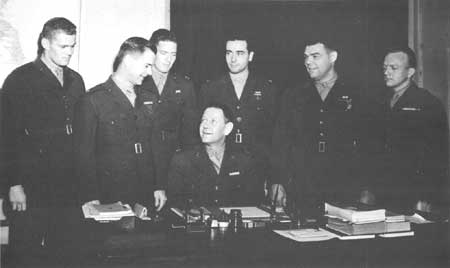 LtCol Walter I. Jordan, commander of the Marine Detachment, American Embassy, London, briefs his officers on a winter day in London, 1942. From left are: 1stLt Fenton J. Mee, Maj John B. Hill, Capt Roy J. Batterton, 1stLt Thomas J. Myers, Capt Walter F. Layer, and Marine Gunner George V. Clark. Nearly all Marines in Europe reported through the detachment. Photo courtesy of Col Roy J. Batterton, USMC (Ret)
Assignment to sea duty, over the years, was always highly coveted, since it satisfied a Marine's basic requirements for travel and adventure, and carried the promise of some exciting action along the way, as part of a ship's landing party on foreign shores.
A Marine officer on board ship could anticipate assignment as the legal counsel or law officer for most courts-martial held on board and duty as a shore patrol officer. He also would have an assignment at a battle station, stand quarterdeck watches when in port, and be prepared to lead his detachment ashore when called upon to protect American lives and property.
A detachment consisted of two or three officers and 100 or more enlisted Marines on a battleship, one or two officers and 80 enlisted men on a heavy cruiser or carrier, and one and 45 on a light cruiser.
During 1941, the fleet was steadily and quickly augmented as the naval ship-building program got underway in earnest. Along with a massive recruiting program, reserve forces were called up. By November, there were 3,793 Marines serving in detachments on 68 naval ships. And the Atlantic Fleet was further enlarged at that time by three more battleships, Idaho (BB 42), Mississippi (BB 41), and New Mexico (BB 40); four light cruisers, Philadelphia (CL 41), Brooklyn (CL 40), Savannah (CL 42), and Nashville (CL 43); and the carrier Yorktown (CV 10).
---