A DIFFERENT WAR: Marines in Europe and North Africa
by Lieutenant Colonel Harry W. Edwards, U.S. Marine Corps (Ret)
---
Operation Torch (continued)
Operation Husky would employ an assault force consisting of four American divisions, four British, and one Canadian, against a defense force comprised of two German and six Italian divisions. However, the enemy units were capable of quick reinforcement from the Italian main land across the narrow Straits of Messina.
The bitter lessons of Dieppe and Oran were taken into account. The seizure of enemy airfields, rather than the assault of enemy ports, was selected as the first objective. The emphasis was still on achieving tactical surprise, which ruled out pre-landing air and naval bombardment; a decision which Hewitt did not favor.
The landing formation was both unusual and bold, with eight divisions landing abreast on a broad front, allowing only a minimal force in reserve and quite a distance removed. Measured in terms of the initial assault, it was to be the greatest amphibious operation ever to that date, involving a total of 2,800 ships and assault craft. Unfortunately, the landing forces had no integration of command for air support, either tactical or strategic, resulting in many problems for the landing forces in obtaining timely air support. The mistake was rectified in subsequent operations.
Vice Admiral Hewitt had under his command 580 ships and 1,124 shipborne landing craft to be employed in transporting General Patton's Seventh Army, which was divided among three attack forces. These were TF 86, under Rear Admiral Richard L. Conolly, with light cruisers Brooklyn and Birmingham (CL 62) and eight destroyers for escort and gunfire support; TF 81, under Rear Admiral John L. Hall, with light cruisers Savannah and Boise (CL 47) and 13 destroyers; and TF 85, under Rear Admiral Alan Kirk, with light cruiser Philadelphia and 16 destroyers. Admiral Ramsey had 818 ships and 715 shipborne landing craft for his landing force, composed mostly of British and Canadian troops.
Rear Admiral Conolly had a most difficult task: that of moving some 25,000 men from Africa to Sicily in a fleet of landing ships, tank; landing craft, tank; and landing craft, infantry, which was designated JOSS Force. Travelling in a convoy of seven columns, they were slowed at times to a speed of two and a half knots by strong winds and heavy seas. This was the first shore-to-shore amphibious operation to make such extensive use of these landing ships. The Sicilian coastline presented a further complication. Because it was known to be fronted with false beaches which would prevent landing ships from placing their troops and equipment on the shore, pontoon causeways were brought along to bridge the gap. The newly developed amphibious truck, called DUKW, was first employed in this operation and met with great success. False beaches presented no problem for the DUKWs, which could continue in land, as needed, with their cargo.
---
Major General Robert O. Bare, USMC
At the start of World War II, Colonel Richard H. Jeschke was the commander of the 8th Marines, and he led that unit in combat in the Guadalcanal operation.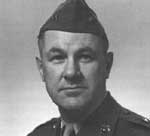 In World War II, while serving on the staff of Admiral Sir Bertram Ramsey, Allied Naval Commander-in-Chief, Colonel Robert O. Bare worked on the planning of the Normandy invasion. He was later awarded the Bronze Star Medal while attached to British Assault Force J during the invasion.
A graduate of the Naval Academy, Class of 1924, Bare achieved early recognition as a distinguished rifle and pistol marksman in the Marine Corps.
After his return from England in 1943, he served in the Palau and Okinawa campaigns in the Pacific in World War II. In the Korean War he was the assistant division commander of the 1st Marine Division and was awarded a Distinguished Service Medal and a Legion of Merit.
Bare held additional assignments as Director of the Marine Corps Development Center at Quantico and as Director of Personnel at Headquarters Marine Corps.
He died on 30 September 1980.
---
Vice Admiral Hewitt's Western Naval Task Force staged from ports in Algeria. General Patton and his staff were embarked on Hewitt's flag ship, Monrovia (APA 31). Once again, Marine Major Rogers was on board as a staff member. On D-Day he went ashore and was given the job of supervising the loading of Italian prisoners onto LCIs. Colonel Litzenberg had been replaced for the landings on Sicily by another Marine officer, Colonel Richard H. Jeschke, who had served briefly in liaison with U.S. Army forces in Morocco.
The landings, on 10 July, were made in darkness at 0245 over an area embracing some 37 miles of shoreline in the Gulf of Gela. Once again the enemy was not surprised, but the landing ship force did remarkably well despite heavy surf and accurate gunfire. In some places the beach areas were mined and a number of vehicles were blown up. There was little combat air patrol over the target area.
On 20 July, the dictator Benito Mussolini was removed from power in Italy and Hitler ordered a withdrawal of Axis forces from Sicily. The mountainous terrain assisted the enemy's ability to fight a series of rear guard actions in the direction of the Straits of Messina, where the retreat was a short run across in ferry boats to the toe of Italy. Allied forces tried to intercept this movement by leap-frogging along the coast in a series of amphibious landings, but they lagged too far behind the fast-moving enemy forces to cut them off or to inflict significant losses. In the space of six days and seven nights, ending on 17 August, the Germans had withdrawn to the mainland with 40,000 troops and the Italians 62,000, so an opportunity to capture a large enemy force was lost to the Allies. An important major objective of the operation, seizure of Sicily, was accomplished.
In June 1943, Marine Colonel Robert O. Bare arrived in London in civilian clothes, as prescribed by regulations (because he had a stopover in Foynes, Ireland), for special duty with ComNavEu. His special duty involved an assignment to the Office of the Chief of Staff, Supreme Allied Commander. The Supreme Commander to head this office (General Eisenhower) had not yet been designated, so the officer in charge was Major General Frederick Morgan, British Army, with the responsibility of conducting planning and preparations for Operation Overlord, formerly Neptune, the cross-channel invasion to come.
Bare was detailed as "staff officer plans" in the naval section under Admiral Sir Bertram Ramsey. He had the task of selecting British beaches for practice landings and naval gun fire training. The area selected was Slapton Sands, near Dartmouth. The British government evacuated more than 3,000 citizens from the area.
In October Bare traveled on a British ship to the Pas de Calais area of France as part of a fake invasion force to test German reactions and to try to mislead them about Allied intentions.
Marine Colonel James E. Kerr also participated in the planning phase for Operation Overlord. He was assigned as a training officer on the staff of Commander, Landing Craft and Bases, Eleventh Amphibious Force, Europe. His duties involved the supervision of amphibious training of personnel for all landing ships and craft to be used in the invasion. Both Kerr and Bare remained through all of the planning phases for Overlord and then participated in the landing.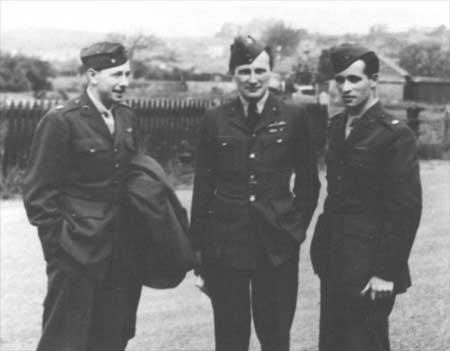 Marine pilots Majs Peter D. Lambrecht, left, and Homer J. Hutchinson are shown with Wing Commander L. N. Hayes, commander of RAF Night Fighter Squadron 256, at RAF Station Ford in Sussex from which they flew missions in May 1943. Photo courtesy of BGen Homer J. Hutchinson
Meanwhile, in the Pacific, the Guadalcanal operation (August 1942) had revealed to the Marine Corps the need for an adequate night air defense capability. Marines who served in the Pacific reported the constant presence of Japanese aircraft buzzing over the combat areas at night, keeping everyone awake. They collectively earned the nickname "Washing-Machine Charlie."
To provide for future night air operations, a cadre of aviation personnel, including six officers and five enlisted men, was sent to England in February 1943 for training with the Royal Air Force (RAF). Lieutenant Colonel Edward W. Montgomery was in charge of the group and was the primary liaison with the RAF. Lieutenant Colonels Guy Morrow and Marion M. Magruder were designated to obtain detailed knowledge of the British fighter control and direction system, including facilities, personnel, and equipment, and to facilitate the acquisition of the equipment by the Marine Corps. Major Peter D. Lambrecht and Captain Homer G. Hutchinson, Jr., were selected for operational training as night fighters, and Captain Edward Hicks was to be trained as a night fighter ground air controller. The five NCOs were assigned to train as air borne intercept radar operators (ROs).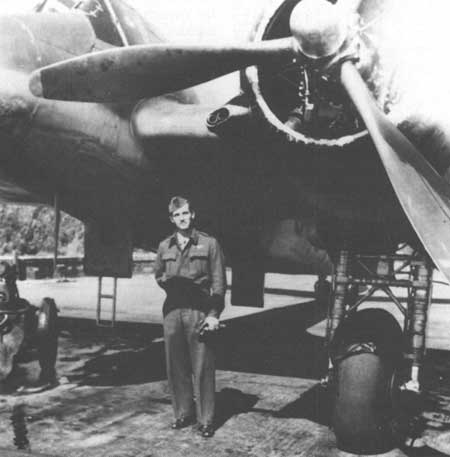 Maj Hutchinson stands in front of the Bristol Beau fighter in which he fought. Photo courtesy of R. J. Hutchinson, USMC (Ret)
The five aviators of the group were initially assigned to RAF Station Coltishall for three weeks of flight training in Bisley and Blenheim aircraft. They wore dark goggles and read fluorescent instrument dials to simulate night instrument flying.
Lambrecht and Hutchinson were then sent to RAF Station Cranfield for operational training with the twin-engine Bristol Beaufighter, and in employing airborne radar to intercept enemy aircraft at night. Great emphasis also was placed on the ability to visually identify various aircraft types to help avoid firing on friendly planes. At this point the two officers were joined in the cockpit by their Marine ROs, Sergeants Nestor Tabor and Pete Hales, now qualified as radar operators in the British air borne intercept system.
When this phase of training had been completed, the two USMC teams were sent to Sussex on 6 May to join RAF Night Fighter Squadron 256. They were immediately assigned to night combat air patrol over the English Channel. It was here that Hutchinson learned to appreciate the ability of RAF ground controllers; these technicians had the difficult job of keeping friendly bombers and fighters separated in a crowded air space, while attempting to pick up enemy intruders. Lambrecht, Hutchinson, Tabor, and Hales, spent three weeks at this station flying night combat air defense missions against the Luftwaffe.
Lieutenant Colonel Montgomery subsequently served as the first commander of Marine Aircraft Group 53, a night-fighter group, from 1943 to 1945. Lieutenant Colonel Morrow became the first commander of a Marine night-fighter operational training detachment in 1943. Lieutenant Colonel Magruder commissioned and commanded VMF(N)-533 in 1943 and Major Hutchinson was his executive officer. Major Lambrecht commanded VMF(N)-541 in 1944, and in August 1952 was killed in action while flying a night-fighter combat mission in Korea.
Another group of Marine officers who arrived in London at this time, on a secret mission, came from the Plans and Policies Division of Marine Corps Headquarters. They included Lieutenant Colonels James P. Berkeley, Edward Hagenah, Harold O. Deakin, Norman Hussa, and John Scott. All spent a week in London on the way to the U.S. Naval Forces Northwest African Waters Command to take part as observers in the next invasion, which would be the landing, designated Operation Avalanche, at Salerno, Italy on 9 September 1943. While in England, they spent their time with opposite staff numbers in U.S. and British organizations. Berkeley, for example, a communications officer, visited the Royal Navy School of Signals at Eastleigh and the British Army Signal Center at Cheltenham; Deakin went to Devon to view amphibious training.
The decision for the Salerno operation had been agreed upon at the Trident Conference in Washington, D.C. on 12 May 1943, as an effort to take Italy out of the war and to engage as many German divisions as possible prior to a major cross-channel invasion. Unfortunately, the two-month delay between the landings on Sicily and Salerno would enable the Germans to bring 13 divisions into Italy with their top leadership, Field Marshals Erwin Rommel, in the north, and Albert Kesselring, in the south. The Italian surrender on 8 September seemed to have little effect on the German occupation force and its determination to prevent a rapid conquest of Italy.
The command structure for Operation Avalanche was much the same as in previous operations in North Africa, with Vice Admiral Hewitt as the Western Naval Task Force Commander. Marine Major Rogers was once again on board Hewitt's flag ship, the Ancon (AP 66), as a staff officer. Under Hewitt was a largely British Northern Attack Force under Commodore G. N. Oliver (with the British X Corps), and a mainly American Southern Attack Force under Rear Admiral John L. Hall (with the U.S. VI Corps). The leading force was the U.S. Eighth Army under command of Lieutenant General Mark W. Clark.
Rear Admiral Conolly was again in charge of the JOSS force of landing ships. The five Marine officers from Washington were embarked with this force at Bizerte, Tunisia, each on a separate LST carrying British troops.
Colonel Berkeley said that his LST, which landed about H-hour plus 2, immediately came under fire from German artillery and was so damaged that it had to withdraw for repairs to its elevator mechanism before returning to unload. As a result of this experience he gained great respect for German artillery and its ability to mass artillery fire on a target. Lieutenant Colonel Deakin landed at 0340 in an assault boat wave with a battalion from the Royal Hampshire Regiment.
Air support was better organized than for the previous Operation Husky as a result not only of consolidated control but also the presence of escort carriers. H-hour was set at 0330 and there was no naval gunfire preparation in the interest of achieving surprise, but there were heavy casualties in early waves from both beach defenses and aerial attack. Later waves had the benefit of some excellent naval gunfire support, which helped to break up a German armored counterattack against the beachhead. Major Rogers was assigned duty as liaison officer between the Ancon and the British X Corps commander, Lieutenant General Sir Richard McCreary on HMS Hilary.
After the landing operation, all five Marine officers returned to Palermo, Sicily, on Admiral Conolly's flagship, Biscayne (AGC 18), for a short visit with two Army generals, George S. Patton and Lucian K. Truscott, Jr. Lieutenant Colonel Berkeley recalls the visit with some grim humor. He said they began to discuss the value of naval gunfire at the landing and Patton interrupted with a comment that naval gunfire was "no damn good." Truscott disagreed, reminding him that naval gunfire "saved us at the landings in Sicily." From there they flew to Oran to brief Admiral John Hall, and then returned home on 23 September.
It may well be that naval gunfire support and air power made the difference in the success of the Fifth Army at Salerno. However, by staying on station, the Navy paid a heavy price. The Luftwaffe attacked with a newly developed radio-controlled glide bomb, sinking a number of vessels, and damaging the U.S. cruisers Philadelphia and Savannah and the British battleship Warspite. The bomb which struck the Savannah killed an entire U.S. Marine gun crew manning one of the turrets.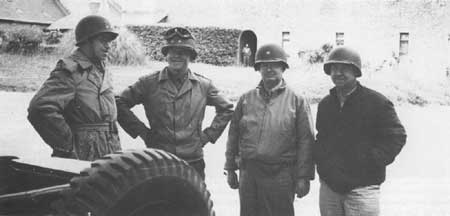 After the Normandy D-Day landing on 6 June 1944, Marine Col Richard H. Jeschke, second from right, who was an observer at the landing, went ashore with LtGen Omar Bradley, left and MajGen J. Lawton Collins, second from left. The officer on the right is unidentified. After the war, Gen Bradley became Chairman of the Joint Chiefs of Staff in 1949. Photo courtesy of Col Richard Jeschke, USMC (Ret)
This costly campaign was concluded when the Germans began a withdrawal on 16 September and Allied forces entered Naples on 1 October. Military analyst J. F. C. Fuller considered Salerno to be "the most absurd and senseless campaign of the entire war."
The delay at Salerno only compounded the problem for the next amphibious assault in Italy, scheduled for 8 November but delayed until 21 January 1944. This was the Anzio operation, called Shingle, which would turn out to be one of the costliest operations of the war with more than 5,000 members of the landing force killed.
There was great controversy in the planning phase among the Combined Chiefs about the wisdom of making this landing. In the end, Prime Minister Churchill prevailed with the argument that unless Rome was taken, Italy would never be free of German domination.
---