A DIFFERENT WAR: Marines in Europe and North Africa
by Lieutenant Colonel Harry W. Edwards, U.S. Marine Corps (Ret)
---
Operation Overlord
At this juncture, General Eisenhower was appointed the Supreme Commander, Allied Expeditionary Force (SHAEF) and, even though he had expressed grave reservations about the Anzio operation, his new responsibility took him out of the Mediterranean area and back to London to head up the planning for Operation Overlord.
By this time, the Chief of Staff, Supreme Allied Commander (COS-SAC) staff had already grown to 489 officers, 215 of them American. As a part of this staff, Rear Admiral Alan G. Kirk was given command of the Western Naval Task Force. Assigned to Kirk's staff was Marine Colonel Jeschke as assistant planning officer and Force G-3. He had previously taken part in the amphibious landing at Sicily and then returned to England for duty with the U.S. First Army. With Eisenhower's arrival, COSSAC was absorbed into his new SHAEF headquarters.
By 30 May there was a total of 1,526,965 U.S. troops in the United Kingdom and more than five million tons of supplies and equipment. Of these American forces, 124,000 were naval forces with some 15,000 attached to combatant ships, 87,000 to landing and beach craft, and 22,000 to the various naval bases established in the U.K. Marines still had their detachment in London and the two barracks in Londonderry and Iceland, and the many ships' detachments with the Atlantic Fleet.
Surprise and deception were still the order of the day, and this accounted for a great deal of the success of the Overlord operation. Not only was the enemy kept guessing about the date (6 June), but he was also deceived as to the target area (Normandy).
H-hour for the airborne landings was 0130, 6 June, with approximately 13,000 paratroopers dropping in the Cherbourg area. Their jump was in support of the Force U troops landing over a nine-mile stretch of beaches on the Cotentin Peninsula, named Utah. Twenty-six assault waves were scheduled to land, starting at 0630.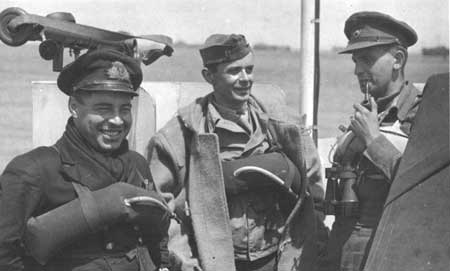 Capt Herbert C. Merillat, center, observed the 6 June D-Day landing of Canadian forces over Juno Beach with Royal Navy Lt Hugh Ashworth, left, and Royal Marine Lt. George Hardwick from the deck of a British landing craft, LCG-1007. Photo courtesy of Herbert C. Merillat
When there was a delay in the landing schedule, Rear Admiral Don P. Moon, in command of Force U, sent Marine Colonel Kerr, a member of his staff, in a patrol craft to take control and to report on how the operation was working. Kerr reported that Red Beach was clear so that waves on Green Beach, which were held up, could be diverted. This landing went so well that by the evening of D-Day most of the units had reached their objectives with surprisingly low casualties. A principal factor in this success was the heavy and accurate naval gunfire on targets inland.
The landing at Omaha Beach was quite a different story. This was performed by Force O, under command of Rear Admiral John L. Hall. It was here that the Germans were able to inflict some 2,000 casualties on the landing force of 34,000.
Among the Marines who participated in this landing were Colonel Jeschke and Lieutenant Weldon James, who was an observer on the flagship Texas, which furnished much of the naval gunfire support.
The U.S. Army V Corps, which landed at Omaha, had so much opposition that it was unable to link up until the following day with VII Corps, which landed at Utah and had moved quickly inland.
On the eastern flank of Omaha was the British assault area. Stretching toward Caen, it was considered a key to the defense of Normandy and was the area where Germany launched its major counterattack. Two Marine officers were with the British forces in this area. Captain Herbert C. Merillat, a combat correspondent, was an observer with the Royal Marines in a landing craft, guns, large (LCG). This vessel had the mission of knocking out German pillboxes from close inshore. Colonel Bare, on board the Llangibby Castle, was attached to the British Assault Force J with the 3d Canadian Division, which went ashore near Courselles-sur-Mer. This force landed at 0810 after a naval bombardment that lasted nearly two hours, and it was able to move rapidly inland with fairly light casualties. However, once the Germans were finally convinced that this landing was not a feint for a major landing elsewhere, they launched some heavy counterattacks that prevented the Allies from seizing Caen until nearly a month later, well behind their planned schedule.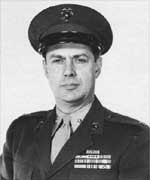 Another Marine who served in Europe was John H. Magruder III, who was assigned as a liaison officer to Gen Bernard Montgomery's Twenty-first Army Group in the Liberation of Holland. Department of Defense Photo (USMC) A407625
The miracle of Operation Overlord was its sheer size and complexity. On D-Day, 130,000 troops alone were landed against tough opposition. Nothing like it had ever been done before. But after seven weeks of fighting the deepest penetration was only 25 to 30 miles on an 80-mile front.
Bare, who had served in England over the past year as a staff officer with ComNavEu and COSSAC, was most impressed with British ingenuity in the preparations for Operation Overlord. He described the development of such equipment as floating docks, flexible oil pipes, floating breakwaters, artificial harbors, and a sunken ship shelter as "just unbelievable." This equipment was a salvation for the landing force, enabling it to project its strength, totally more than one and half million men, onto the Normandy beaches with sufficient power to sustain itself.
Colonels Bare and Kerr arrived back in London on the same day that the Germans launched their first V1 buzz-bomb attack on the city. They returned to Washington on the Queen Mary. Bare was transferred to the Pacific to become chief of staff of the 1st Marine Division for the invasion of Okinawa.
A Marine successor on the staff of ComNavEu was Colonel Paul D. Sherman. He joined in July as staff officer, plans, with the Allied Naval Commander-in-Chief, Expeditionary Force, in time to make the landing in southern France, near St. Malo, as a member of Navy Task Force 125 on 29 August 1944. It was called Operation Dragoon. Initially it was called Operation Anvil, subsequently changed to Dragoon, reportedly because Mr. Churchill was dragooned into accepting it.
Captain Merillat and Lieutenant James also participated in this operation as observers. Merillat was on the battleship Nevada (BB 36), which had the mission of knocking out some 340mm guns on the heights protecting Toulon, and James with Combat Division 5. Major Rogers was assigned to the cruiser Brooklyn as an interpreter for the commander of the French II Corps, General Edouard de Larminent and his staff.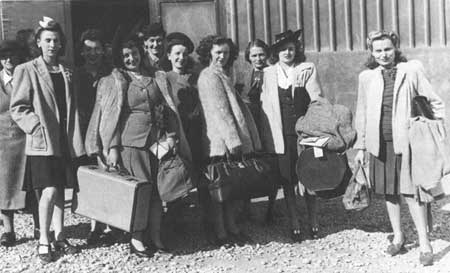 Irish war brides of Londonderry Marines leave for the United States on board the Marine Haven in September 1944, a month after their husbands left Ireland. Photo courtesy of George O. Ludcke
Two cruisers, the Philadelphia and Augusta, provided gunfire support for French Army troops on the western outskirts of Toulon. Four days later these ships sent landing parties ashore, which included their Marine detachments, to accept the surrender of German forces on the is lands of Pomegues, Chateau d'If, and Ratonneau in the Bay of Marseilles. Some 730 Germans were taken prisoner in these operations. Overlord and Dragoon were the two main operations in the invasion of Europe in which the U.S. Navy played a leading part.
It is appropriate here to mention another Marine officer who had a most unusual assignment on the continent. John H. Magruder III served as a civilian with an ambulance unit in India in 1939, attached to the British Army. Returning home in 1941, he was commissioned in the Marine Corps. Having lived in Holland for some years, where his father, Captain John H. Magruder, Jr., USN, was naval attache, he was fluent in Dutch and was assigned as a liaison officer to the British Army which, in turn, assigned him to General Montgomery's Twenty-first Army Group. He participated in the liberation of Holland and was decorated by the Dutch government. He also served in the Pacific War later.
Colonel Sherman, after the invasion of southern France, was assigned to duty as the U.S. Naval Representative on the SHAEF staff in France. From there he went to Naval Forces, Germany, and finally to the G-4 Division of Headquarters, U.S. Forces, Europe.
---