A DIFFERENT WAR: Marines in Europe and North Africa
by Lieutenant Colonel Harry W. Edwards, U.S. Marine Corps (Ret)
---
Operation Torch (continued)
The Safi landing found little resistance, except from shore batteries, and the Army tank units were ashore by the 11th, ready for their move on Casablanca. A party from the Marine detachment of the USS Philadelphia, operating under command of the Army 47th Infantry, landed at the Port of Safi on 10 November and proceeded to the airport to guard that facility until relieved the following day.
---
Colonel Francis M. Rogers, USMC
As a captain in the Marine Reserve, Francis Millet Rogers left his position as a Harvard University professor of foreign languages and civilizations to come onto active duty in World War II.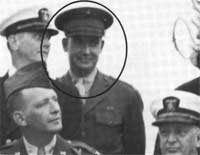 He was a student of western Europe an languages and was particularly fluent in French and Portuguese. In 1941, he was assigned to the Amphibious Force, Atlantic Fleet (PhibLant) and established at Quantico what was possibly the first armed forces foreign language school on the east coast. When Rear Admiral H. Kent Hewitt was given command of the PhibLant in late 1941, Rogers joined his staff as an intelligence officer.
In this capacity he performed distinguished service in three landing operations in the North African theater of operations. These were: Operation Torch in Morocco, Operation Husky in Sicily, and Operation Avalanche in Salerno. In the Morocco landing on 8 November, Major General George S. Patton, Jr., as the landing force commander, awarded a Silver Star Medal to Major Rogers for his service in negotiations with French Vice Admiral Francois Michelier, which led to the surrender of Vichy French naval forces to the Allies.
After his return from overseas, Rogers was assigned to duty with the staff of Chief of Naval Operations Admiral Ernest J. King in Washington, D.C., until 19 October 1945 when he was released from active duty and returned to the Harvard faculty.
Colonel Rogers died on 15 August 1989.
---
The Eastern Naval Task Force of Operation Torch was scheduled for a simultaneous landing over Algerian beaches in the Mediterranean. This force was assembled in the United Kingdom and consisted primarily of Royal Navy warships and Allied merchant marine transports. Unlike the U.S. Navy, there were no troop transports in the Royal Navy. The British simply leased merchant ships as needed and converted them to troop transports. The landing force consisted of 23,000 British Army and 10,000 American Army troops. Because of their perceived hostility towards the British, it was hoped that the Vichy French would view this as an American operation and, therefore, offer less resistance. The Eastern Task Force, including the Marines from Rosneath, sailed from the United Kingdom on 25 October, bound for Algeria. The Center Task Force which had the mission of seizing and securing the Oran area of Western Algeria, had planned night landings at 0100 on 8 November in three localities: one southeast and north of Arzeu (20 miles east of Oran), a second 14 miles west of Oran, and the third about 27 miles west of Oran. By H-hour plus 2 there was also to be a frontal assault on the Port of Oran by two British ships. Their mission was to breach a harbor boom chain and land onto the dock a commando unit which would seize French naval vessels in the harbor.

(click on image for an enlargement in a new windwo)
Little opposition was encountered in the three landing areas, except for some fire from coastal batteries and aircraft strafing. By the evening of the 9th, the ground troops held three of the important airfields in the vicinity, had captured 2,000 prisoners and 90 aircraft, and were ready to assault the city when a truce was called.
The U.S. Marines in the Arzeu landing party were in three groups: Lieutenant Colonel Plain with 11 enlisted men, Captain Davis (who spoke French) with six Marines, and Sergeant Arnold Arrowood with six Marines. Upon landing, they found so many French ships lying at anchor that not enough officers were available to take them over, so the job was given to the enlisted Marines, with one man assigned to each ship, complete with its crew. Some sniper fire was encountered, but they were able to deal with it and suffered no casualties.
It was quite a different story for the six Marines on board HMS Hartland, which along with HMS Walney, both former U.S. Coast Guard cutters, had the mission of opening the Port of Oran. Running without lights at 0300, they were picked up by searchlights on shore and engaged by naval gunfire from French ships inside the harbor, coastal artillery on the bluffs, and machine-gun cross fire from the jetties. Hartland missed the boom on the first try and, in backing off for a second attempt, ran the gantlet of withering fire in an effort to come alongside the dock long enough to discharge its landing party. Marine Corporal Norman Boike, who was on board, reported "four-inch shells coming through the cutters sides like blue flame." Their vessel was soon without power and adrift, and the dead and wounded were piling up on the deck and in the water. Although wounded himself, Boike was able to jump overboard with a raft and, along with First Sergeant Fred Whittacker and other Marines, sailors, and British commandos, who had initially been trapped below deck, rescue some of the wounded and make his way to shore. Both vessels sank with heavy losses, estimated to be 450 out of a total of 600 men who were on board. Two Marines were lost in this action (Privates First Class James Earhart, Jr., and Robert F. Horr) and the rest, along with all those who landed, were taken captive as they came ashore. However, they were released as soon as the armistice was signed. Horr was listed as missing in action and Earhart was buried in the American Cemetery which was established at Oran.
In the Algiers area, the landing took place as planned at about 0100, unopposed except by coastal forts. Coastal batteries opened fire on forces afloat and did some damage. The boom at the harbor was also rammed by two British destroyers, one of which suffered some damage, but nothing like that at the Oran harbor.
By 8 November, the city of Algiers had surrendered, and a friendly welcome was extended after all fighting had ceased. French Admiral Jean Darlan was taken into protective custody and issued the order to his forces for suspension of all hostilities in Algeria and Morocco, and urged all elements of the French fleet to join the Allied cause.
General Eisenhower was reportedly infuriated by the decision of the French to resist. To spare further casualties and speed the war effort, however, he agreed to negotiate with Darlan, in spite of the latter's notorious reputation as a Nazi collaborator. Their agreement permitted Darlan to become governor-general of French North Africa, in exchange for a promise to have the French Army lay down its arms. The agreement brought great criticism of Eisenhower.
The U.S. Navy established an operating and supply base in Oran, which soon became the most important base of its kind in North Africa. A Marine detachment was established at the base and Captain Davis and Lieutenant Fenton Mee, along with all of the enlisted Marines who had participated in the landing, became members of the detachment. Davis became the security officer and Mee was made detachment commander. Lieutenant Colonel Plain joined the Naval Force staff in Oran and remained until his transfer to the States a short time later. The detachment remained in Oran until 12 March 1943, when it was disbanded and all personnel returned to the States.
The Marine Detachment, American Embassy, London, was re-established at ComNavEu on 21 January 1943, and Captain Thomas J. Myers was placed in command. The Marine Barracks at Rosneath was disbanded and its personnel transferred either to London or to Londonderry.
The detachment was reduced in size to 30 enlisted men. Two Marine lieutenants, Paul Cramer and Walter Pickerel, and a number of enlisted Marines, who had been under instruction at the Royal Marines Military School in Devon over the previous few weeks, were detached and returned to the United States.
On 3 February, the Navy established a new command, U.S. Naval Forces Northwest African Waters at Oran. Hewitt, now promoted to vice admiral, was placed in command, and as also Eighth Fleet commander directed to prepare for more landings in the Mediterranean.
It was intended that the seizure of Algeria and Morocco quickly lead also to Allied occupation of Tunisia, opening the Mediterranean coast for staging to carry the battle northward. However, the Axis made a strong stand in Tunisia and gave way only grudgingly against the combined forces of the British Eighth Army and American forces, led by General Patton and Major General Omar Bradley. German and Italian forces in Tunisia finally surrendered with some 150,000 men on 13 May. This serious loss for the Axis provided the Allies air and sea supremacy throughout the southern Mediterranean, and permitted a convoy route to be opened through to the Suez Canal.
The decision of the Allies at this point was to rule out an invasion of France in 1943, but they did agree (at the Casablanca Conference in January 1943) that the next move would be an invasion of Sicily. This operation would maintain pressure on the enemy. Operation Husky was set for 10 July.
---
Brigadier General Richard H. Jeschke, USMC
At the start of World War II, Colonel Richard H. Jeschke was the commander of the 8th Marines, and he led that unit in combat in the Guadalcanal operation.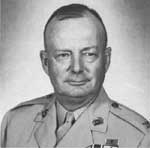 After this action, Jeschke was flown back to Washington and sent to the Mediterranean in May 1943, to the staff of the VI Amphibious Force, U.S. Atlantic Fleet, as Force Marine operations and training officer. In this capacity he participated in the landings at Sicily with the Western Naval Task Force. He also participated in the amphibious assault landing and subsequent operations in Normandy, France, from 1 June to 1 July 944.
During this period, to keep the Force commander informed, Colonel Jeschke made frequent liaison visits to front-line Army combat units ashore, and was subsequently awarded the Legion of Merit for this service. France awarded him the Croix de Guerre. Colonel Jeschke retired in 1949 and for having been decorated in combat was advanced to brigadier general on the retired list. He died on 15 December 1957.
---
General Eisenhower received his fourth star on 11 February and was designated the Supreme Commander, North African Theater of Operations, with three British subordinates: General Sir Harold R. L. G. Alexander (ground forces), Admiral of the Fleet Sir Andrew B. Cunningham (sea forces), and Air Chief Marshal Sir Arthur William Tedder (air forces). Each had an American subordinate: Lieutenant General George S. Patton, Jr., U.S. Seventh Army; Vice Admiral H. Kent Hewitt, ComNavNAW, and Lieutenant General Carl A. Spaatz, Northwest African Air Force. Operational forces were divided, with Admiral Hewitt in charge of the Western Naval Task Force embarking General Patton's Seventh Army, and British Vice Admiral Sir Bertram H. Ramsey, commanding the Eastern Naval Task Force, embarking Lieutenant General Sir Bernard L. Montgomery's Eighth Army.
---