---
MENU
---
Chapter 1
Introduction
Chapter 2
Urban Development
Chapter 3
Maritime Activity
Chapter 4
Agriculture
Chapter 5
Industry
Chapter 6
Transportation
Chapter 7
Education
Chapter 8
Religion
Chapter 9
Social/Cultural
Chapter 10
Recommendations
Appendix 1
Patterned Brick Houses
Appendix 2
Stack Houses
Appendix 3
Existing Documentation
---
SOUTHERN NEW JERSEY and the DELAWARE BAY

---

Historic Themes and Resources within the
New Jersey Coastal Heritage Trail Route


CHAPTER 5:
INDUSTRY
---
Industry in South Jersey has historically centered around the natural resources of the area: Waterways powered mills and iron foundries, fine sand allowed for widespread glass manufacturing, swamps and marshes preserved felled cedar that was used in the manufacture of durable building materials, and abundant vegetable and fruit crops made way for innovations in food preservation.
During the colonial period, settlers in South Jersey utilized the resources of the area not only to create a self-sufficient economy for themselves, but also to facilitate the break away from the British government. With the products made from iron foundries, mills, and glass factories, the colonists no longer relied upon agriculture as a single source of income. The early industries in South Jersey include: glassmaking, ironworks, gristmills, sawmills, cedar mining, charcoal burning, and brickmaking. (The numerous industries associated with maritime activities are addressed in Chapter 3.) Many of these enterprises were sustained well into the nineteenth century, though others did not survive the industrial revolution.

Glassmaking
The glass industry is one of the oldest and most successful industries in South Jersey—and one of the few in the area that remains strong. South Jersey was the natural setting for a widespread glass industry due to the abundance of sand, forest, and navigable waterways. One of Salem County's celebrated roles in history is that it is home to the first successful glass factory in the nation.
In 1738 Caspar Wistar, a German immigrant and Quaker, bought more than 100 acres of woodland near Alloway in Salem County because he realized the quality of the sand and abundance of wood at his disposal. A year later Wistar had laid out his new glass factory, a complex composed of a cordage pot, glass house, general store, workers' housing, and his mansion. The last three were essential, as the closest town was six miles away. Moreover, Wistar had more influence over his workers if they lived in housing he provided. [1]
Wistar also needed professional glass blowers, and he willingly made them partners in his firm. He invited Caspar Halter, Johan Halter, Johann Wentzell, and Simon Greismeyer from Germany. In exchange for their glass formulas, he provided one-way passage, land and dwellings, servants, and one-third of the company profits. [2] The town became known as Wistarburgh and its product, Wistarburgh glass.
Wistar's son, Richard, eventually took over the company, which relied upon skilled glassmaking immigrant labor. Fine glass does not seem to have been the main variety made by Wistar, though such luxury goods may not have been recorded—to evade British law. Glass manufacture was illegal in the colonies, but as long as Britain thought it presented no competition, Wistar was left alone. The government did investigate, however. In 1768 Lord Grenville, in an effort to enforce the Townsend Acts under which the making of glass was restricted, inquired to Benjamin Franklin about any such manufacturers in the colonies. Franklin's son William, then governor of New Jersey, replied that the Salem County "Glass House . . . made a very coarse Green Glass for windows used only in some of the houses of the poorer sort of People." [3]
In 1769, Richard Wistar advertised in the Pennsylvania Gazette for the following:
Made at the subscriber's Glass Works between 300 and 400 boxes of Window glass consisting of common sizes 10x12, 9x11, 8x10, 7x9, 6x8. Lamp glasses or any uncommon sizes under 16x18 are cut on short notice. Most sort of bottles, gallon, 1/2 gallon, and quart, flail measure 1/2 gallon cafe bottles, snuff and mustard bottles also electrifying globes and tubes &c. All glass American Manufacture[rs] and America ought to encourage her own manufacture. [4]
The demise of Wistarburgh came with the Revolutionary War, though exactly why and when is unknown. Some historians speculate that it closed in 1776 because the workers were drafted by the American army. Four years later, Richard Wistar still sought to sell the business:
The Glass Manufactory in Salem County West Jersey is for sale with 1500 Acres of Land adjoining. It contains two furnaces with all the necessary Ovens for cooling the glass, drying Wood, etc. Contiguous to the Manufactory are two flattening Ovens in Separate Houses, a Storehouse, a Pot-house, a House fitted with Tables for cutting of Glass, a Stamping Mill, a rolling mill for the preparing of Clay for the making of Pots; and at a suitable distance are ten Dwelling houses for the Work men, a likewise a large Mansion House . . .; Also a convenient Storehouse where a well assorted retail Ship has been kept above 30 years, is as good a stand for the sale of goods as any in the Country, being situated one mile and a half from a navigable creek where shallops load for Philadelphia, eight miles from the county seat of Salem and half a mile from a good mill. There are about 250 acres of cleared land within fence 100 whereof is mowable meadow, which produces hay and pasturage sufficient for the large stock of Cattle and Horses employed by the Manufactory . . . . For terms of sale apply to the Subscriber in Philadelphia. [5]
Though the Wistarburgh glassworks closed, its success—coupled with the abundant natural resources—encouraged other factories to operate here. Almost a century later, Salem boasted four glassworks: Hall, Pencoast, and Craven/Salem Glass Works; Holz, Clark and Taylor; Gayner Glass Works; and Alva Glass Manufacturing Company.
Other prominent glass factories were based in Port Elizabeth, Bridgeton, and Millville where there was access to sand, woods, and waterways. The Eagle Glass Works, built in 1799 in Port Elizabeth, was the third glass house established in New Jersey. James and Thomas Lee, with a group of Philadelphians, founded Eagle Glass on the Manumuskin Creek, a branch of the Maurice River. The company hired several members of the Stanger family, highly skilled bottle-makers, though the first furnace was devoted only to making window glass. [6] From 1816 through the 1840s, another well-known German glassmaking family—the Getsingers—rented Eagle Glass. After several subsequent owners, the glassworks was sold at auction in 1862; it did not operate long, however, and was abandoned by 1885. [7]
The Union Glass Works was established between 1806-11 by Jacob and Frederick Stanger, and William Shough; Randall Marshall joined them as a partner in 1811. The Stangers and Shough served as both managers and blowers, working with five other blowers to make medicine vials. Business problems arose from the start, however. In December 1811 the building burned and it was not rebuilt until late 1812; two years later the company was dissolved and divided into four equal shares, while all the blowers except for the original partners departed. By 1816 the furnaces were split up; one run by Marshall, the other by Jacob Stanger and Shough. Marshall soon moved, and Union Glass Works closed in 1818. [8]
After setting up the Eagle Glass Works in Port Elizabeth, James Lee established the first glassworks in Millville in 1806, on the Buck Street site which was later run by Whitall Tatum and now is home to the American Legion. Known as Glasstown, Lee produced window glass here. In 1836 the firm Scattergood, Booth and Company bought Glasstown. Soon after, Scattergood married Sara Whitall, sister of a sea captain; when Captain Whitall left his position, he invested his savings in Glasstown and a dry goods business (that would later fail). Whitall also married Mary Tatum, a Quaker, and they moved to Philadelphia leaving a brother, Franklin Whitall, in charge; Scattergood retired in 1845 and shortly thereafter the name of the business became Whitall, Brother and Company. Edward Tatum joined them; then when Franklin Whitall left in 1857, the name was changed again to Whitall Tatum and Company—which was so successful that it opened a New York office run by C.A. Tatum. Finally, in 1901 it was incorporated as the Whitall Tatum Company. [9]
In addition to Glasstown, Whitall Tatum bought a glassworks on the south end of Millville in an area called Schetterville (Fig. 62). The hamlet originated in 1832 when Frederick and Phillip Schetter set up a furnace here. In 1844 Lewis Mulford, Millville's leading banker, along with William Coffin, Jr., and Andrew K. Hay bought the Schetterville property—then monopolized all the local timber that was used to fuel the glass furnaces in an effort to gouge Whitall Tatum. The latter refused to buy from Mulford et al., and imported wood from Virginia until it became prohibitively expensive—and there was no other choice. Today Foster-Forbes, a division of American Glass, owns this part of Whitall Tatum. [10]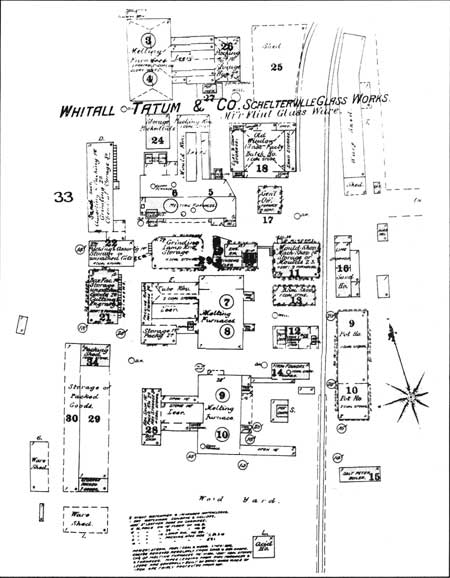 Figure 62. Whitall Tatum Company, Lower Works. Many of the buildings shown are today part of Foster-Forbes; most of the Upper Works is lost. Sanborn, 1886. (click on image for an enlargement in a new window)
Whitall Tatum did more than become the first successful glass factory in Millville. By taking advantage of the railroad's arrival in 1863, it benefitted by a wider distribution area and the improvement of its product. Previously, Whitall had hired Thomas Campbell to make metal—rather than clay—bottle molds. After mid century Whitall Tatum would experiment with even more sophisticated mold-making methods, and in 1867 wood molds were introduced, which eliminated seam lines on the flint glass (Fig. 63). The bottles were used to contain perfume, medicine and prescriptions, spirits, and as vases. On their breaks, blowers made paperweights and other decorative pieces for their personal use and sale. [11]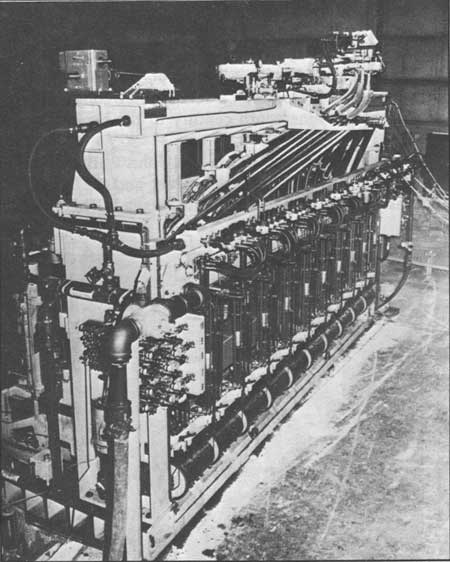 Figure 63. Maul Brothers' ten-section bottle-making machine, the first of its kind, was built in Millville. Wettstein, 20th century.
Whitall Tatum was also the first glassworks to set up a chemical laboratory in which to experiment with the analytical control of formulas for batch mixes—which became indispensable to glass manufacturing. William Leighton's formula for lime glass, an improvement over ordinary flint glass, was utilized, and by 1883 the company operated ten flint-glass furnaces that produced 12 million pounds of lime glass annually. Lime glass allowed the blowers to create more impressive glassware because it emerged from the annealing ovens clear and brilliant and was easy to control. [12]
Whitall Tatum represented an impressive industrial scale in its nineteenth-century heyday. In 1899 it counted 460 employees, including 139 blowers, at Glasstown or the Upper Works; and 1,052 persons including 211 blowers, thirty-six lamp-workers, and 708 packers, at Schetterville/the Lower works. Besides blowers, there were packers, office workers, letterers and engravers, cutters, decorators, and apprentices who looked to become journeymen blowers (Fig. 64). [13]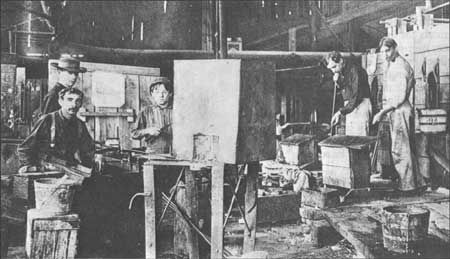 Figure 64. Whitall Tatum shop with workers blowing glass. Wettstein, ca. 1900.
Dr. Theodore Wheaton, a physician who moved to Millville in 1883 to open a drug store, founded another glassworks in 1888. With a six-pot furnace and thirty-six employees, he hoped to specialize in bottles and glass tubing. In 1901, the company incorporated as T.C. Wheaton and Company, and by 1909 it employed 2,000 persons. In 1926 it was able to buy out a major competitor, Millville Bottle Works. Twelve years later Wheaton installed its first automatic machinery and it has steadily modernized its operations since. In 1966 the name was changed to Wheaton Glass Company. [14]
The presence of Wheaton and Whitall Tatum, along with several less-prominent glass factories, made Millville a center of glassmaking during the nineteenth and early twentieth centuries. Bridgeton was a relative newcomer in comparison, hosting glass furnaces from the middle of the nineteenth century to the beginning of the twentieth.
Nathaniel L. Stratton and John P. Buck started the Stratton, Buck and Company glass factory here in 1836 at Pearl Street and the river. Many of the flasks it produced were impressed with "Bridgeton, New Jersey." This company represented the single-largest business in Cumberland County for many years thanks to holdings of large tracts of land and a general store. With a disastrous fire and Buck's death in the 1840s, Stratton sold the company to John G. Rosenbaum, who operated it until 1846; he in turn sold it to Joel Bodine and Sons. After going bankrupt, the company sold to David Potter and Francis I. Bodine, who joined in the race to invent a reliable air-tight fruit jar. Although the Mason jar eventually became the most widely type used, Potter and Bodine patented one in 1858. In 1863, Potter sold his shares of the company to J. Nixon and Francis L. Bodine, who incorporated in 1870 as the Cohansey Glass Manufacturing Company (Fig. 65), makers of fruit jars and window glass. [15]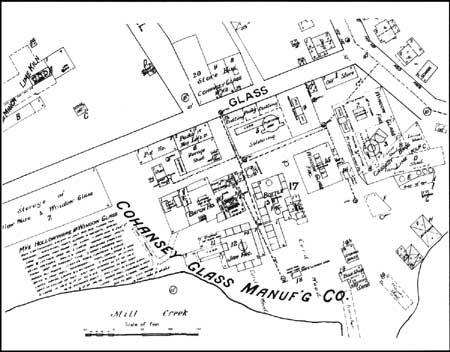 Figure 65. Cohansey Glass Manufacturing Company site plan. Sanborn, 1886. (click on image for an enlargement in a new window)
During the nineteenth and early twentieth centuries, Bridgeton was home to more than seventeen glass factories, operating at various times. These included: Getsinger and Son (Fig. 66); Cumberland Glass Manufacturing Company/Clark Window Glass Company; More, Jonas, and More Glass Works; East Lake Glass Works/Hollow-Ware; Parker Brothers Glass Factory; West Side Glass Manufacturing Company Ltd.; Perfection Funnel Works; Glass-Bottle-Mold Factory; and Daniel Loder. Their products ranged from fruit jars and bottles to funnels and windows. [16]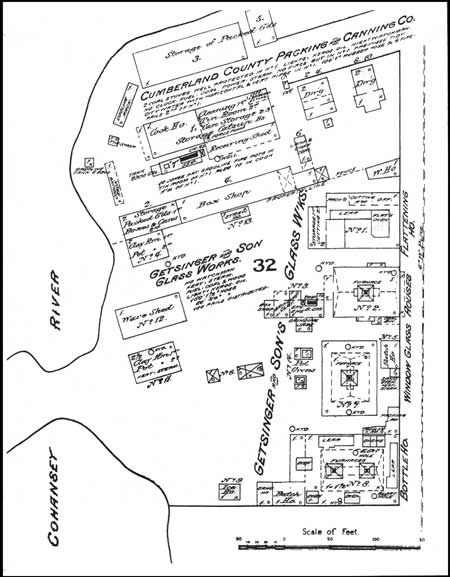 Figure 66. Getsinger and Son's is one of the many South Jersey glassworks sustained by lumbering and sand-mining industries during the 19th century. Sanborn, 1886. (click on image for an enlargement in a new window)
Salem County also was home to several glass companies in the middle and late nineteenth century. The Salem Glass-Works in the City of Salem was established in 1863 by Henry D. Hall, Joseph D. Pancoast and John V. Craven. In 1882, after the deaths of Hall and Pancoast, sole proprietor John Craven sold partial interest to his brother, Thomas J. Craven, and the company became Craven Brothers. The firm had two factories: one on Fourth Street and the other on Third Street. Both factories employed approximately 350 people and manufactured bottles and fruit jars. [17] Another competitor, Quinton Glass Works, operated out of Quinton's Bridge in Salem County. D.P. Smith, George Hires Jr., John Lambert, and Charles Hires started the company in 1863. By 1871, after the retirement of Smith and Lambert, the Hires brothers changed the name to Hires and Brother. Five years later, William Plummer, Jr., joined the firm and again the name changed to Hires and Company. Employing 150 people, the company processed window, coach, and picture glass. In addition, the company had a gristmill and a general store. Today, Anchor Glass Company still operates on Griffith Street in Salem. [18]
As automation and mechanization came to dominate early twentieth-century manufacturing, many of South Jersey's glass factories disappeared. Those that survived were the best able to modernize: Of the nineteenth-century factories, only Wheaton Industries endures today, but the buildings of the Lower Works of Whitall Tatum are now used in part by Foster Forbes. Wheaton Industries has also attempted to preserve the knowledge of the technology previously used in its glass-blowing demonstrations at Wheaton Village in Millville; the Village also houses the Museum of American Glass.
Continued >>>