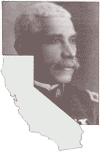 Five Views: An Ethnic Historic Site Survey for California
---
MENU
---

Introduction
A.M.E. Church
Education
Industry
Farming
Business
Associations
Noted Individuals

Historic Sites
Selected References
---

---

A History of Black Americans in California:
HISTORIC SITES
---
Allensworth
Tulare County
Allensworth, established in 1908, fulfilled the dream of a number of men and women — the dream of a community where Black people could live and work in dignity, without day-to-day confrontation with racial prejudice. Two men figured prominently in its realization — Allen Allensworth and William A. Payne.
Colonel Allensworth and Professor Payne were President and Secretary, respectively, of the California Colonization and Home Promotion Association, incorporated on June 30, 1908. The group envisioned an idealistic and democratic town where Black people would have the opportunity to live in peace, themselves enacting the laws that controlled their lives, freed of the racial discrimination and violence characteristic of most other communities. The association actively promoted the idea of establishing Allensworth as a Black self-governed town whose achievements would create "sentiment favorable to intellectual and industrial liberty" for Black people in the United States.
Allen Allensworth was born a slave on April 7, 1842, in Louisville, Kentucky. He successfully fled slavery and worked as a nurse attached to the Union Army forces during the Civil War. In April 1863, he joined the United States Navy, and in a short time rose from first-class seaman to first-class petty officer. Honorably discharged on April 4, 1865, he worked as a civilian in the Commissary of the Navy Yard at Mound City, Missouri, for two years. Then, he and his brother opened two St. Louis restaurants that became tremendously successful.
He was active in teaching and church work, showing piety, strength of character, and leadership ability, and was ordained a minister by the Fifth Street Baptist Church on April 9, 1871. He sold the restaurants and devoted his attention to the church, holding several pastorates in Kentucky and Ohio.
In 1882, a Black soldier directed Allensworth's attention to the fact that the chaplains of four Black army regiments were White, and urged him to use his influence to secure the appointment of a chaplain. When Allensworth learned of the retirement of the chaplain for the 24th Infantry, he decided to seek the appointment. On April 1, 1886, President Grover Cleveland appointed him chaplain with the rank of captain, responsible for the spiritual well-being and teaching of Black soldiers.
Allensworth retired from the United States Army on April 7, 1906 with the rank of Lieutenant Colonel. After retiring, he traveled throughout the midwestern and eastern states lecturing on the need for Afro-American self-help programs as a vehicle to economic, social, and political self-sufficiency. He selected Los Angeles as a place to settle with his wife and two daughters.
Born in West Virginia in 1865, William Payne spent his youth in Ohio where his father worked as a coal miner. When young Payne graduated from high school, his family sent him to Athens, Ohio to obtain a teaching certificate at the state normal school. Payne had the foresight to want a bachelor's degree, even though it then exceeded the minimal teaching requirements, and in 1898 he was admitted to Dennison University in Granville, Ohio. Before receiving his degree from Dennison in 1902, he married his classmate Zenobia B. Jones, from a prominent Rentsville, Oklahoma family.
After retiring from the mines in 1905, his father, Robert Frank Payne, moved the family to California. Payne and his wife followed, moving to Pasadena in 1906. He had been Assistant Principal for seven years at the Rentsville School and professor at the West Virginia Colored Institute for two years; in California, he hoped to be a teacher of teachers. But eligibility to teach in the Los Angeles School District then required prior teaching experience in a California school. Despite 1870 statutes eliminating the state's mandatory separate school system, employment opportunities for minorities in the California public school system were primarily limited to menial jobs.
Allen Allensworth and William Payne were both educators with a strong sense of social consciousness. They combined their experiences, talents, and educational achievements to establish a race colony to put their ideas into practice.
The location selected for their new colony, to be named Allensworth, was a depot on the main Santa Fe Railroad line connecting Los Angeles and San Francisco. Solito, as it was named in 1908, was a major transfer point for grain and cattle shipments. The soil was fertile, surface water abundant, groundwater tables high, and the cost of land reasonable. The promotion of the town was successful. Enterprising Black men and women — craftsmen, artisans, businessmen, farmers, ranchers, retired military — moved their families to the newly purchased land.
The affairs of the new town were administered by a council form of government known as the Allensworth Progressive Association, which directed the community through its formative and critical early years. Both men and women held responsible positions.
Allensworth's basic economy depended on agricultural enterprises — cultivation of alfalfa, grain, sugar beets, and cotton; and raising of dairy cattle, chickens, turkeys, and Belgian hares. The town's business district held several stores, a bakery, a drug store, a livery stable, a barber shop, and a machine shop. A school and a library were located near the Allensworth Hotel.
Allensworth grew rapidly in its first few years, but irrigation water, a necessity in the San Joaquin Valley, was never provided in adequate supply. The town was built on land that had been purchased from a Los Angeles land development syndicate, Pacific Farming Company, which according to the grant deed, was to provide a water system equal to the needs of the community. The town engaged in a long, expensive, and ultimately unsuccessful legal battle to effect compliance.
A combination of factors — diversion, demands of extensive irrigation, and deep-well pumping in surrounding areas — limited the water supply available in Allensworth. The scarcity of water stymied the agricultural and ranching enterprises, and fire protection could not be provided.
After 1925, Allensworth residents found it increasingly difficult to further develop their agricultural and ranching industry without water and to assume the place in the San Joaquin Valley's economy that the California Colonization and Home Promotion Association had envisioned.
During the 1920s and 1930s, residents began to leave for work in other places and other industries; the personnel needs of World War II called many more. The remaining citizens tried new methods of farming and other businesses; some drilled their own wells. But in 1966, dangerous quantities of arsenic were found in the drinking water.
In its economic and social context, Allensworth represents the realization of a basic American dream — a prosperous community encouraged by a democratic government. Only 40 years before its founding, Blacks were excluded from homestead lands by law. Even though California had joined the Union as a "free state," Blacks were allowed few civil rights. Schools and other public facilities were segregated, voting and militia rights were denied, and Blacks could not testify against Whites.
Allensworth, however, offered its inhabitants the chance to participate fully in a community, to practice high ideals and principles, to make and enforce their own laws, to own property, and to seek and reach their individual and collective goals. It offered an opportunity to seek and achieve dignity and equality.
Allensworth is currently interpreted as a historical unit within the California State Park System.


Colonel Allen Allensworth (left), Allensworth School (right),
Tulare County
NEXT> "Athletics"