---
MENU
---
---

---

A History of Black Americans in California:
ASSOCIATIONS
---
Voluntary associations have traditionally welcomed and provided assistance to individuals and groups newly arrived in a strange city. However, Black migrants coming to California's cities after 1920 found conventional social service organizations like the Red Cross, Salvation Army, YMCA, and YWCA closed to them. Housing and employment assistance, as well as care for the orphaned and infirm, which these facilities provided (usually at no cost), had to be financed directly by the Black community. Black club women were prime movers in filling the void.
The California Association of Colored Women's Clubs was formed in 1905 as an affiliate of the National Association of Colored Women's Clubs. At its inception, the association recognized the need for social services and encouraged local efforts to meet that need. Homes for Black working girls and women was one program that received statewide support. Clubs throughout California purchased residential structures and established homes with wholesome surroundings for women and girls who worked in cities where there were no suitable public accommodations. Houses to serve this purpose still exist in Sacramento, San Francisco, and Los Angeles.
Homes for orphaned children and child care services for working mothers were other social services provided in the community. A number of facilities offering these services were created by various providers. The East Bay club women became affiliated with the Northern Section of California Association of Colored Women's Clubs through a consolidated effort on April 30, 1918, and established the Fannie Wall Children's Home and Day Nursery. At the Oakland home, a staff of professional women administered resident care for orphans and day care for children of working mothers. Care for adolescent orphans was provided through private training schools where orphans could earn their fees through regular on-the-job training. The Duval School, organized in Beulah Heights (Oakland) in 1914, is but one private institution that accepted adolescent orphan girls and trained them for domestic work.
Aged Black people were also provided responsible care in a congenial environment. The Home for the Aged and Infirm Colored People, built in 1897 in Oakland, was the first such institution in the state. Black club women originated the idea and formed the Old Peoples Home Association in 1892 to develop a facility. Within five years, the association had approximately 100 members and a three-story home, which in 1897 cost $4,000. Several founders served on the Board of Directors until the home was closed in 1938. The Black Southern California Baptist Church opened a similar facility in Los Angeles in 1919. The Southern California homes were the Abilia Home for the Aged and the Linden Home for the Aged. Another facility for aged Black people, the Dunigan, was a private rest home founded in Ontario in San Bernardino County. A number of additional private rest homes were created as the need arose.
Black men and women in the military during the First World War could not get assistance in finding housing, employment, or other needed services from general social service agencies like the Red Cross, YMCA, and YWCA. Even the military, then a segregated service, offered little assistance to its Black members and their families. The Booker T. Washington Community Services Center, Inc. was established in 1919 by Black club women in San Francisco who were concerned about the lack of social services made available to Black military personnel and their families. These women raised funds to establish and operate the Booker T. Washington Center. After World War I, when the need that created the center had passed, its board of directors changed the function. Since then, it has offered a broad range of services for both youth and adults in the Western Addition area of San Francisco.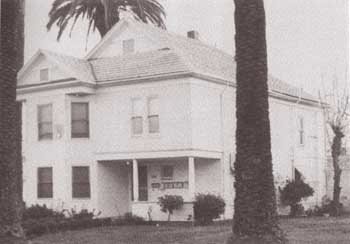 Negro Womens' Civic Improvement Club, Sacramento County
NEXT> Noted Individuals