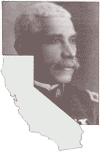 Five Views: An Ethnic Historic Site Survey for California
---
MENU
---

Introduction
A.M.E. Church
Education
Industry
Farming
Business
Associations
Noted Individuals

Historic Sites
Selected References
---

---

A History of Black Americans in California:
HISTORIC SITES
---
"Athletics"
San Francisco
This 12-foot-high, 185-foot-wide cast-stone frieze is located on the football field of George Washington High School, San Francisco.
The incised relief frieze, entitled "Athletics," was created by Sargent Johnson under the WPA Federal Arts Project. The frieze covers the retaining wall on the George Washington High School football field. The work was cast in 6-x-14-foot sections. Oversized representational male and female figures engaged in athletic games of various types are portrayed in this monumental work.
Johnson, a Black sculptor, achieved international recognition. His versatility extended to porcelain, terra cotta, bronze, wood, and cast stone, although he is best known for his ceramic polychrome sculpture. Born in 1888 in Boston, Johnson lived for a time in this state where he attended the California School of Fine Art and studied in San Francisco under Beniamino Bufano.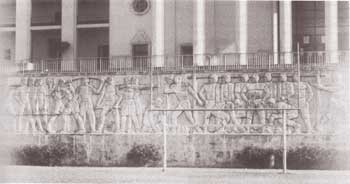 "Athletics" mural at George Washington High School, San Francisco
NEXT> Beckwourth Cabin/Trading Post