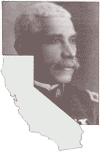 Five Views: An Ethnic Historic Site Survey for California
---
MENU
---

Introduction A.M.E. Church
Education
Industry
Farming
Business
Associations


Noted Individuals

Historic Sites
Selected References
---

---

A History of Black Americans in California:
NOTED INDIVIDUALS
---
These social processes produced individuals whose attainments would have made them national figures except for their color. Foremost among this group was James P. Beckwourth, a shrewd and enterprising explorer, fur trader, and speculator. Beckwourth contributed much that has not been appropriately recognized to the history of the West. Yet this Black man's White contemporaries, like Kit Carson and Jim Bridger, have been so widely acclaimed that they are now legendary figures.
Other notable individuals include Edward P. Duplex, who was elected mayor of Wheatland in Yuba County in 1888; John Scott, a member of John Fremont's second western expedition; J. Goodman Bray, manager of tourmaline mines in Mesa Grande and founder of the tourmaline mining industry of San Diego County; Biddy Mason, a slave emancipated in Los Angeles by a United States District Court of Appeals judge, who be came a wealthy philanthropist; and Mary Ellen (Mammy) Pleasant, perhaps now the most widely recognized among the early notables.
A prosperous and influential San Francisco businesswoman, Pleasant supported, and at times helped finance, the fight to end slavery and to gain citizenship in the free states. This struggle, in its various phases, engaged Black Americans throughout the nineteenth century. Pleasant was associated with both the citizenship movement in California and abolition activities in the eastern United States.
Structures designed by architects and builders also express the Afro-American presence in California. During the nineteenth century, it was commonplace for a master carpenter or brickmason to both design and construct buildings, a practice which continued into the twentieth century. These early builder-architects created much of the environment that now represents the state's architectural history. Included in this group were Black men. However, Black builder-architects, like their White contemporaries, have remained virtually anonymous, save for recollections and eyewitness accounts recorded in people's memories.
Amos Brown (1900-1965) and Paul R. Williams (1897-1980) were important professional Black architects. Brown, of the San Francisco Bay Area, designed residential structures, while Williams, a prominent Los Angeles architect, received considerable acclaim for both commercial and residential structures. In the 1920s, as a young architect, Williams received a number of commissions from the Black business community to build commercial structures. Several of these buildings have been listed as historic resources, albeit for their historical rather than their architectural merit. Architecturally distinctive designs created by this architect have been recognized through peer review. The Music Corporation of America building in Beverly Hills won the American Institute of Architects Gold Medal Award in 1960 for the most outstanding building in Southern California.
Numerous professional builders, both master carpenters and brick- masons, gained reputations constructing residential properties. John Barber, John Coleman, Lemuel Grant, and Robert Booker were known to have constructed commercial buildings as well.
Only two of the commercial buildings associated with these men are extant. One is Redding's Lorenz Hotel (1904), and the other is the old administration building at Fresno City College (1915). Booker's Black contemporaries credit him with the Lorenz building's construction, although no documents have been found to corroborate this testimony. Black people, witnesses to construction of the old administration building, say that the Grant brothers (Los Angeles-based Black brickmasons) were retained to complete the detailed masonry around the building's windows and archways. Their White contemporaries, however, dispute the validity of this claim. For neither building have any documents been located to verify the builder's name.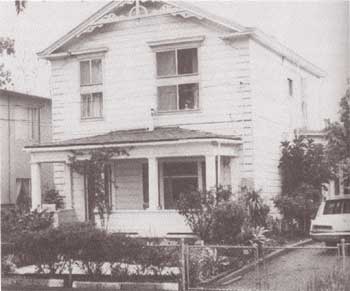 Boyers House, Santa Clara County