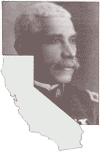 Five Views: An Ethnic Historic Site Survey for California
---
MENU
---

Introduction
A.M.E. Church
Education
Industry
Farming
Business
Associations
Noted Individuals

Historic Sites
Selected References
---

---

A History of Black Americans in California:
HISTORIC SITES
---
Brotherhood of Sleeping Car Porters Headquarters Site
Oakland, Alameda County
The parking lot of the U.S. Post Office at 517 Wood Street was the location of the headquarters of the Brotherhood of Sleeping Car Porters.
This was the brotherhood's first West Coast headquarters. The Pullman porters labor union was organized by A. Phillip Randolph, its first President, and C. L. Dellums, Vice President. Dellums, also the union's Pacific Coast Supervisor, maintained an office at this site. The brotherhood was created August 25, 1925 as a union for Pullman porters and maids, and was the first Afro-American labor organization to receive a charter in the American Federation of Labor. The union functioned as an advocate for Black men and women employed by the Pullman Company on its sleeping cars leased to and operated by various railroad companies throughout the United States.
As part of the first campaign, the brotherhood demanded improved wages and better working conditions. On September 7, 1927, the brotherhood filed a case with the Interstate Commerce Commission, requesting an investigation of Pullman rates, porters' wages, tipping practices, and other matters related to wages and working conditions. From its inception, the union maintained a West Coast office in Oakland, under supervision of its vice president. Through the union's concerted efforts during the early years, Afro-Americans acquired control of Pullman porters' and dining car workers' positions throughout the railroad system. These positions (until the 1960s, when civil rights legislation set aside some long-standing discriminatory employment practices) were among the best available to Black male blue-collar workers.
NEXT> City Hotel