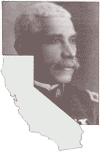 Five Views: An Ethnic Historic Site Survey for California
---
MENU
---

Introduction
A.M.E. Church
Education
Industry
Farming
Business
Associations
Noted Individuals

Historic Sites
Selected References
---

---

A History of Black Americans in California:
HISTORIC SITES
---
City Hotel Site
San Francisco
The City Hotel in San Francisco originally appeared as a long, one-story adobe building with a veranda running along the entire front side bordering Kearny Street. Today, Portsmouth Square, a city park, stands on the site of the original City Hotel. Chinatown, North Beach, and the Financial District surround this historic area. Dotting the skyline around the site are many examples of San Francisco's modern concrete skyscrapers, interspersed with its ethnic architecture.
William Alexander Leidesdorff (1810-1848), a Black man native to the Virgin Islands and one of San Francisco's most prominent citizens, owned the City Hotel. Despite his untimely death, Leidesdorff attained great prominence and wealth during the seven years he resided in San Francisco. During this period, he served as United States Vice Consul at San Francisco under Mexican rule, and as San Francisco's City Treasurer, councilman, and member of the school committee. Shortly after arriving in 1841, Leidesdorff built a warehouse on the water front at California and Leidesdorff Streets; in 1847, he acquired and sailed the first steamer in San Francisco Bay.
The City Hotel, erected in 1846 on the corner of Clay and Kearny Streets, was San Francisco's first public hotel of any note. Established in what was then the village Yerba Buena, this building became a gaming facility and a famous place of resort for miners and other city visitors. It continued to hold a dominant spot in village life until 1849. By the time of Leidesdorff's death in 1848, newer and more handsome buildings were being erected and opened as hotels. The City Hotel became neglected and deserted. The fire of 1851 reduced it to ashes.
NEXT> Coleman Creek