Sea Turtle Stranding and Salvage Network
The Sea Turtle Stranding and Salvage Network (STSSN) is a national network of federal and state agencies, authorized non-governmental organizations, and trained volunteers that document sea turtles that are found stranded in the U.S.
A stranded sea turtle is one that is found washed ashore or floating, alive or dead. If it is alive, it is generally in a weakened condition and may be sick or injured. Live turtles are taken to rehabilitation facilities where they receive care, and many of them survive and are ultimately released. Dead turtles are often salvaged for necropsy. Samples can be collected from stranded turtles and shipped to requesting investigators for use in research that they are conducting.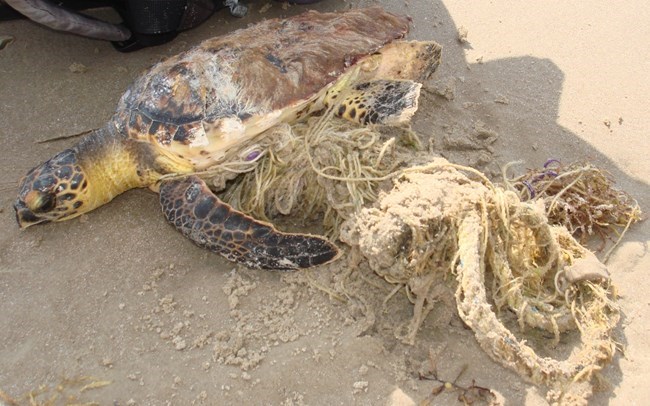 Live stranded turtles found at Padre Island National Seashore are taken to nearby rehabilitation facilities like the ARK (Amos Rehabilitation Keep) in Port Aransas, the Texas Sealife Center in Corpus Christi, or Texas State Aquarium in Corpus Christi. When there is a large stranding event turtles are also taken to the Texas State Aquarium or Texas Parks and Wildlife Department CCA/CPL Marine Development Center in Corpus Christi.
Padre Island National Seashore staff and volunteers participate in the STSSN with the Chief of the Division of Sea Turtle Science and Recovery serving as the Texas Coordinator. As Coordinator, the Division Chief (with the help of Division staff) maintains the records for sea turtles found stranded on the Texas coast and provides technical assistance and training to others in the state.

In Texas, STSSN participants are employees or volunteers affiliated with federal or state agencies, universities, or rehabilitation facilities. These participants use standardized forms to document stranded turtles that are found during systematic surveys for nesting or stranded turtles, or in response to reports from the public.

Each year, hundreds of stranded sea turtles are documented in Texas. Data collected are then provided to NOAA-Fisheries, which administers the STSSN at the national level.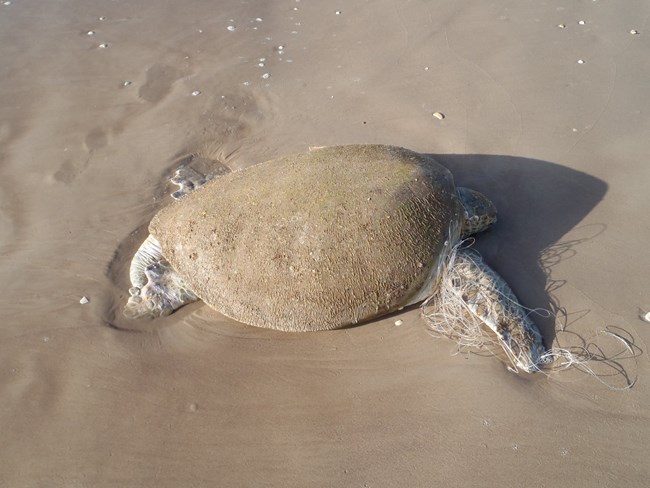 Sea turtles can strand at any time of the year. They may be sick or injured due to natural causes (like predator attacks) or have human induced injuries (boat strikes or entanglement in fishing gear.) In the winter when severe cold fronts move through the area, sea turtles can become hypothermic, an event called a cold stun. The STSSN, with the help of many volunteers, looks for, rescues, and documents cold stunned sea turtles.

Stranded sea turtles can be found year-round in bays, passes, the Gulf of Mexico, or along the shoreline. If you find a stranded sea turtle, please report it by flagging down a passing turtle patroller (April through mid-July) or law enforcement officer or
call 1-866-TURTLE5.

When you call:
Report the turtle's location, size, proximity to the surf, and condition (alive or dead).
Mark the location.
If the turtle is alive, stay at the site if possible until a park representative arrives.

If you accidentally catch a sea turtle while fishing, please call 1-866-TURTLE5 and allow us to respond. Even if the turtle is alive and looks fine, they can develop complications that can result in death. You will NOT be in trouble for catching these sea turtles; we only want to ensure that they receive treatment and can be released when they are rehabilitated.

Your assistance is greatly appreciated and could make all the difference in protecting these threatened and endangered turtles.
Last updated: November 11, 2023