Volunteer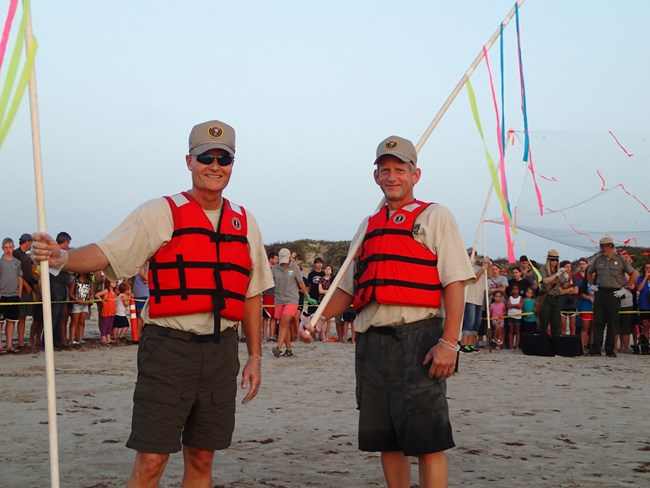 Do you enjoy exploring and learning more about the world around you? Are you ready to share your time and talents to help us protect and preserve this special place? Consider volunteering with us! Volunteers are an important part of the National Park Service and help us fulfill our mission and goals for conservation of our nation's precious resources for generations to come.
Many unique volunteer opportunities are available at Padre Island National Seashore for individuals, groups, and scout troops. Opportunities include working at the Malaquite Visitor Center and interacting with visitors, assisting with Turtle Patrol efforts, leading guided bird tours and other programs, beach clean-ups, campground hosting, and much more. For more information on how you can be a volunteer, contact the park's volunteer coordinator to learn more and fill out an application.
How to Get Started
The first step toward a rewarding volunteer career at Padre Island National Seashore is to e-mail the park's Volunteer Coordinator to receive more information and a volunteer application.
You may also download a Volunteers-in-Park application. Applications can be completed, scanned, and e-mailed (pais_volunteer@nps.gov) or you may send by mail to:
Volunteer Coordinator- Malaquite Visitor Center
Padre Island National Seashore
P.O. Box 181300
Corpus Christi, TX 78480
Thank you for your interest in becoming a volunteer with us- we look forward to hearing from you!
Things to Consider
The current limitation on volunteers needing RV sites is that there are only five campsites. The other challenge to consider is that the majority of applicants want to be here during the same time period, usually from December to April. To increase your chances of obtaining a volunteer RV site, please consider working during the Spring, Summer or Fall months. Please be aware that our humid, salty climate can take its toll on equipment. Volunteers at our campsite are asked to provide a minimum of 32 hours of volunteer service per week.
Volunteers who reside in the nearby community are especially valuable since they can assist us year-round. We ask that you commit to at least 15 hours per month in order to maintain active volunteer status.
More Opportunities:
Calling All Scouts!
Padre Island National Seashore is looking for Volunteer Scouts to do marine debris educational demonstrations at Malaquite Visitor Center. You can also participate in a beach clean-up and earn an Adopt-A-Beach patch. Hours of service will be applied towards the Scout Ranger or Girl Scout Ranger Resource Stewardship program. Five (5) hours of volunteer service will earn you a Resource Stewardship certificate and ten (10) hours will earn you an official NPS Resource Stewardship patch! We can also assist with coordinating a combined camping trip with your service project. Interested in the Resource Stewardship program for scouts? Contact our Volunteer Coordinator or call (361) 949-8068 for more information!


Last updated: September 27, 2021