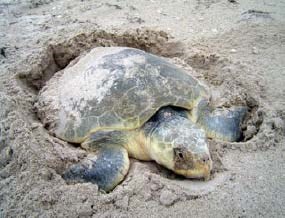 Of the five sea turtle species that roam the Gulf of Mexico, the Kemp's ridley (Lepidochelys kempii) is the smallest with an average length of 23 to 27.5 inches (58.5 to 70 cm) and average weight of 100 pounds (45 kg). The Kemp's ridley is the only sea turtle with an almost circular upper shell. The young are dark gray in color but change as they mature. Adults are olive green above and yellow below.
Kemp's ridleys feed mostly on crabs, but their diet also includes marine invertebrates and plants, especially when they are young. Crab species consumed varies geographically. In south Texas, Kemp's ridleys consume a variety of crab species.
The Kemp's ridley's range is mainly in the Gulf of Mexico, but immature turtles, probably carried by the currents, often appear along the Atlantic coast, as far north as New England and Nova Scotia. Adults occur primarily in the Gulf of Mexico.
Historic nesting records range from Mustang Island, Texas in the north to Veracruz, Mexico in the south. Most nesting occurs in Mexico. The main nesting beach is a 16-mile stretch of beach near the village of Rancho Nuevo in Tamaulipas, Mexico. Lesser amounts of nesting also occur at adjacent beaches in Tamaulipas and in Veracruz, Mexico. In the U.S., the majority of nesting occurs in Texas. More records have and continue to be from Padre Island National Seashore than any other location in the U.S. Nests have also been documented in North Carolina, South Carolina, Georgia, Florida, and Alabama; the first of these was recorded in the late 1980s.
Kemp's ridley turtles reach maturity at 10-15 years of age. On average every two years, females come ashore to lay their eggs. The males spend their entire lives at sea once they have hatched. The group of eggs laid by one mother at one time is referred to as a "clutch". During each nesting season, females lay from one to four clutches of eggs (average 2.5-3.0). One clutch can have from 50 to 130 eggs. Follow these links to find more details on habits of nesting Kemp's ridley turtles, habits of emerging Kemp's ridley hatchlings, and the importance of nearshore waters to Kemp's ridley turtles.
Kemp's ridley is the most endangered species of sea turtle. The Kemp's ridley population underwent a devastating decline in the mid-1900's, primarily due to over-harvest of eggs and loss of juveniles and adults due to commercial fishing. Biologists did not know the location of the main Kemp's ridley nesting beach in Mexico until the early 1960's, when a film was discovered that showed an estimated 40,000 females nesting at Rancho Nuevo on one day. Biologists did not initiate protection efforts at Rancho Nuevo until the mid-1960s. Despite protection efforts by the Mexican government, the population continued to decline.
In 1978, the U.S. joined Mexico in efforts to try to save the species from extinction and recover the population. Multi-agency, international programs were developed, including an attempt to increase nesting by this indigenous species at Padre Island National Seashore to form a secondary nesting colony at a protected beach in the U.S., as a safeguard against extinction. Extensive conservation efforts have continued for Kemp's ridley in Mexico and the U.S., including the Kemp's Ridley Sea Turtle Recovery Project conducted at Padre Island National Seashore. Due to years of conservation efforts, Kemp's ridley nesting is increasing in Mexico and the U.S. Nests documented and hatchlings released on the Texas coast were due to the efforts of several entities.