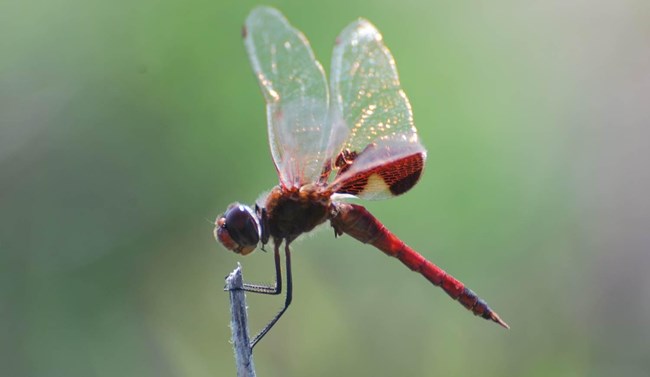 Insects
Insects are everywhere at Padre Island. From the beach back to the lagoon and everywhere in between these creepy crawlies can be found. Many of them are beneficial to the environment and all serve a purpose in the island's ecology. Some of the many types of insects found in and around the park include butterflies, moths, beetles, ants, grasshoppers, crickets, dragonflies, bees, flies, and more. Native bees and butterflies can be seen from the Grasslands Nature Trail where they pollinate the many flowering plants. Dragonflies emerge in great numbers at the beginning of fall;these areal aces are capable of snatching and eating other insects mid-flight.
There have been butterfly and moth surveys done over the years and we have an incomplete butterfly checklist. A good website for more information on insects is: http://www.bugguide.net
Dragonfly Mercury project
Mercury and studying alien-like creatures... though it sounds extraterrestrial, it's right here at Padre Island National Seashore! Padre Island National Seashore joins national parks from Alaska to Maine and now all the way down to South Texas with this park service-wide initiative to understand the spatial distribution of mercury through studying dragonfly larvae. During Summer 2016, volunteers, students, and scouts assisted park rangers from the Interpretation Division to collect, measure, and identify larvae for this important citizen-science project.
Mercury is a highly potent neurotoxin that affects both humans and wildlife, and the largest source of mercury contamination is coal-fired power plants. Mercury increases as it moves up the food chain, and as a result, large predator fish can have mercury concentrations 1- 10 million times the mercury concentrations in the water! Dragonfly larvae can live up to 5 years in the water as larvae and since they are also incredible predators, they take in mercury from smaller creatures that they eat. As a result, they can be subjected to and accumulate more mercury and since dragonfly larvae are an important food source for many types of animals, they can shed light on the transfer of mercury within food webs.
The
Dragonfly Mercury Project
is a partnership with the United States Geological Society (USGS), the national Park Service (NPS), and the University of Maine. We thank them for making this experience possible and for allowing us to bring it to Padre Island National Seashore!