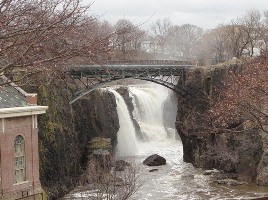 Paterson Great Falls is a new unit of the National Park Service that is open to visitors for self-guided outdoor activities and tours. Here you will find a National Natural Landmark, the Great Falls of the Passaic River. They are the centerpiece of the park; their beauty and power are central to Paterson's story. Whether viewing them at a distance from Overlook Park, or feeling their spray in Mary Ellen Kramer Park, the Falls are a "must-see" for anyone visiting the area.
We offer an Introductory Guided Tour to learn about Paterson's early history.
If you are interested in a Self-Guided Walking Tour, consider downloading the free walking tour app or dialing in to the cell phone tour.
Bring along the free Junior Ranger Booklet for even more fun.